Remember back in *cough* January when I showed you my before photos of my powder room and talked about what I wanted to do there?



A week or so later, I shared with you how I'd removed the wallpaper. That was here. That ohhh.so.pretty.wallpaper.


Yeah. It had to go and go it did!

I was left with a beautiful blank slate.


Wowza! Is it bright in here or is it just me?

After that post, I left you hanging. It wasn't because I wasn't finished in my powder room or because it was taking me forever to complete. I finished it with the exception of artwork on the walls. I just got busy with substitute teaching and life. Blogging got put on hold for a bit. Sorry!

I LOVED the bright white and light walls, but I decided that the room needed some color. I had picked up a little "Water Closet" sign
at World Market back in January with plans to use it in this room. That didn't provide color though. Because "Water Closet" isn't really
a word we, Americans, call our bathrooms, I used that sign as the theme for my room, travel. I had some of my favorite photos from our
travels printed and went to work hanging them. My original intent was black and white photos.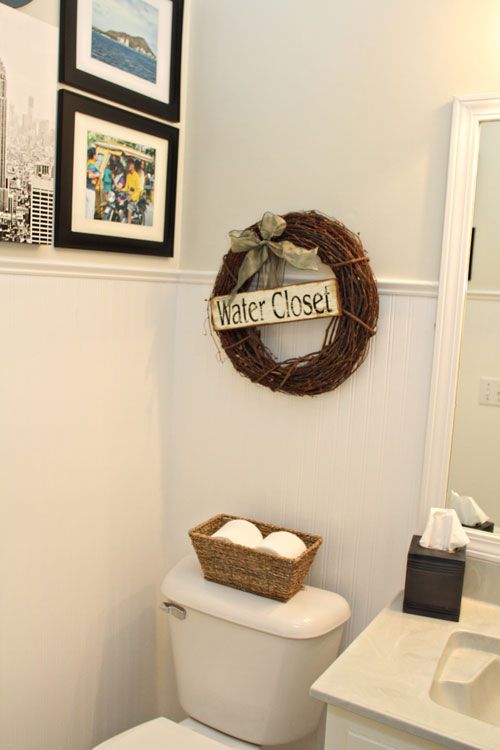 I'm not sure I'll leave it on this wreath. But, for now, the wreath gives it a little more umph than it would have standing alone.

A trip to Target in search of a rug changed my black and white photo intentions. I've tried three different rugs in this room. Each one
stops the door from opening freely. I knew I had to be careful with a new rug because of this. I couldn't go with a
standard plush bathroom rug. I was looking for thin rugs, but with substance. My eyes landed on this one and there was
no turning back. It's completely unlike the tame, muted, earthy choices I always make, but I loved it!


Can you see why?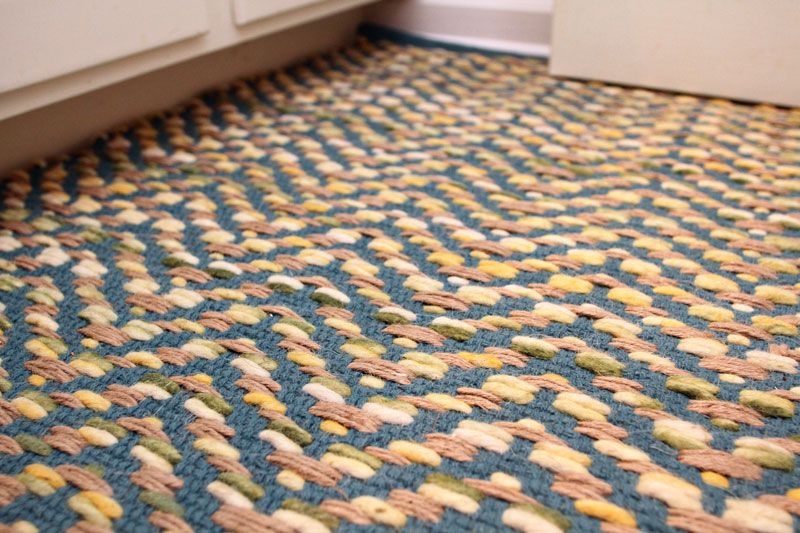 I pulled colors from the rug and found photos from our travels that had those colors in them:
- The old black truck in front of the yellow train from Kansas.
- Seaside Heights Boardwalk before Hurricane Sandy changed this whole landscape scene.
- My black and white canvas of the Empire State Building as center focus just because I wanted to use it so badly regardless of colors!
- Our view of Waikiki Beach and Diamond Head, Hawaii from the boat.
- The Philippines taxi photo I dearly love.


I accented this photo gallery with a wooden plate I'd picked up at a thrift shop. I just painted it with a
color I picked up in a sample pot at Lowes. It is the exact color of the blue/green in the rug!
The whole gallery of photos is above the beadboard wallpaper on the full wall opposite the doorway.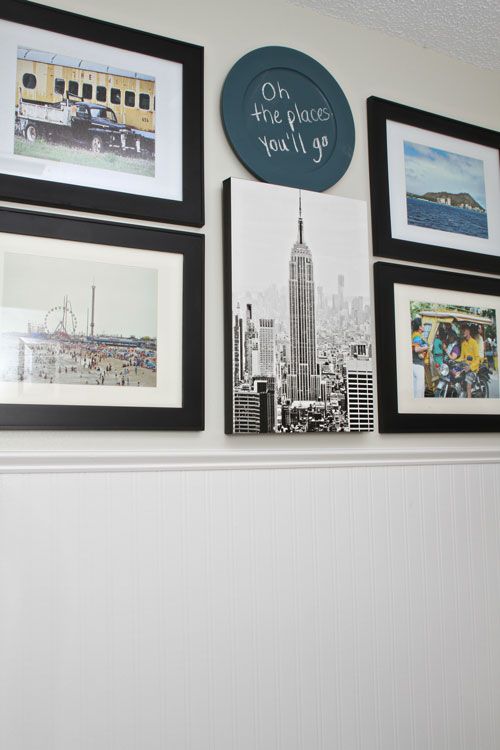 The paint color for the wallpaper is a creamy white. The top wall color is a very light beige/khaki color.
It's hard to capture the exact colors in the photos with my external flash and the incandescent light of the room.

I changed my light fixture to something a little less glamor and hot lights.



I also completed framing out my mirror including all the little extra cutting to
accommodate the electric outlet and the mirror hanging hardware.



One last thing on my list of things to do in here is replace the faucet. I just haven't gotten to that yet!