Ok, fine. I will admit it as if no one already knew it... my favorite color is RED! Red car. Red purse. Red Camelbak water bottle that goes everywhere with me. Red phone case. Red KitchenAid mixer. Red bread box. Red... Well, you get the picture. Funny thing is I don't wear a lot of red. Hmm.
I have been focusing on the front porch lately, just ways I can spruce up the curb appeal of our house. Our house is gray with darker gray shutters. White trim and a gray-ish brick on other parts of the house. Remember this photo from last summer?
And this one after I added two white rockers to the front porch on the right side?
I knew I needed a table for between those rockers. I found a little junk one at a yard sale for $5. I debated about what color to paint it. My first thought was ____. You filled in the blank, right? I tried NOT to paint it red. I tried to think of every other color that might work. In the end, I painted it red. :) Then, I started looking at the porch swing my dad made for me. Bare wood which needed sealed (or painted). Yeah, the wheels started turning last week. Red table between the white chairs and yep, you guessed it, RED swing. I couldn't talk myself into it though. I kept going back and forth. Finally, I just did it. I bought the cans of spray paint and got to work.
And, then, in my "If you give a mouse a cookie" fashion, I started thinking about the door. The blah, not jazzy, no sparkle, no fun gray door with the gray sidelights that blend with everything else. An idea ensued which led to a Pinterest search with results here:
Gray house red front door
Yeah. That was probably a mistake. I can't stop thinking about anything but a red front door now!
I mean, seriously? Look at this with its white side lights.
Click for So pretty!
I sat down this morning and sloppily played in Photoshop with my photo from above.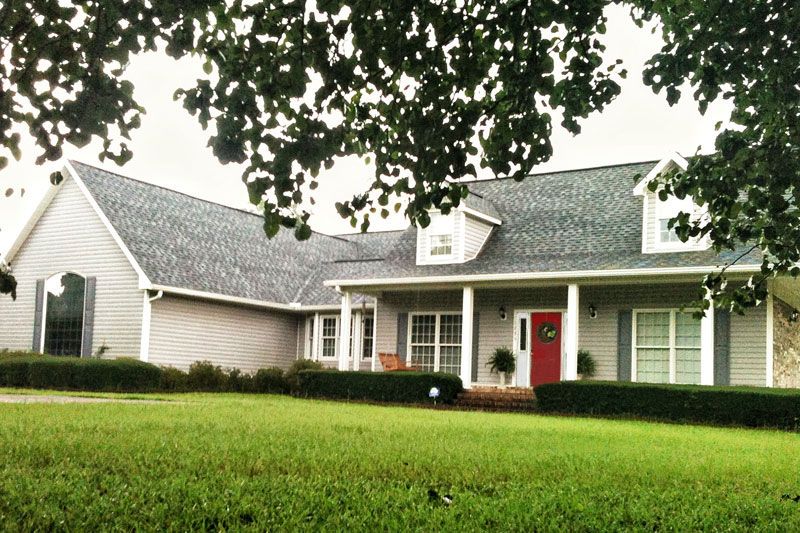 Be still my heart...
To be continued....