Wow... I almost let a whole month go by without blogging! I have been busy with other things and when I had free moments, they were spent on my couch chillaxing. Or else, I would have blogged! I promise!
Since I last blogged, I've been doing some full time substitute teaching! In middle school. Enough said. I had to do some
to survive that one. Algebra. Pre-Algebra. Pythagorean Theorems. Polygons. Angles. and all that jazz.
I had to dig deep and find my inner brain-i-ac for some of that stuff.
Some of that digging found nothing, so I would wing it. I survived though! And, I've lived to tell (just like the Madonna song)!
When I wasn't subbing, I was busy with other things. I didn't let the powderroom/bath go to the dogs while I was busy. I worked on finishing it. I can almost call it done. I would call it done if I didn't dislike and plan to redo my photo gallery wall in there. Yeah, that means I'm not showing you after pics just yet. You'll have to wait a while longer. I will show you one teaser photo though and give you a promise of finished photos coming soon! Ok? Ok!
iPhone photo of my work in progress...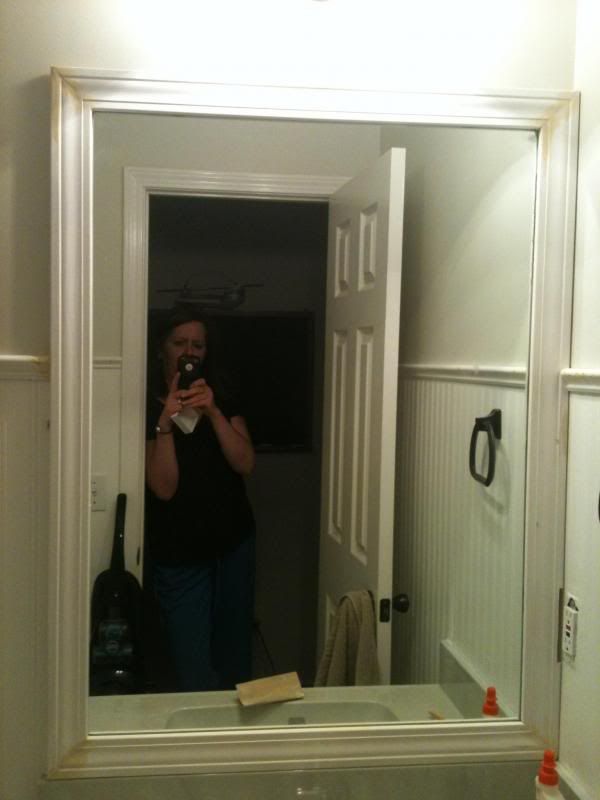 I was waiting on wood putty to dry in the seams of my mirror molding. That's almost as bad as waiting for paint to dry!