**Disclaimer: I'm blogging all of my house adventures mostly so that I will have a record of what I've done. I love having somewhere to share before and after photos or progress photos! Sorry if you get tired of looking at them.
I was looking through old posts the other day at the beadboard wallpaper I did in the kitchen. You can read more about that here
if you missed that post. When I saw these two photos, I realized I had never shown the completed look for this area of the kitchen.

Here is the window area from when the previous owners lived here.


And, here is the area after I stripped the wallpaper down and painted.


Looked so much better, but lacked character. I'm all about character. ;)

The shelf I built added some character.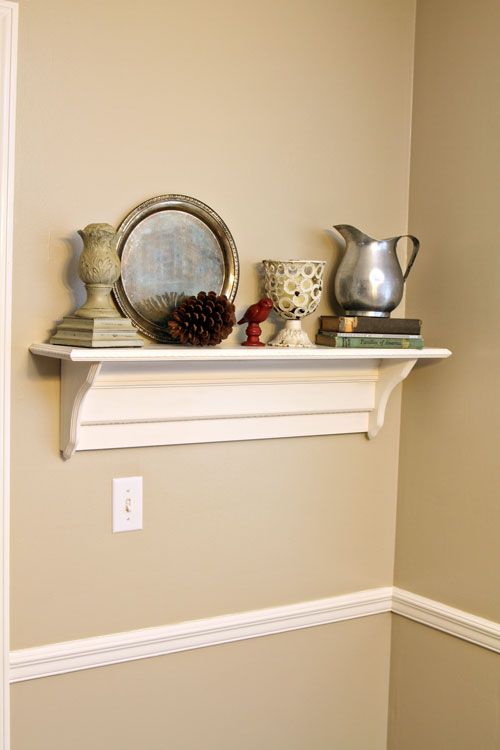 Even painting the light fixture helped bring character to the area.


Something was still lacking. I needed window treatments. Those windows are odd being set in that little cove area. There was no standard way to hang traditional curtain rods. I had to think outside the box. (Or outside the frame of the window so to speak.) I thought outside the whole window area to that blank area of wall that wasn't going to be used for anything. I decided to cover it with dummy panels.
Dummy panels are just curtain panels that aren't functional, but they add detail and character to the window.

The search began for curtain panels that would be long enough (ceiling to floor), match accentuate my other accessories and provide a little color or character to this wall of windows. For a few of you, you know how that went because I shared my three different curtain purchases with you and asked your opinion of them. I finally settled on the first ones I had bought. These actually came from Walmart online. They were my first site to store purchase from their website. I tacked them up on the wall and lived with them hung via tacks for a few months for two reasons: #1, I was still trying to decide if these were THE curtains. #2, Finding curtain rods that short is no easy task.
Impossible actually because I never did find rods that short!

When a visitor during Christmas almost pulled the curtains off the wall by grasping the fabric to look at it, (Remember, they were attached with thumbtacks.) I decided it was time to actually hang the curtains! I had curtain rods that I'd bought and used at the rental house in New Jersey. I asked G-Dub if he had any tools that we could use to cut them. I already knew that answer, but asked anyway. Of course he had something to cut metal with - a grinder attachment to the air compressor. I thought of taking a photo during this process of sparks flying and metal cutting, but I didn't. You will just have to use your imagination. End result was a shorter metal curtain rod. A real rod, no thumbtacks attachments! I installed them into the wall (not without damage to the wall though - eep!) and hung my curtains.

End result: