I've been thinking about a blog series like this for a long time. I've thought about it every time I've snapped a photo while out and about thinking "I'll share that on my blog!" Sadly, I never do because I always forget about them or always think it's too much trouble to upload them from the phone, then to the computer, then to the photo hosting site, then to blogger. There's an easier way, I just need to figure it out!
In the meantime, I have Five Phone Photos For Friday (henceforth to be called FPPFF) to share with you!
#1 One of the first photos I took that made me think of sharing it on the blog was this one.

I had just walked out of Barnes and Noble and had to walk in front of that truck. EVERY single time I have encounter one of these trucks, my mind goes to that episode of Hawaii Five-O where there's a robbery of an armed truck in front of some local shop. Freaks me out if I really think about it! Instead, I glance in all directions and make sure there's no masked bodies anywhere, then walk briskly to the car! Yeah, I know... don't even say it. ;)
#2 Moving on to sweeter thoughts than armed robberies...

Sugared and spiced pecans. Yum. If you're interested in the recipe, I can try and find the one I used. It was basically, pecans, powdered sugar, spices and butter in the crockpot.
#3 Even more sweetness was Jersey Jingles with the gingerbread house.

#4 Next up is our Redneck Ruckus display at a local fireworks stand.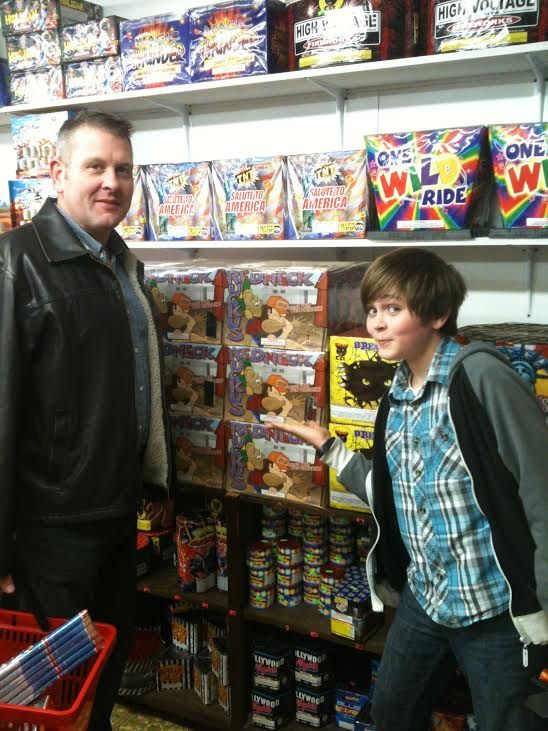 We didn't buy the Redneck Ruckus kit. Instead, we bought bottle rockets, firecrackers, sparklers and Roman candles. How do you spell lame?
C-h-e-a-p
? Oh, no... that's not right. LOL We aren't some of the crazies who drop a couple one hundred dollar bills at a fireworks stand. I think NYE was the most we've ever spent. $52. I almost fell over then! The noisemakers did last two nights though. I'm sure our neighbors were thankful that Wednesday night was the finale.
#5 Finally, a very grainy phone photo of me with two of my favorite guys.

We were out at a park looking at Christmas lights. We walked up to this really bright display of all white. I said, "There's enough light to light our photo!" It blinded us almost! LOL