Both of my boys are too old for fictional characters around Christmas. I've noticed that the older the boys get, the less "magical" Christmas feels. I've talked to a few people who just aren't feeling the Christmas spirit this year. The boys and I are right in the middle of that not feeling it mode. I decided a few weeks ago that though we've outgrown ideas like Elf on a Shelf, we needed something to get us in the Christmas spirit. I am a rebel in that I refused to buy the popular doll. Why should my pictures be like everyone else's, right? LOL I had seen a
creepy
crazy
CUTE!
little elf at Cracker Barrel. Of course, as luck would have it, the day I decided I would go in and buy one was the day after they'd sold out of them in my store. A friend from back home came to the rescue and bought the last one in the store there. I said it was chance and luck. I said I'd name him Chance or Lucky. The day she sent me a text saying she'd mailed Chucky (Chance + Lucky) was the day I almost gave up on the whole idea. LOL I felt I would forever look at him and think of Chucky (the movie I thankfully never saw!) He came in the mail and I immediately named him Jersey Jingles to get all thoughts of Chucky out of my head! So far, it's working. I hadn't thought about it until I sat down to tell you this story. ;)
Jersey Jingles wrote the boys a note that day introducing himself and gifting them with a chocolate M&M candy bar. He told them he was going to be around to help them get in the Christmas spirit. He pinpointed Mr. Teen and told him there'd be no eye-rolling if he chose to accept his chocolate. Mr. Teen looked at me and said, "Well, Mom, it's one way for you to occupy your time during the day while we are at school." Gee.
Thanks.
I'm not sure if it's JJ or just the calendar, but we three cynics have gotten a little more in the Christmas spirit. I haven't taken photos of all of JJ's antics, but I decided to share today's display with you.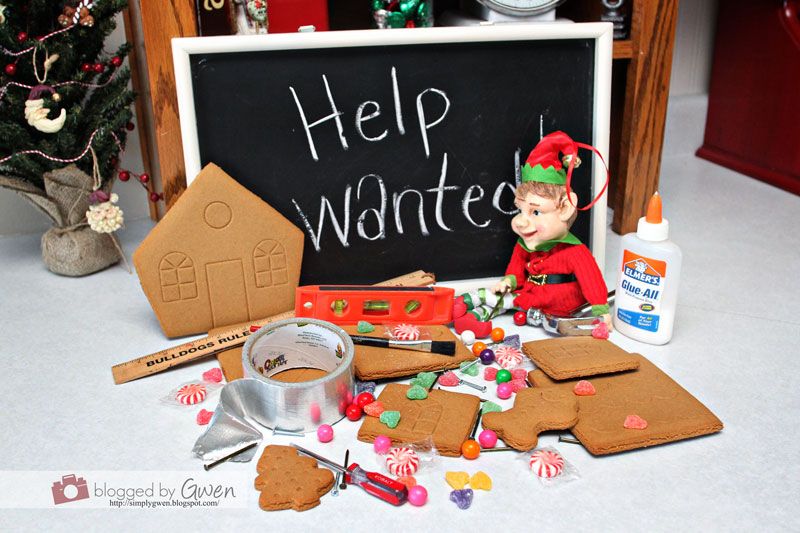 I think he has a little to learn about "building" gingerbread houses.