One thing I love about our new home is the wrap around porch. I probably could have gone all out with decorations for the porch, but I got caught up restringing lights on a 12ft tree, so ran out of time and motivation. More on that tree later.
I decided to keep the porch simple this year. I do look at it almost daily and think I need a garland above the door. :/
I used my
$1 yard sale sled
again this year. You can last year's use at our New Jersey house
here
. This year, I dressed it up a bit by adding some pine-cones from my neighbors yard. I had forgotten just how big pine-cones can be down here! This photo was snapped along the fence, but the sled is now resting against the door frame on the porch.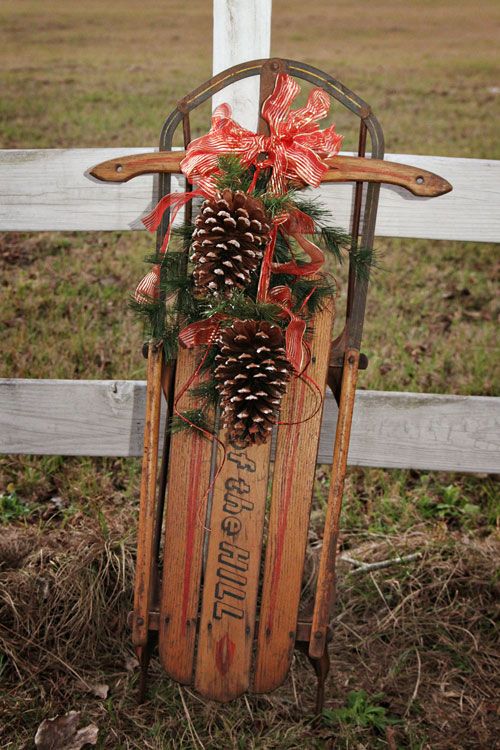 I opted out of using my favorite
Let It Snow wreath
. I couldn't bare the thoughts of my beautiful white ribbon and birdie getting mildewy like my sunflowers did on my fall wreath. (gotta LOVE humidity!) So, I hung my standby wreath with red ribbon and ornaments. It looked boring so I added a barn tin candy cane I picked up in a local shop. For a little more fun, I added my Santa sign underneath.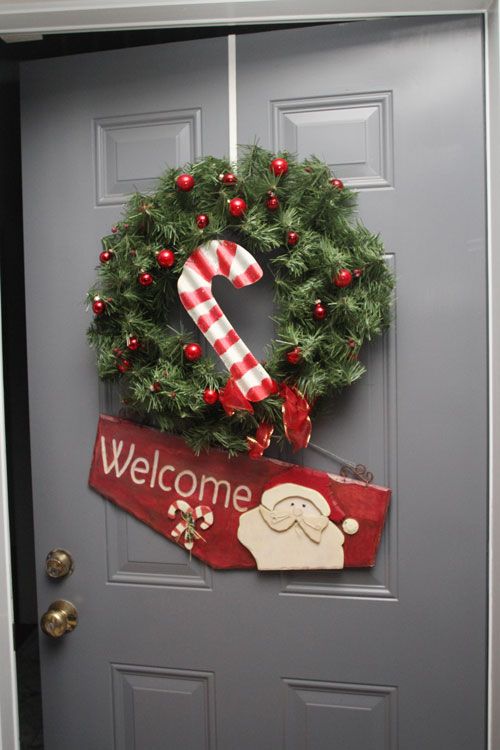 I had thought of putting a tree on each side of the door but decided not to. (See above for mention of mildew. I didn't even mention the little lizards that hang out on the porch! Ack.... no pretty trees out there!) I was reminded by a friend of the tomato cage trees I've seen on Pinterest, so made one of those with some cheapie garland already had.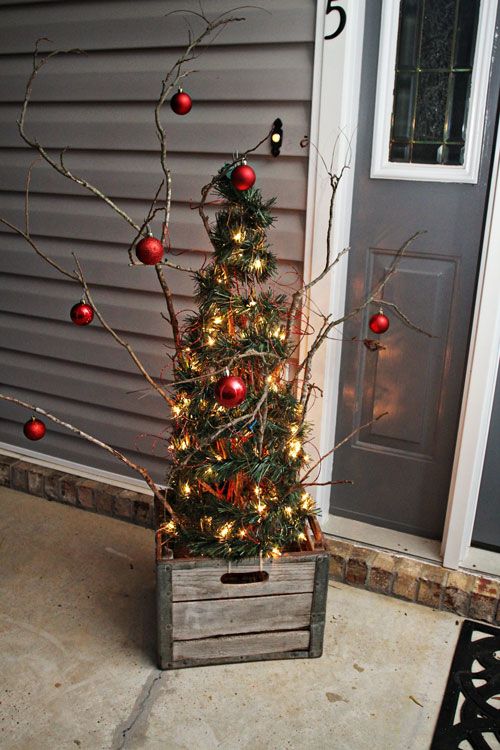 I took the branches out of my metal watering can (fall decorations) and tucked them inside the tree and box. They look kinda funky with the red ornaments on them.
So, overall view of the front door is this.
I'm happy with it for this year. Maybe I'll snag some garland after Christmas on sale and have it ready for next year!