I've stared at the blank wall surrounding the huge picture window in the living room long enough...
The only problem is that picture window is HUGE!
I'm having a hard enough time finding curtains in the 95-96" range that I like for the kitchen.

What to do? What to do?!?

I decided to take some drop cloths that I used as curtains in our home in New Jersey, add some fabric to the top for interest and just go with it.
Because of the way the window is framed by columns on each side, I had to take some time deciding just how a curtain rod would hang.
I didn't want to cover up any of the window. I just wanted dummy panels on each side for interest.

This is the end result of multiple trips up and down a ladder to hang a curtain rod and an almost twelve foot curtain.



I'm still debating whether or not I want to shorten the curtain with a hem or leave them as is (hemmed drop cloth) and let them pool.
I am going to wait and decide after I shop for a new chair for this space.
A new chair for this space is on my wishlist, I just haven't gotten to it yet.
In the meantime, I'm using the less than impressive rocker to fill the space.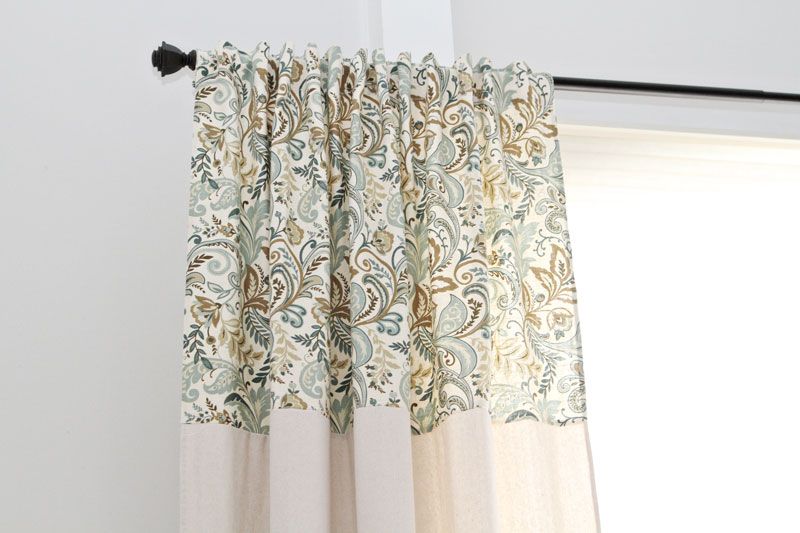 I purchased the upholstery fabric for the topper from fabric.com.
I took the extra time to purchase a sample of the fabric in case I hated it when it arrived.
I was very pleased with the whole transaction. The shipping was fast and the fabric is a beautiful quality!



Did you notice the view in the first photo?


Our home is on a main road, but we sit far enough off the road not to even notice!
We truly are loving our new home!