Concrete! I'm talking about naked concrete!
I decided a catchy title might bring someone in off of their blog reader to see the whole story. LOL Tricky, huh? Maybe it won't backfire on me and get me other search engine traffic! LOL
Ok, what was I talking about anyway? Oh, naked concrete. Well, it's nice enough in it's gray sort of way. I got the porch swing made by my day repositioned on the front porch finally. I sit there and drink my morning tea after the boys get on the bus. Every morning, I look at my concrete plant pedestals and think how boring they look in their naked concrete glory.
I've had a pair of these forever. We bought them in Tennessee when we were stationed there. They've moved with us everywhere except Korea and they've remained plain during all that time.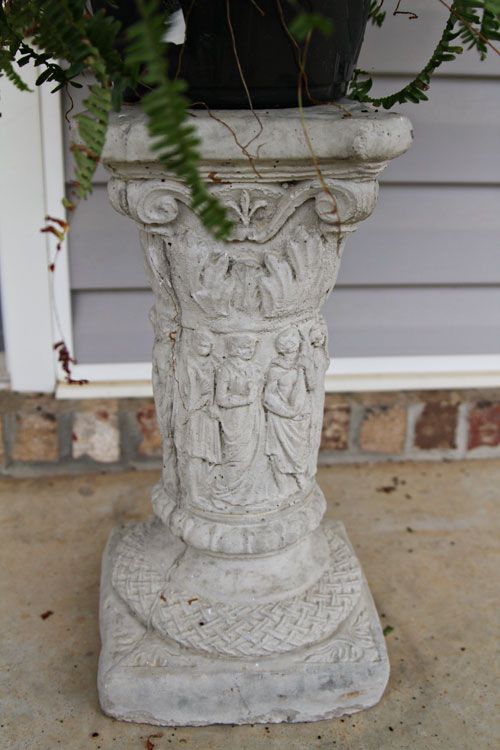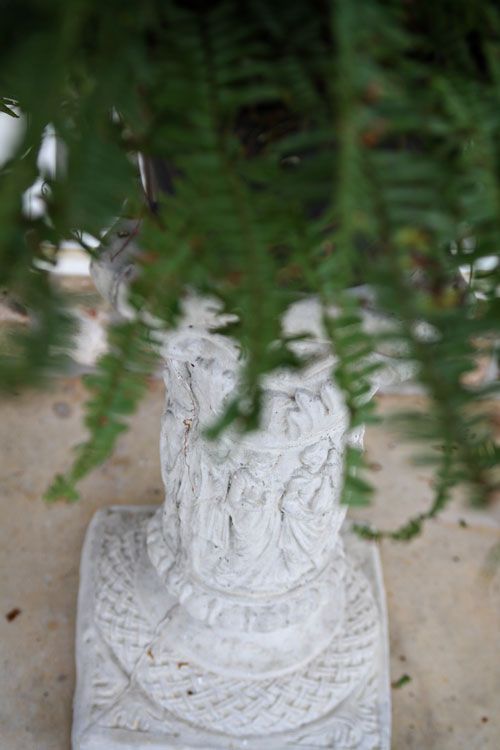 I was tired of their plain gray, especially against our gray house!
So, in my true "not afraid to paint anything" form, I decided to paint them. Ok, not paint, stain. I thought some color of any kind on them would bring out their details. I wanted something that gave a feel of an aged patina. I brushed a little walnut stain here. I brushed a little watered down golden oak stain there. I ran out of golden oak stain. I searched the shelf for more and found some very old oak spray stain. Hmmph, spray stain? I used it anyway. I sprayed a little here and there. Then I began to freak out because the dark walnut looked really dark in the crevices. The sprayed stain looked really glossy! I sprayed some more water on it all and hoped it would settle down the glossiness. No real luck. I began to freak out that I'd ruined the pedestals by trying to dress them up with stain. They might have looked better naked forever. I didn't give up though, I took a cloth and wiped away at some of the glossy areas. Then I used some steel wool to sand off some of the stain so more of the bare concrete peeked through. After that, I turned out the light, left the shop and called it a night.
This morning, I was leary of turning the shop light back on and bringing them out into the daylight. Turns out that daylight is just what they needed!
I'm happy with how they cured overnight and with how they stand out from the gray house. Now, I just need to dress the whole porch for fall!