The dining room is a work in progress, as is the entire house. I'm working on making it our home by adding US to the house, but I have had to remind myself more than
once, twice, three,
a dozen times, it isn't going to happen all at once. The dining room isn't really a space that I planned to put on top priority of redoing. It's really a sort of mish-mash of parts until I can really focus and decided what I want for this room. The room is getting a little attention here and there. I'm going to have to stop and listen to the little voices in my head that whisper to me, "This room should be more together since you walk through it so much during the day." I keep going back to the graphic I found a few months ago.
First off, I was deflated when I got here and realized the red on the walls is more wallpaper rather than paint. I was even more surprised when I realized I kind of like it. But!... I'm still determined not to have a red dining room like we've had in our previous two houses. I will overcome the red wallpaper!
Secondly, the
"Family Tree Farmhouse table"
that we built two years ago had to go in the formal dining room. There's nothing really formal about the farm table (or me for that matter). The ladder back chairs went in there with it as well. Then last month, I found some chairs in a style that I'd been thinking about on Craigslist. They were a good deal for six chairs but the fabric on the chairs is terrible! Oh, it's in great shape, but it's completely not my style and not the look I want for this room. Also, the finish of the wood on the chairs is much darker than anything else in the room and clashes with the finish on the farm table (and the finish on the
china cabinet
which I'm still determined to paint!)
Solution for now? Cover the table with a cloth (not shown in following photo) and call it good until I get really adventurous and decide to tackle the whole room.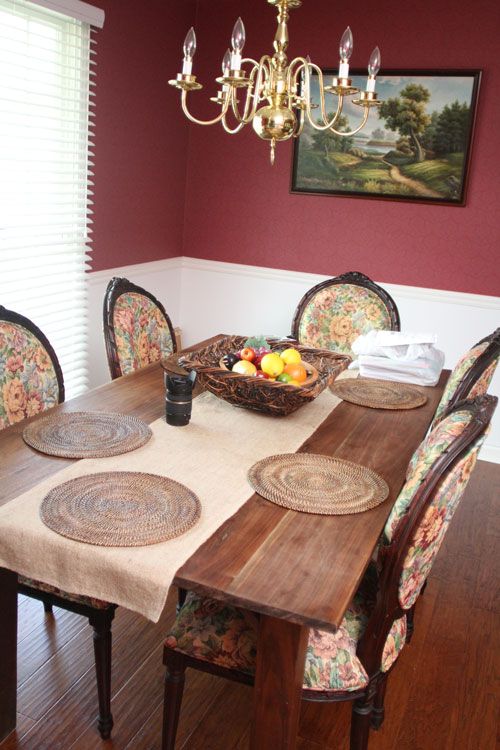 I've been ok with that whole line of thinking, but can you guess what really bothered me about this room every single time I walked through the dining room (and I walk through it a LOT of times on a daily basis)? I bet you know the answer without even having to think too much about it. Here, let me answer by zooming in and cropping that photo.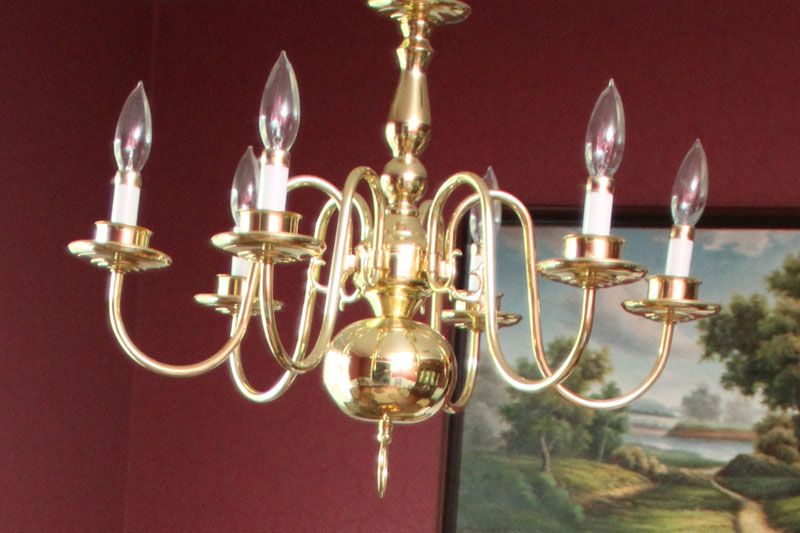 Yipes!
Can you say cheap, builder grade? Can you say cheesy? Can you say 1989?
I tried not to look at it when I'd walk through the room. I tried shielding my eyes from the glare of when the light hit it. Nothing worked. Its brassiness stuck out like a sore thumb.
I threatened it with paint. Then, this week, I came to terms with my threats and decided to start from the top in this room. I tackled the brassiness with steel wool, primer and various craft paints. I tackled it still hanging because I knew I'd play with it too much adding color here and there to take it down and be finished all at once.
I dabbed and played, dabbed and played until I came to a finish I really liked.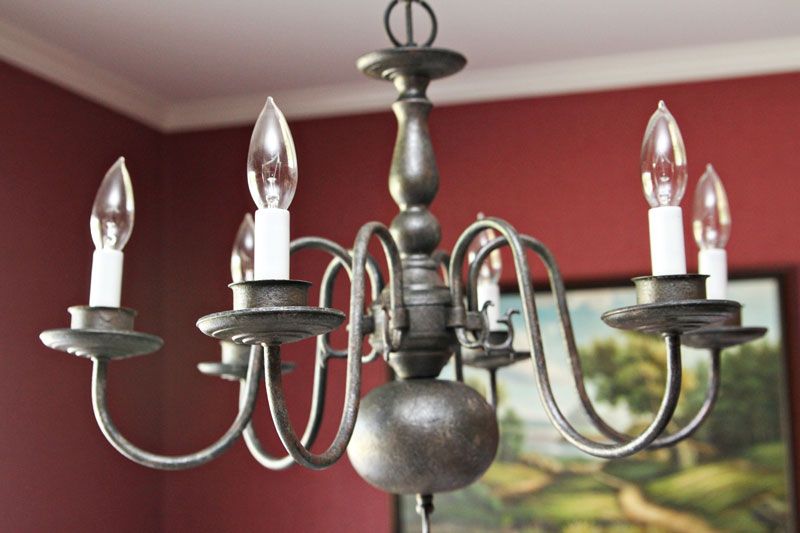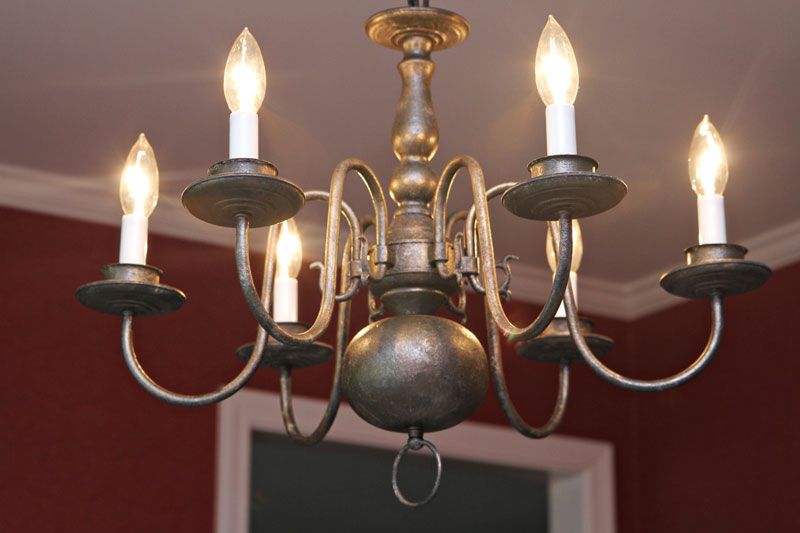 I whipped up a burlap cover for the chain and slip-stitched it in place.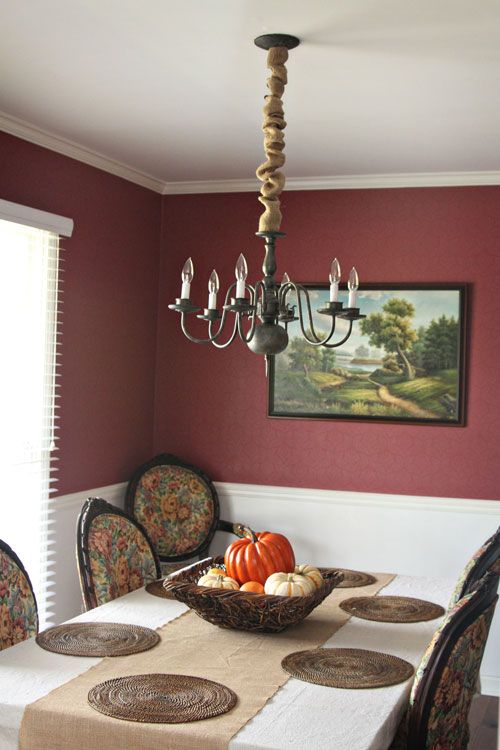 It's a good start. I think the different look for the chandelier is already changing the feeling of the room. What do you think?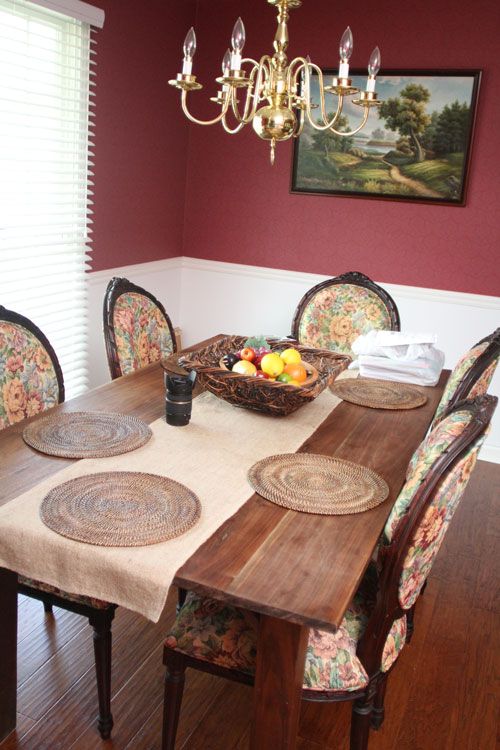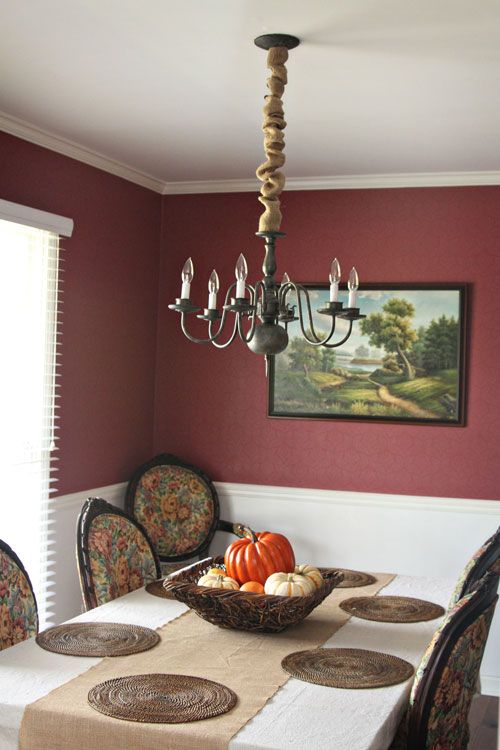 Now I just have to decide what to do next in here. Tackle the wallpaper? Tackle the china cabinet? Tackle the upholstery on the chairs? Window treatments? Ugh... a nap sounds better on this rainy afternoon!