When I first saw a dresser turned tv console on Pinterest, I knew I'd love to try that someday! We have a nice entertainment center that was perfect for our tv until we upgraded to a larger tv a few years ago. We were using an antique buffet for our tv console until I found something better. Sorry, I don't have a photo to show you. :(
At some point during all of that thinking I'd find a dresser that I could renovate, my sister was moving my niece's dresser out of her room replacing it. I said, "Don't throw it away! I might want it!" Well, I happened to be in New Jersey at the time and the dresser was in north Alabama. My parents had taken a cedar chest out to her that weekend and obligingly brought the dresser back to their house when it had originally started. They bought it just after they got married in 1964. My sister used it in her bedroom through childhood, then it got handed down to my niece. It was originally white with veneer and a formica-like top. My sister painted the sides and drawers at some point to match the walls in my niece's room. With our move, I was closer to the dresser. When my parents came down last month, they dug it out of the storage shed and brought it to me. I felt a little deflated when I saw it because it was rougher than I'd remembered. But, I did what I always do and got busy sanding! After I'd removed all the drawers and sanded them, I remembered to take a before photo.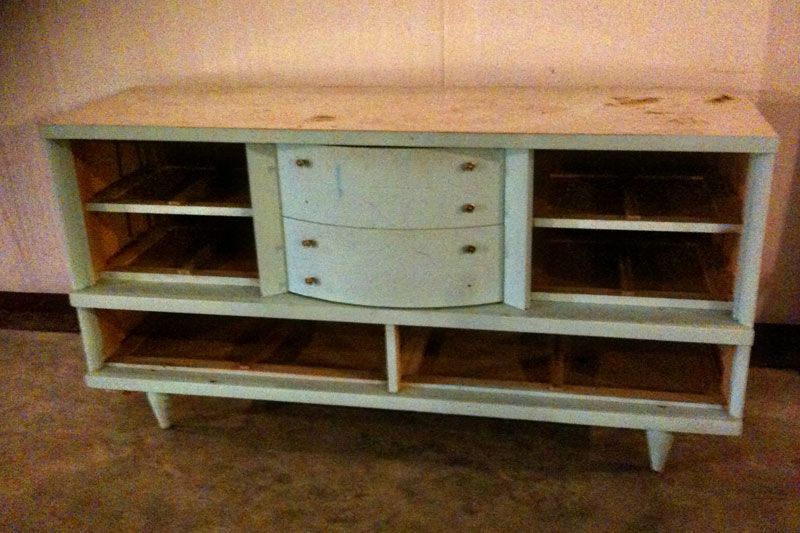 I couldn't decide what color to paint it. I leaned toward creamy white, but after having leftover paint from my bathroom, I just used the gray/green from that! My plan was to remove the two center drawers and insert a piece of wood for shelves to hold the control center for the sound system, the Wii and the DVD player.
I decided I wanted to leave the drawers as natural as you can get veneer. My plan was to white wash them a bit. But, I had trouble with them because I couldn't get all the paint off of them in the first place. The whitewash looked blotchy. I was aggravated!
I finally got that white paintey look to go away, but ONE drawer out of the six I was using was not the same color as the others. I stained and sanded, stained and sanded, cursed and stained and sanded. (Ok, not really on the cursed part, but I felt like it!) I had it to "good enough" the day before we left for Mississippi. But, Thursday evening when I was back and looking at it, it was driving me crazy. So, Friday morning, I went to Lowe's and got some wood conditioner. Came home, sanded and sanded some more, then applied the wood conditioner and then the stain. It looked a lot better though not as good as it would have if the wood had been natural at the start. (Or if it had been real wood!)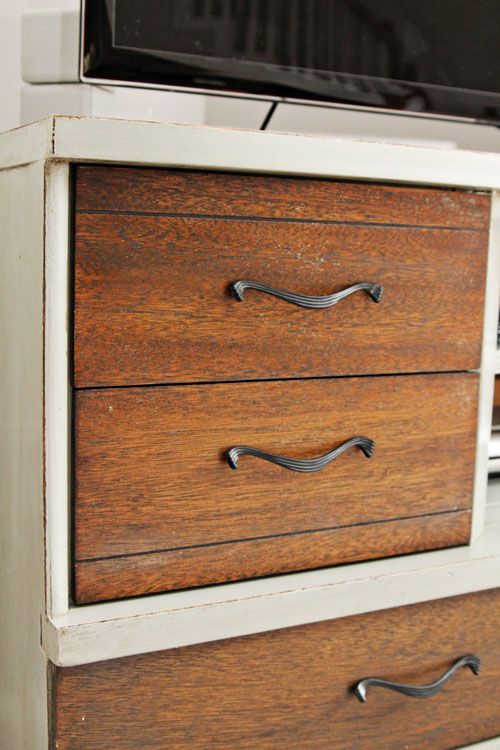 I gave her new legs. Short, curvy, sexy legs in place of her tall, skinny sexy legs. ;)
I think she turned out great! New life was in her, it just took me a little while to pull it out.
Teen helped me move her into place in the house last night. I LOVE having a strong teenager to help with my crazy furniture whims!
Now, that empty space on the top shelf reminds me that I still need to find the Wii in it's packed away box. I saw the box somewhere in the attic storage. :)
One last look at before and after.