Wow! - feeling overwhelmed!

When I think about all the things I'd like to do to our new home to make it our home instead of our house, I begin to get overwhelmed. I'm also antsy! I know that everything won't happen all at once, but that doesn't stop me from wanting everything done ASAP! I was very lucky in that I didn't have to unpack a lot of stuff, so I'm not still swamped by boxes and organization. Kudos to G-Dub and Roo for that (and Granny too!) They came earlier than Teen and I so they got a lot of things set up and in place saving me from being buried by boxes. So, now, I feel like it's time to personalize the house!

I have decided that I need to overcome my ADD tendencies and try to focus on one project at a time. Yeah, says the person who was stripping a dresser and a cabinet this week then decided to see how easy or difficult the wallpaper in the master bath would be to take down. I stopped myself after one strip. I need to FOCUS! I need to attend to one thing at a time. Yeah right. Seriously though, I've decided that I'm going to tackle my master bathroom first. I know we are truly the only ones that ever see it and I should start with the wallpaper border in the kitchen first. But, I seriously believe that our master bathroom is ugly and want to be selfish and get it redone first!

Let me show you some before photos. These were taken by G-Dub when he first saw the house back in March.


This bathroom hasn't had anything done to it since the house was built in 1989. Sigh... very standard late eighties tile and such. I love the tub and have gotten over the fact that it's greenish gray. And, of course, I love the double sinks. The toilet being so open in the middle of the room bugged me at first, but I've come to terms with that as well. I need to work around it. That whole back wall though seems massive or so blank. I pulled the over the toilet rack in that we had previously used in the boys' bathroom in NJ. I just wanted something to add some interest to that wall before tackling the whole bathroom redo.


It helped to deter from the toilet being the white elephant in the room. But now, the white elephant with the shelf above it seems to be the focal point. The "my eyes fall directly on this" point of the room. Is it the straw that will break the camel's back? No, not at this point. It's just temporary and besides, I've got ideas!

To be fair with the whole makeover, I got my better camera out and snapped some better before photos. Do you often think that before photos look so much worse because people don't spend a good amount of time taking them? LOL These aren't the greatest, but they aren't iPhone photos, so there's fairness in there somewhere. ;)

You can see where I pulled that one strip of wallpaper off the wall. The Sheetrock is in pretty decent shape underneath, so that's good.
I'll need to prime it before painting just to seal it. I want new soap dispensers and other pretties for the vanity. I used the black in Kansas to go with my black toille shower curtain and window curtain. I continued its use in NJ, but added the white soap dispenser on my side of the sink. When I went back to Target to get a second one for G-Dub, I couldn't find the milk glass ones anymore. :( So, that'll require two new ones when the time comes.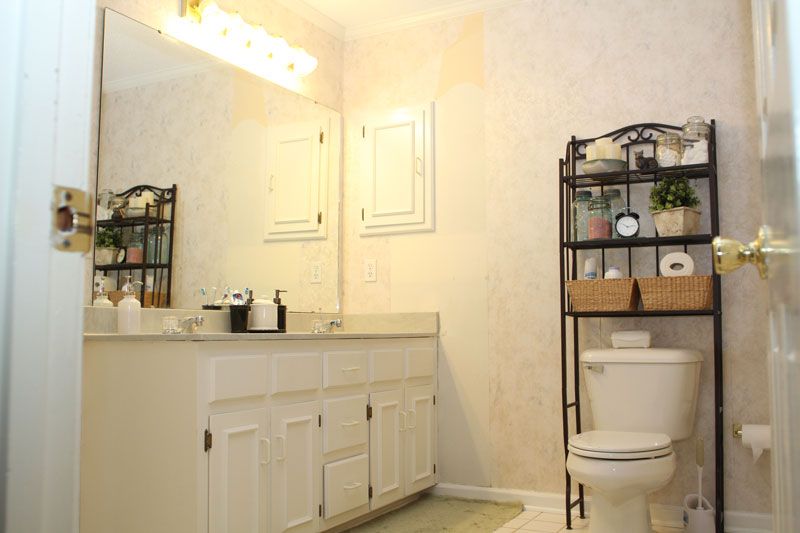 This lovely 1989 special is going to come down. I'd love to have two fixtures above the mirror instead of just one.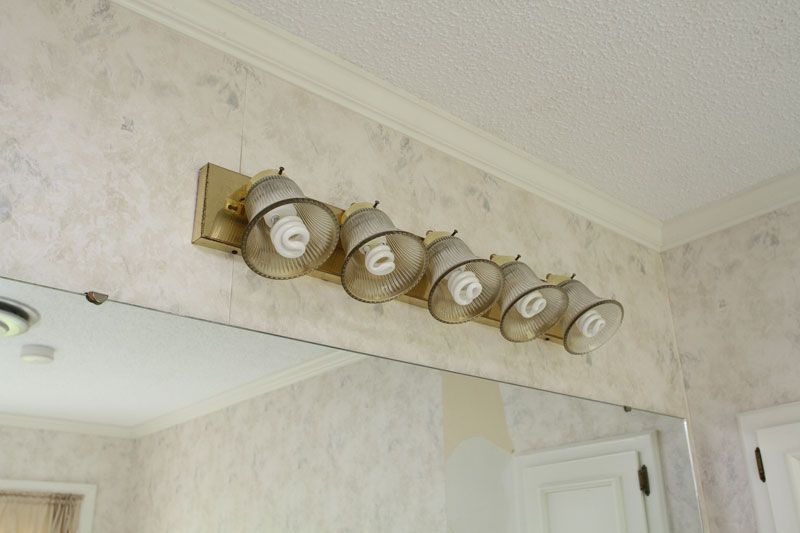 These lovelies will come down as well. There's a beautiful window hiding behind the curtains. The rest of the house has white plantation blinds on every window.
In the storage room is a blind that has been custom cut for this window, but it was never hung.
My mind keeps going to a bamboo blind, but I know the practical/frugal side of me should just use that already here blind. :-/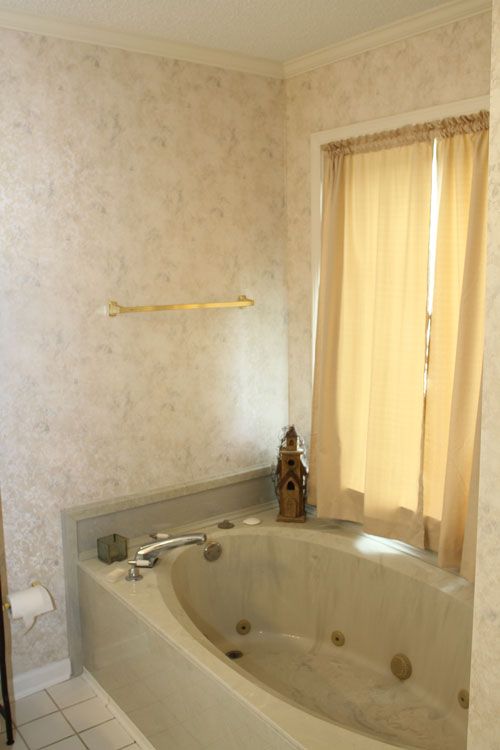 The window needs something because even though the neighbors aren't close, I don't want to strip down in front of the window for a soak in the tub!
You can see the grayish green I'm talking about here in better light. It's not as bad as I originally thought when G-Dub told me the tub and shower were green!
My mind went to the 60s avocado green and got a little antsy!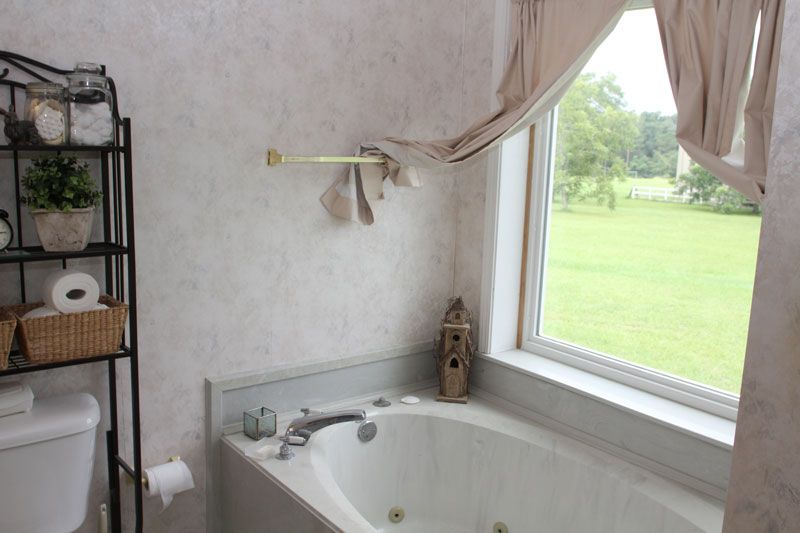 Ultimately, I'd like to have oil rubbed bronze fixtures in here. In the meantime, we have ORB, brass door handles and chrome faucets. We're like the tricolored jewelry of the 80s! I first started with the extension shelf in the shower to store my shampoo and such. Then I replaced the shower head. I went ahead and bought the ORB one, but the original arm was silver. You all know me, I'm not scared of spray paint, so I painted it with spray paint. I just didn't spray paint it with paint.
I sprayed some into the cap of the can and dabbed it on with a brush until it covered. ;)


I love this wall of built in cabinets! All I want to do here is replace the handles. These are cheap plastic handles. That whole concept really made me wonder. But, the previous owner had prosthetic hands, so maybe that had something to do with the choice of drawer handles. ???


Because this post is long enough already, I'll save my ideas for the makeover for another post!