With all the talk about canning lately, I thought I'd show you where I put the items I use when I'm canning - all my extra lids and rings, etc.

When we lived in Kansas, I picked up two of these antique locker baskets at a junk store. I love those things!
My dad bought several of them at an auction and let me have one of those. I need ONE more to make the storage shelves in my laundry room look right.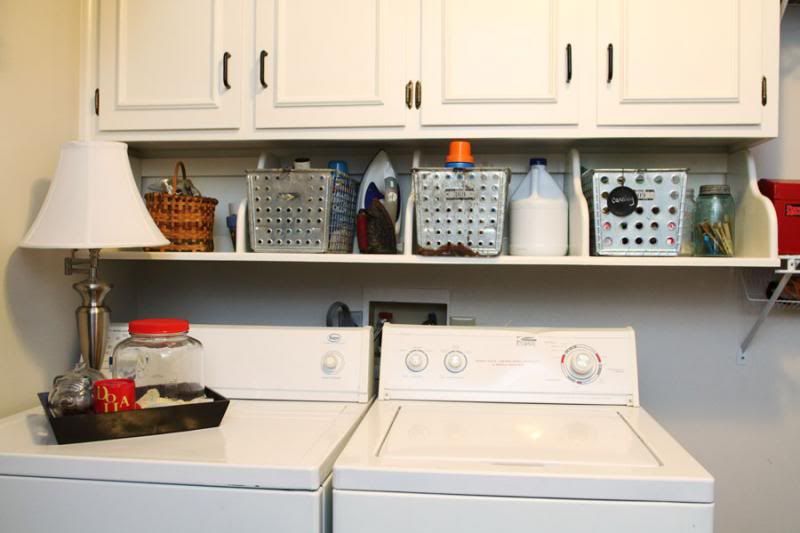 (No fancy schmancy matching set of washer and dryer for me... I had thought maybe after our stuff came out of storage in Kansas from our time in Korea,
I might get a new set. No luck... the old Whirlpools are still going strong. Ok, maybe with this move? Nope, the only damage done
to them was the dent you can see in my washer, which didn't effect the way the washer works. So, I'm still using them until they quit. :) )

In the meantime, I've filled the baskets with things that are appropriate for the cubby space.
The one above the washing machine holds the bottle of liquid laundry soap and my extra FelsNapthia bars for when I need
to make a batch of my own powder soap. The basket closer to over the dryer and beside the iron holds spray starch and lint rollers.

In the third locker basket, I've stored my canning supplies. I even reused an old lid to make a chalkboard label for the outside of my locker basket.


I really like using the giant O rings to hold the Mason rings together when not in use.


I need to make some more of those chalkboard labels for my other locker baskets.


See the peak of my toolbox? That's my girl toolbox. I got tired of having to go pilfer through G-Dub's tools every time I needed a screwdriver so I asked for my own toolbox one year for Christmas. It is funny how he uses it as much as I use his tools in the shop now! LOL