Yesterday, I showed you my $5 diamond in the rough find from a Saturday yard sale.
Read more about it here.
You probably cringed when you saw the photo:
Since I've been anxious to have a project and not eager enough to take on the china cabinet overhaul, I got right to work on this little project.
There was a molding piece on the top where you could tell by the straight edge on the left side it had been cut apart and didn't match up with the curved cut of the right side. I decided that was an easy solution - just remove it. Two screws removed and it was done.
I then sanded the entire piece lightly to remove whatever sheen was left. (There wasn't much! This piece had been well loved or either really neglected!) I glued some of the peeling veneer back into place. I filled in the places where there was missing veneer with wood putty which was later sanded. Then, it was ready to paint. I used the leftover gray paint from my bathroom cabinet,
Beauty
. It's Home Depot's Behr paint in Rhino.
I left the top alone and stained it with dark walnut stain.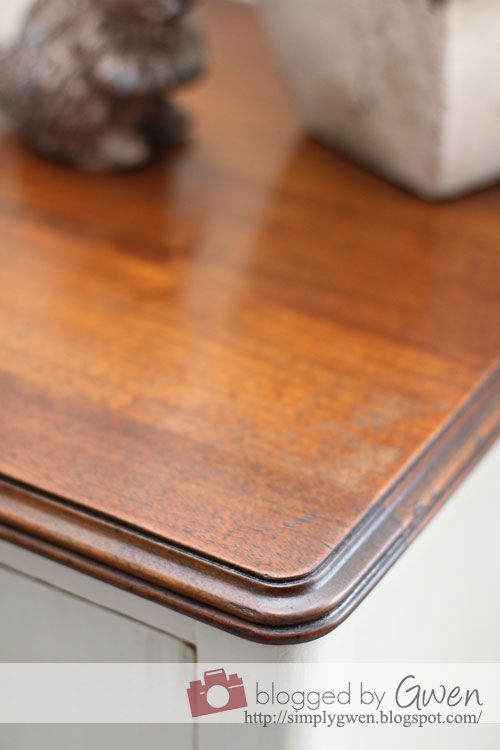 When I finished painting, I wiped the entire piece down in the walnut stain and then immediately wiped it off with a clean cloth. In the end, I sealed the entire piece with finishing wax. Even her beautiful legs got a little distressing to bring out the details.
I'm thrilled with the result! I'm so glad my vision for the piece came together as it did in my head.
Here's one more look comparing her before and after.
Linking up to the Parties @ Domestically Speaking, A Bowl Full of Lemons