...as long as we do it my way.

Is that a little tainted? I suppose so.

G-Dub's favorite spot in the living room is in the recliner. It's a man thing. Beside the recliner is a little table (seen here).
G-Dub gripes every time he decides to have a snack while sitting in the recliner watching tv. "I don't have anything to put my stuff on while watching tv."
He hasn't been impressed with my answers which might have included:
* You shouldn't eat in front of the tv anyway.
* There are two full sized tables in this house where you can eat your food.
* There's also an eating area in the kitchen at the island with bar stools.
* There's a table right beside you! On the LEFT side of the chair.

For whatever reason, my arguments haven't silenced his comments about "needing" a tray table. *rolleyes*
I didn't want one. I can't imagine where we'd put in when he isn't using it.
All I could imagine was those tray table sets that MIL used to have sitting on their little display/holder/carrier thingy in the corner of her living room.
When we were in a thrift shop/antique store recently and he found a set of four on their carrier, I was on pins and needles hoping he wasn't going to buy them!

*Please don't buy them! Please don't buy them! Please don't buy them! Please don't buy them! Please don't buy them! Please don't buy them!*

"We don't really need a whole set of FOUR!" was music to my ears!

Since then, I have run across a couple of singles in another thrift/antique store. The singles were $25 each though. Huh? Seriously?
There goes that spoiled by real thrift store prices mantra of mine.

Fast forward to Tuesday of this week. I had to run to Walmart and right down the street from Walmart is Goodwill.
I hadn't been in there in a while so decided to do a quick walk through. Can you guess what I found with a $2.99 price tag on it?


I picked it up and looked at it, then kept right on walking to the other side of the store trying to erase it from my mind.
I browsed through the other furniture pieces and knick-knacks. Five minutes later, the guilt began to settle in.
I walked over and picked it up, paid for it and walked out the door. I'm such a good wife. *rolleyes*

When I showed it to him later, he was a little excited, but agreed that it was pretty ugly.
I told him the only way he could use it was if he let me put my mark on it and did it my way.
I was agreeing to disagree about having a tray table in the way in the living room IF we did it my way.
I wanted to redo it and put my mark on it.

I knew the edges and legs would be an easy fix. Sand and paint black. (I used chalkboard paint because I knew it would adhere even without sanding everything sufficiently!) The top was laminate and made me question my sanity. I decided to just coat it with a good primer and paint it as well.
Then, a harlequin pattern popped into my head. I tried to erase the image, but it wouldn't go away. My neighbor even tried to talk me out of it.
No go.
I pulled out the freezer paper again along with my Xacto knife and got to work cutting out a pattern.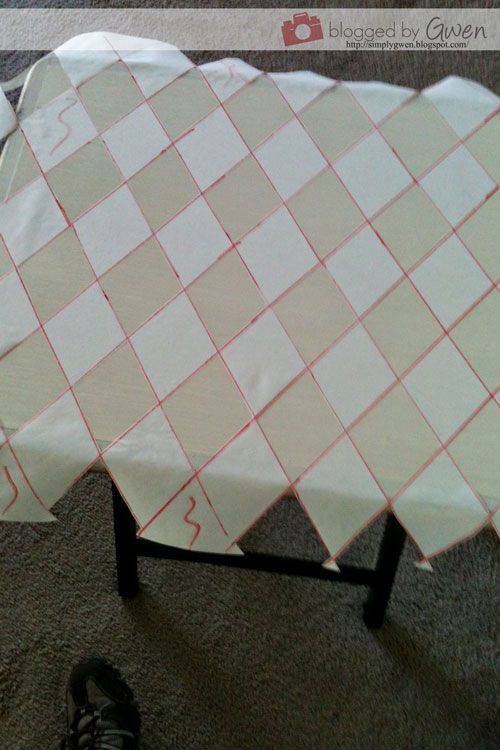 *Yes, that's my living room floor carpet you see in the photo.
Yes, I was working on painting this in the living room Friday morning while watching Grey's Anatomy
and Scandal episodes I'd missed the night before. I didn't spill any paint. *WHEW*
I wasn't really careful though because things went wrong.
When I went to pull the template off, I realized that it hadn't adhered well all over.
Not only did paint bleed through, some paint came up with the template/stencil. Ack!


What a mess! I just got busy scraping the black off the white and filling in some more of the black. I decided not to fill in all of the black though.
I had also noticed that my shapes weren't perfect and that they wouldn't have passed inspection by a geometry teacher or engineer of shapes.
Good thing, they don't have to! It looked a lot better with black paint around the edges and that little bit of cleanup.
I decided to call it good enough and done! Move on to the next step which was a swipe of stain to decrease the starkness of the white primer.


A coat of wax after that lightened the stain color and made it look like a nice used and worn piece. Perfect for what I was thinking in my head!


Another look at the comparision: