Once upon a time, I had a great aunt who had an antique dressing table/dresser. You know that kind that has the big round mirror in the center with a set of drawers on each side? I used to think I wanted one of those, but it never came to be. All is well in that regard as my tastes have changed since then. Not too long ago on Pinterest, I saw where someone had cut one apart making end tables or bedside tables. I thought that was a neat idea, so I filed it away for another day.
Saturday, I was on my way to Lowe's and saw a yard sale on the side of the busy highway. I wouldn't normally stop on a busy highway, but G-Dub was driving and said, why not? When scanning the yard filled with various furniture pieces and lots of junk, my eyes landed on this beauty.

What?


You don't think it's beautiful in its chipped veneer, dirty, grimy, and needs a whole lot of Tender Loving Care state?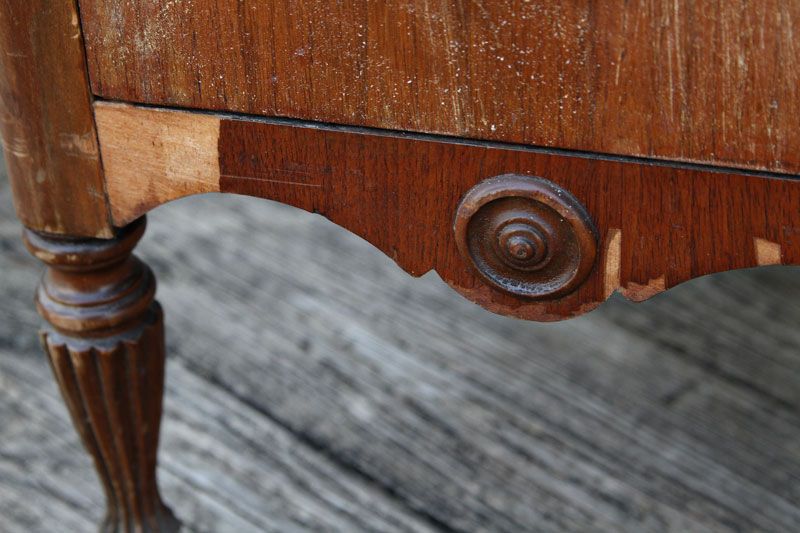 I knew immediately that it was my filed away set of drawers from a cut apart vanity. I said it aloud as the guy was telling me the story behind it. He said yes it was. He said that they (family? fellow yard sale hosts?) cleaned out houses and had found this being used as a night stand. I said, "How much?" He said, "Five dollars." I said, "I'll take it!"
I spent time this weekend giving it a new fresh look and am finished. I wish I'd left the drawer pulls in their aged state because now they are shiny brass colored after I cleaned them. Not sure I like them. Since I need to "stage it" for photos, I'm going to make you wait on the after photos. In the meantime, revel in the beauty of the before photos.

Stay tuned...