Several years ago when we lived in Kansas, we were part of a homeschool group. This group was just getting started and didn't do a ton of things at first. We took swim lessons with them on post. At one point, they started an art class every Friday after swim lessons with some elementary education majors from KState University.
One week, they boys worked on watercolor paintings. The student teachers taught them the "proper" way to use water colors.
When the paintings were done, I stored them away in a To Keep folder. I had thought of framing them at some point and hanging them in the basement or the boys' rooms. Then we moved to Korea and then back to the states. I'd sort of forgotten about the watercolor paintings.

Fast forward to a couple of weekends ago when we had some plumbing issues and a leak in the basement. After all that was cleaned up, I was down there going through some of my things to make sure nothing was damaged that I'd missed. I came across the watercolor paintings! They'd been rough cut out of larger watercolor paper so they weren't the same size. I spent some time measuring and getting them cut to the same size. I had the thought again that I needed to find frames for these or have them framed. I hate having things framed because I'm cheap frugal. I put the artwork back into a its special storing spot
(which means I really just tucked them back into a space where I could find them easily, but that they were safe.)

I proceeded to forget about them after that. No excuse. Just not a priority after being in storage all this time!

Yesterday morning, I was watching Cash and Cari on HGTV. They found some artwork that was actually worth some $$. It reminded me of the artwork and frames that I've seen at a local thrift shop. Last summer I bought a print in a really nice frame that I then proceeded to paint over with chalkboard paint and hang in Teen's room. Um, hopefully that are wasn't worth anything! LOL (I actually looked it up on ebay before destroying it!) I don't go in that thrift store often because I'm not usually in that area. But, I needed to go to Lowe's and one of the local Lowe's stores isn't too far from that thrift shop. So, I decided to head that direction and just look around.

I went over to their frames and prints, but nothing really stood out. Drats. Then I picked up one of two frames they had there. They were oblong and originally from IKEA.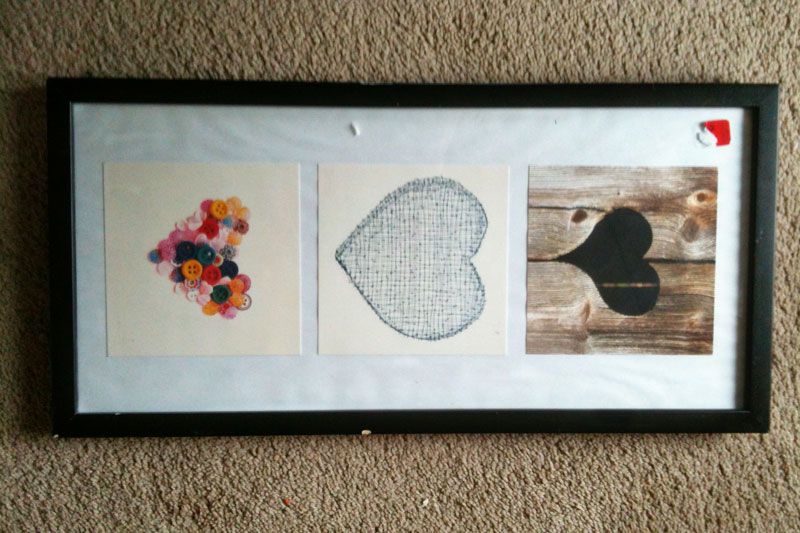 My forgetful brain immediately pulled the watercolor artwork to front and center. At that point, I wanted to give myself a nice forehead slap for not actually measuring the artwork and putting those measurements into my phone. They had a couple of nicks, but they glass was intact and overall, the frames were fine.
The price tag on each of them read $2.99.


Hey, it was worth the gamble.

I bought them and brought them home. I went into the basement and pulled the artwork out of their safe storage, then give myself an imaginary in my head high five because they fit perfectly! I cleaned them up with Windex. I took some black craft paint and touched up the nicks, then smoothed it over. I need to go over the new paint with finishing wax to make it shiny like the rest of the frame. I just didn't do it before snapping the photos to share!




I need to figure out what I'm going to do with them now! They've been laying on the table since last night. I stop and admire them every time I walk by!