There's a place not too far from here called Produce Junction. It can be a somewhat overwhelming place! I was completely overwhelmed the first time I went in there. I still get that way if there is a crowd of people there. You walk in and can gather some of your goodies out in the open area where there's room. For most stuff, you go to the counter and tell them what you want, then they grab it from behind them and you pay and are on your merry way. Unless you want fruit AND veggies. If you've bought fruit and want veggies, you have to do that same thing at the other counter. It took me a couple of times to realize that. Like I said, it's overwhelming with all the people and the fast business transactions! I would get to the counter and draw a blank!
The produce isn't organic, which I've dabbled in some recently. But, their produce is a much better price than the grocery store for ordinary stuff. Plus, they often have a fresher and more varied selection.
I was in there last week and stocked up on some things. That stuff disappeared. It was time to go back for more this week!
This was yesterday's haul.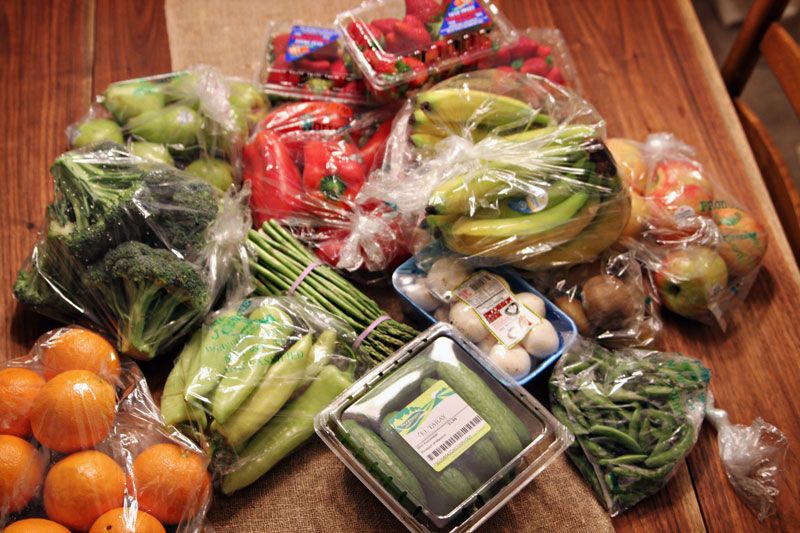 Mmmm, reminds me of summer!
We've enjoyed fruit salads made with fresh fruit, topped with chopped pecans and cranberries! I make a little fruit side salad for the boys' lunches. I always make a large batch, then G-Dub and I have been finishing it off for a fresh breakfast! For lunch, I have a fresh salad. I have learned in the past few months that a whole head of Romaine lettuce cut at home lasts stays fresher longer than the kind you buy in a bag. I wouldn't say it lasts longer though because I have actually been eating these salads as opposed to letting them ruin in the fridge!