When G-Dub was flying helicopters for the Army, he went many places. Some cool. Some not so great. He's really loving flying airplanes for the Army and visiting even more places. The thing about airplanes as many of you know, they can't land just anywhere like a helicopter can. So, he's visited some more "uppity" airports and not just airfields. He's flown into International Airports such as Pittsburgh, Myrtle Beach, Dallas-Ft. Worth, Ashville, Nashville, Guantanamo Bay, Anchorage, Lexington and the list goes on and on. You don't land in those places in an Army Chinook. He is enjoying the experience and the fact that overnights involve sleeping in a hotel rather than how they often slept in the back of the helicopter. Yikes! He jokes and says he's roughing it at the Marriott with points.
One of OUR benefits for his no longer roughing it is that he often brings us goodies back from places he's visited. When he spent two weeks in Alaska earlier in the year, he brought the boys back Deadliest Catch t-shirts. They also received Guantanamo Bay t-shirts from the US military operations there. He brought me Almond biscotti from some bakery in an airport in the Carolinas.
This past week, he flew to Colorado as part of his check ride for PC - Pilot in Command. (That's a status he obtained a several years ago in the Chinook world, but he had to start all over as the new guy when he transitioned to fixed wing.) They arranged for him to do maneuvers at the highest airport in the US. He was a little stressed by it all, but I wasn't worried. He puts his heart and soul into flying and .... oh pardon the pun in advance..... being ALL that he can be! The good news from that trip is that he passed his evaluation and is the company's newest Pilot in Command. The better news from that trip is that he brought ME back a present this time.

Almond Toffee. I'm seeing an almond trend here. ;)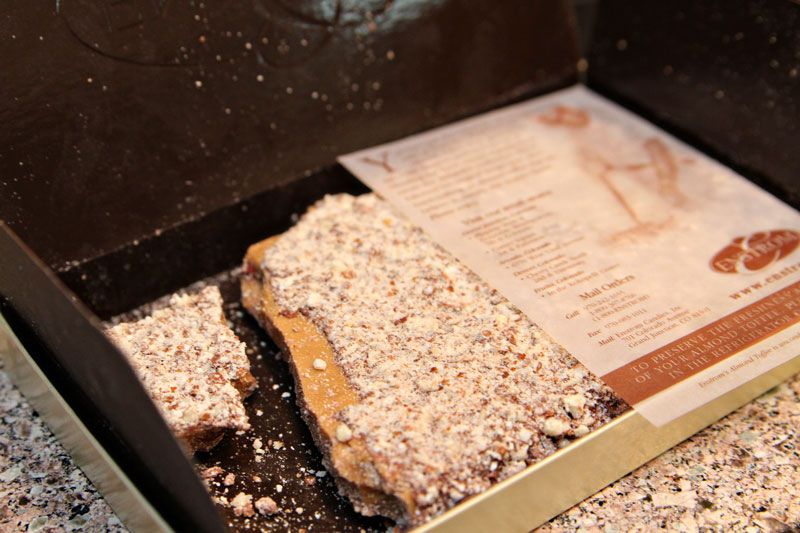 It was so yummy. It had no yucky additives as it was made by a local company in Colorado, so that was a bonus! I've tried to slowly enjoy every last morsel of it, a little bit at a time. I have been nice and shared a few bites. I'm almost to the end of it though. Egads! So, I put it away in my stash cabinet to make its sweetness last a little longer.
Link to Enstrom to view more of their delights:
Enstrom Toffee