Remember back in May when I posted about the Vintage Sled that I found at a yard sale for the whopping price of $1? Read about it
here.
I've been waiting patiently for the nearing of Christmas and winter to display my sled on the front porch! I decided this past week that we were close enough! So, I got to work. I never got lucky enough to pick up a pair of ice skates at a yard sale. (Well, I found some, but they were too new and too pretty and too costly!) So, a ribbon will have to do on my sled.
I wasn't sure what else I wanted out on the porch. The spikes and Dusty Miller were still thriving in my pots from the summer, so I felt rather guilty pulling them up to toss them. I wanted something green. We are in the middle of the Pine Barrens, so I decided pine boughs would be the ticket! We had a branch fall during the recent snow/nor'easter so I went to work salvaging some greenery from it. Now, I have found myself watering pine straw to keep it green through the holidays. LOL (The things you do for decorating!) I picked up a couple of large ornaments at The Christmas Tree Shop and they were perfect for the center of the greenery.
The Santa sign is something I've had for years. MIL gave it to me and I have always had a love hate relationship with it. I LOVE Santa things. But, this sign was pink. Yeah... When it came to mind in decorating the porch, I almost shunned the idea because it's pink. Then it hit me that I could easily just transform it with paint. So, that's just what I did!
I snapped a photo of the back that I left pink just to show you! Eek! Can you imagine the front like that? You'll have to imagine it because I forgot a before photo.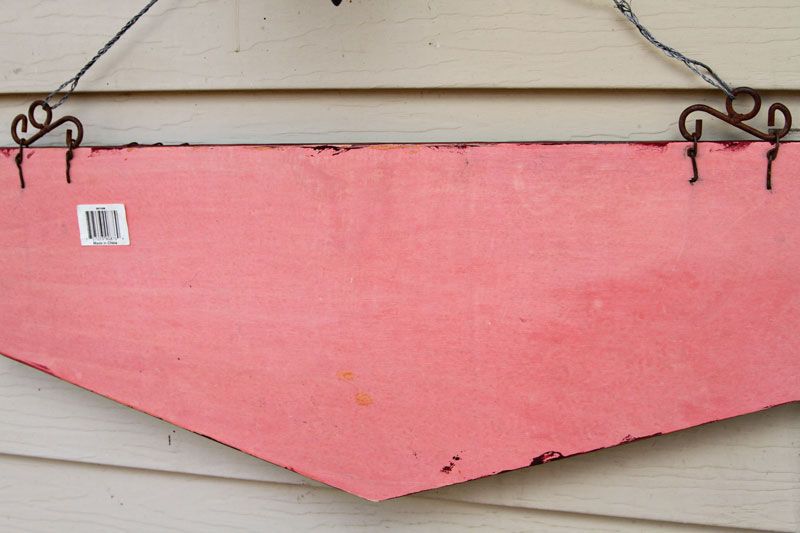 Why pink? I love it so much more after I revamped it!