For the past couple of years, I've wanted to make a Christmas banner. I just didn't have it in me to make a large one. I wanted something simple and quick, but I wasn't sure where I'd put a simple and quick one. A few days ago as I walked past the chalkboard in the entry hallway, I decided it might be time to erase the turkey and thankful message. The revelation came to me that a small banner would be perfect for the chalkboard! I decided to use shipping tags and see where that led.
Again, I wanted it to be very simple. I thought sheet music would be a neat backdrop for stamped letters. But, I don't have any sheet music. I remembered that a few years ago (eight to be exact), the girls at the scrapbook forum and I went in together on a Group Buy of pages from a 1897 Sear & Roebuck catalog. I thought back to the days when I was younger and would pour over the JCPenney Christmas Wish Catalog before the holiday, taking note of all the cool things inside. I decided the vintage catalog pages would be perfect for the Christmas banner. I loved those pages, but I had never done anything with them. Amazingly, they've survived three moves and double the number of purgings. I used those as backdrops on the tags then stamped a simple letter to spell out "Merry Christmas."
I thought that just one string of jute wouldn't be as substantial, so I used three to string the tags. I had to knot each area so that the tags would lie flat.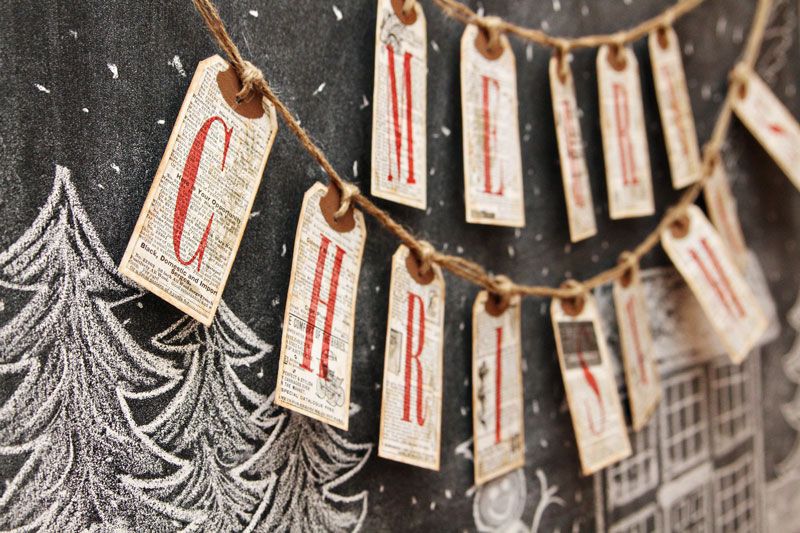 I then contemplated leaving the chalkboard blank behind the banner, but that didn't seem fitting. No quote was fitting either. I had to decide what to put on the chalkboard that I wouldn't mind covering with the banner! A snowy scene seemed to be the perfect answer.