I was browsing the
Heavenly Homemakers
blog recently and ran across a recipe for homemade/canned tomato soup. We love tomato soup in the winter with a warm grilled cheese sandwich. I decided I needed to try and make up a batch for us. That required a trip back to the farm market as my tomatoes are still green! Sigh.... There are a few red ones, but the majority are green. They are coming around, but I hope the frost doesn't get them before I do! I couldn't decide how many tomatoes to buy. My purchase from a few weeks ago purposed three lovely pints of homemade marinara. I wanted to ensure I'd have more than three pints this time around. So, when I saw the sign on the box that said, "$12 for whole box" of utility tomatoes, I decided to just do that! Utility tomatoes are tomatoes that are perfectly fine, they just aren't as pretty as the ones the market can sell for more $ a pound. I picked up the box and a few more things. I got home and weighed the box of tomatoes.
Two pounds.
Wait, what?
It took me just a second to realize that my scale had circled itself and landed on two pounds. It maxes out at 24.
The increments between that 24 and 2 are actually three. 24, 0, 1, then 2.
I bought 27 pounds of tomatoes for $12.
Oh, a bargain! But, ummm, twenty seven pounds of tomatoes is a lot of tomatoes!
They aren't quite as ripe as I'd like them to be, so I decided to spread them out on the table out back.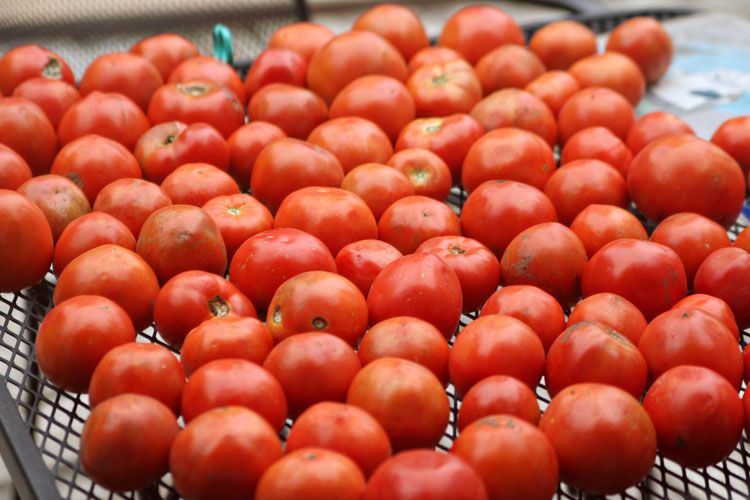 Seeing them all spread out like that I decided I might be crazy.
Then I remembered what the lady at the counter of the other farm market asked me when she was weighing my butternut squash. I had two. She pointed to the big bushel bucket overflowing with butternut squash behind her and asked if I would rather have those. $4 for the entire lot. As she weighed my two and they came to almost $4 alone, I was tempted, but turned her down. I haven't used butternut squash in a long time. The venture to buy those yesterday was a whim. I couldn't see X pounds of them in my kitchen along with the tomatoes. THAT would have been crazy! But it would have been another bargain!
Maybe if they are still there after I finish with the tomatoes. ;)