With my resolve of eating more wholesome and less processed foods, I have run into quite a few road blocks when it comes to snacks or extras for the boys' lunches. This has led me to being creative which is actually a nice way of saying cooking more.
On
100 Days of Real Food's
Facebook page, she often shares photos of the lunches she packs for her girls. A few times, I've spotted homemade donuts.
Hmm.... lightbulb.
I didn't act on this lightbulb moment right away because I was caught up making muffins or finding good pretzels and cutting up different fruits, etc. But, a couple of weeks ago, I picked up a mini donut tin at Joann's that was on sale. I debated the larger donut pan, but I went with the mini thinking minis would be great for lunchboxes. I didn't even realize it was on sale until I was at the checkout. Yay!
Over the weekend when I was making breakfast and my kitchen was already a mess, I decided to try out a pumpkin recipe. I compared Lisa's recipe on her site
Ways to Switch Up You Kid's Lunch
with the recipe included in the paperwork for the pan. I ended up making adjustments and making my own Pumpkin donuts.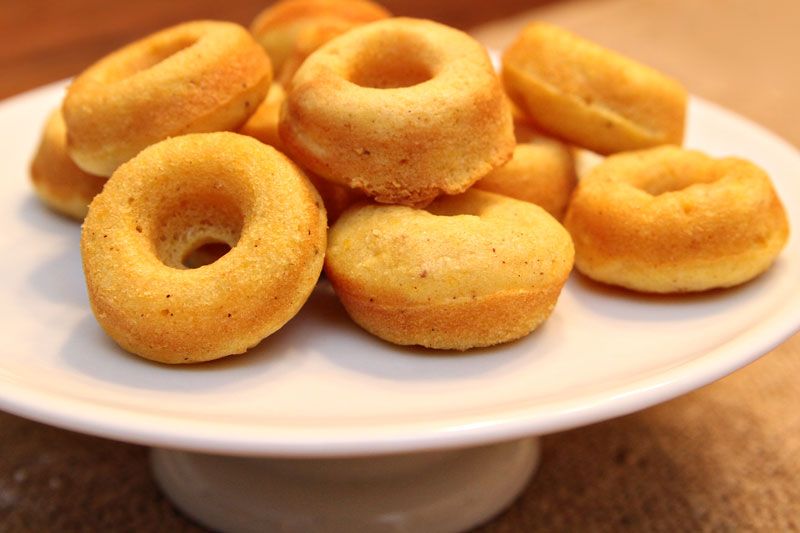 They were moist and delicious...
Pumpkin Donuts
1 egg
1/2 cup milk
1/4 cup pure maple syrup
1/2 teaspoon vanilla
4 tablespoons oil (I used coconut oil)
2 tablespoons pumpkin puree (canned)
1 cup King Arthur Unbleached Cake Flour Blend
3 tsp baking powder
1 teaspoon cinnamon
1/4 teaspoon nutmeg
1/8 teaspoon ground cloves
1/8 teaspoon ginger
1. Preheat oven to 425 degrees.
2. In a bowl, blend flour with the baking powder and other dry ingredients.
3. In another bowl, mix egg, milk, maple syrup, vanilla, oil and pumpkin puree.
4. Stir flour mixture into the milk mixture and blend until lumps are no longer present.
5. Grease donut pan. I used my new Misto sprayer filled with oil olive.
6. Fill wells half full with batter.
7. Bake at 425 for 6-7 until the tops reach a beautiful golden brown.
8. Cool in pan for five minutes, then on a baking rack while you finish cooking the remaining batter!