Since living in Kansas, I have a love for all things old. Well, I've probably always had that love. It just peaked when we lived in Kansas. At some point, I picked up a few old Ball Mason jars at a yard sale. I've used them since living here on the kitchen counter for snacks or candy or even storing homemade granola.

Last Saturday after I dropped Teen off at church for a youth group trip, I passed by a moving sale.
Now, I truly do not need to bring ONE more thing into this house. I need to take a few thousand things OUT instead.
(Yes, even after my yard sale and purge last month, I'm still finding things I need to rid from us!)
But, while browsing through the contents of this person's moving sale tables, I was drawn to a table with Mason jars for sale.

Do I need them? No.
Will I actually can with them? No.
Are they pretty? Yes.
Are they a "deal"? Um, maybe.
Can I find a way to use them? Well, sure!

They were three for $5. I found four that I really wanted. I let Roo pick two more that were his favorites. The lady who was selling the items told about these jars being in her grandmother's basement. She's remembered her great grandmother canning with them. On her thirtieth birthday, she was eating a piece of bread with peach preserves when her grandmother said, "I remember canning those on the day you were born!" Yipes!!! ... not sure canned food is supposed to last that long, but am glad the lady survived the old peach preserves! LOL What a story!

I didn't photograph all of them because these four are the truly unique ones to me.


I'd never heard of Lustre brand jars. They are from Philadelphia so that's neat.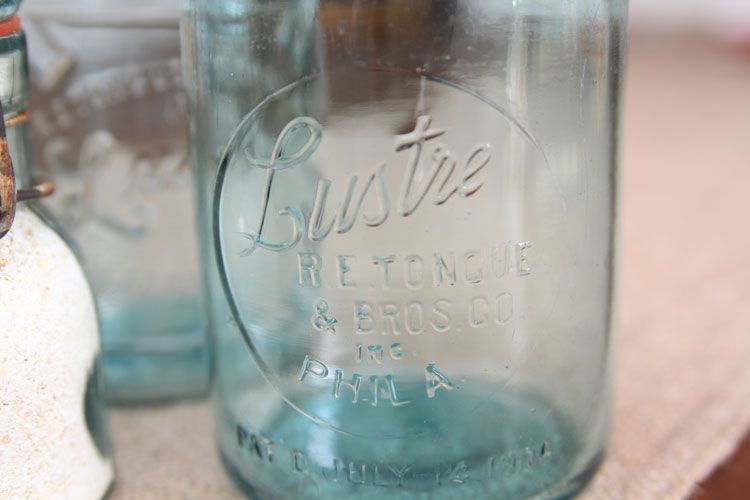 Atlas jars are pretty common like Ball. But I didn't already have any with this wire and bail closure.


My only issue with them is that rust on the wire. I don't know what to do with that as far as cleaning. Do I clean it or replace it? Or leave it alone? It's strictly on the outside of the jars and doesn't touch the contents within. (That's ground oats in that one jar in case you're wondering.)