I took my fall wreath out of the container last night and decided it looked extremely sad. I put this thing together years... YEARS ago. It's been moved several times and adorned the doors of five of our homes. I've fluffed it a couple of times, and even reattached some of the leaves a couple of times. But, it still looked sad to me last night.

I didn't take a good before photo because I thought I already had one. Before photos are always supposed to look bad anyway, right?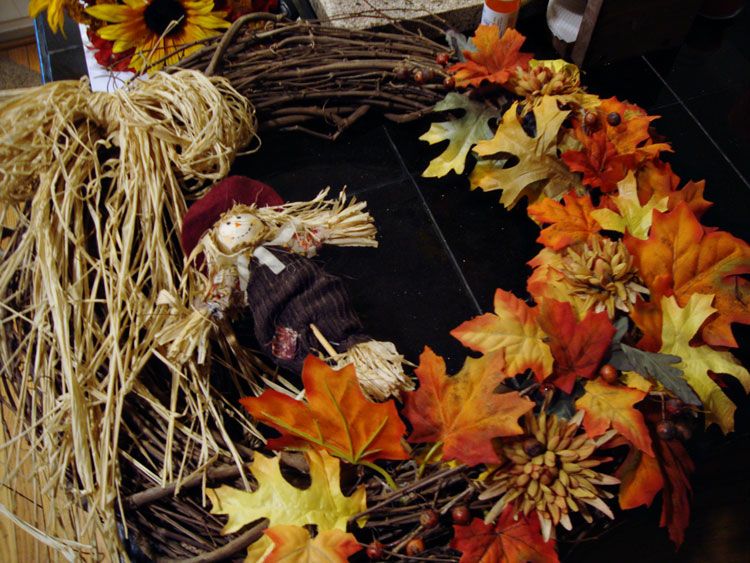 In all fairness, I did find a better photo of the wreath last year, just not the entire wreath.


Son2 and I were in ACMoore yesterday. I had sort of already decided before even opening the wreath container that I would rework it, so I picked up a spring of fall flowers with a couple of sunflowers on it. My neighbor came over in the middle of my mess of wreath on the kitchen counter, flowers, leaves and dinner dishes everywhere.
(Why does someone show up at your door at times like that?) She mentioned that she might have some more things in her stash I could use. So, I went over to check out what she had. I came back with a few sprigs and extras. I knew with the old leaves and the new sprig I'd bought all would be fine. I played with it and arranged it last night, then took a second look this morning before gluing it all in place and hanging it on the door.


I like it. I had a letter "D" that I thought about using, but I went back with the scarecrow instead.
For now.