Years ago when my friend, Kristi, moved into a house, she found a little three legged side table for use in the living room. I loved that little table. I had table envy. For some reason, I've never forgotten that table. Well, the fact that my mil also owns one of those useful little things helps me not to forget. I've told mil several times if she ever decides to get rid of that table that I want it! Here in this house, I have the perfect spot for it! There's an empty space along the wall by the recliner. We've put the remotes into a small basket that sits beside the recliner. I've thought since then that we need a table for the basket to perch on. But, I haven't been able to find one.

Last weekend, G-Dub decided we should go look for yard sales. I asked him if he didn't get the memo that it was supposed to be over 100 degrees that day. "Oh, there'll be sales. I'm sure of it." he said. We drove the usual route. No sales. I remember hearing, "Wonder why there aren't any sales." My smart-alack subconscious couldn't be quiet. She had to say, "BECAUSE it's supposed to be over 100 degrees today!" Wow, something about that sounded familiar. We drove a little further and then I spotted a lone cardboard sign which we followed. An older lady was selling quite a bit of stuff. Upon first sight, it looked like something I wanted to walk away from. Tons of young kids toys and baby gates. Apparently, she once had a day care in her home. The only reason I kept walking was because there was a chair there I thought was interesting. I'm lazy though and the thoughts of the rocker I finally tossed a few months back because I gave up on refinishing and reupholstering it came to my mind. I walked beyond the chair into the garage. And there, I saw it. A little three legged table in need of a bit of TLC. I have TLC ability! I asked what she wanted for it as I was giving it a small shake. "Five dollars. It's an antique and very sturdy," came her response as I was wobbling the table back and forth on not so sturdy legs. Hmmmph... but the legs were even and there were no damages to the table. Wobbliness of "sturdy legs" was nothing a little wood glue and TLC couldn't fix. So, she came home with me.


Imagine a before picture here.

I sanded it down a bit, but only just lightly sanded the legs. I knew I was going to paint them black. I completely sanded the top though because my plan for it was a deep walnut stain. I finished it rather quickly because she's petite. The waiting came when I had to take time to let the smells from the paint, stain and wax evaporate.
She's now in her spot in the living room. After many trials with staging, she's finally holding what I think she will hold though it isn't the remote basket. LOL
That sits on the floor beneath her. Roo was disappointed that I put anything on her. He wanted her left blank for a "snack table". Um. No.


A Willow Tree favorite that didn't survive my children's childhood without getting broken.
You wouldn't know that the oldest boy's neck is held on by a glue dot if I hadn't told you, right?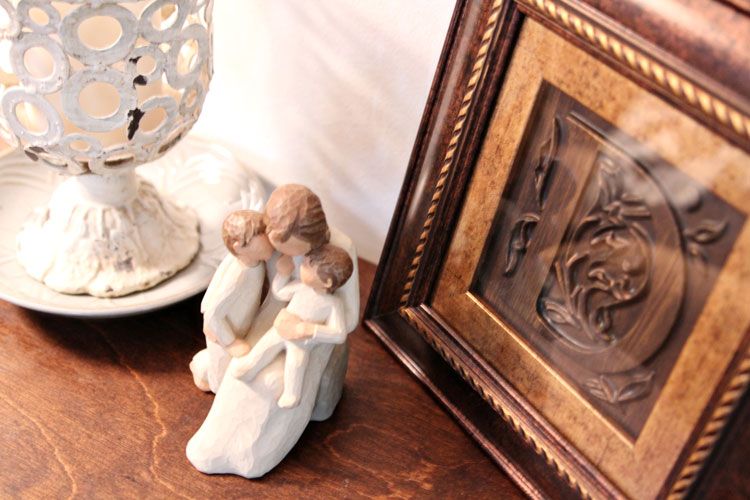 I love that candle holder. Love the chippy finish. I even love the too tall candle I placed inside.
The plate is one I picked up in Lotte Mart in Korea. I wish I'd bought more. I now wish I'd taken a better picture to show you. ;)