Years ago, my sister gave me two oblong planters. I can't remember the first thing I ever put in them. Nothing ever did great in them for whatever reason. An online friend offered me some of her hen and chicks. At the time, I lived in Alabama and she lived in Kentucky. Ha, ok. A few months later, we met in Nashville for the Creating Keepsakes University Convention. She brought along a couple of sprouts from her plant. I put one in each of the planters when I got home and they loved it. They thrived immensely. We moved from Alabama to Kansas and I hauled the planters right along. They continued to do well in the Kansas heat. Then we were moving to Korea. Hmm, what to do with my planters? Answer: Take them to Mom's house. I think they missed me because the plants in one of the pots died and the other began to look sparse. Mom replaced the hen and chicks in the empty pot with same plant, but different variety.
Last October, when they came to visit, she returned my planters to me. I put them on the back deck and mostly forgot about paying much attention to them. I did add some flowering moss and some green onions to the empty end of one pot thinking it'd fill itself in over time.
As I watched the planter, I noticed something odd happening. Instead of growing out and taking over the pot, one of the hens was growing up. Weird.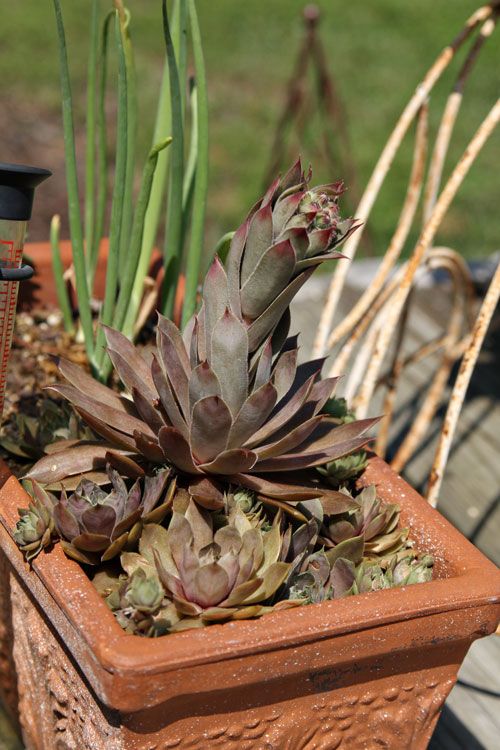 Last week, I finally figured out why it was growing vertically. It was a flower!


I never knew they flowered! Wow... learned something new for sure!

This week, the plant looks like this.