The morning after Barking Crab, we checked out of the room at the Navy Lodge. Rather than hitting the road, we decided to check out the areas the waitress from the night before had suggested. Fort Adams and the Cliff Walk. First up, Fort Adams. Even before that, we stopped and looked at a park along the harbor.

We were fascinated by all of the boats. The boats brought back memories of our own boat we kept near Destin, FL, years ago.
(I just looked and couldn't find a blog about our boat. I must have never blogged about it. Hmmmph...)

I apologize for the gazillion photos of the boats. Trust me, these are just a sample.
I went through the memory card and asked myself why so many photos of boats. LOL My only answer was they were pretty cool!


We spent some time at the little park, taking photos, looking at the boats, looking for seashells or interesting rocks and just strolling along the walkways.


I really wish I could remember the story of this monument.


I read the plaque, but then forgot what it said when we moved around to the other side and saw that someone had vandalized it. How sad. Who does this? :(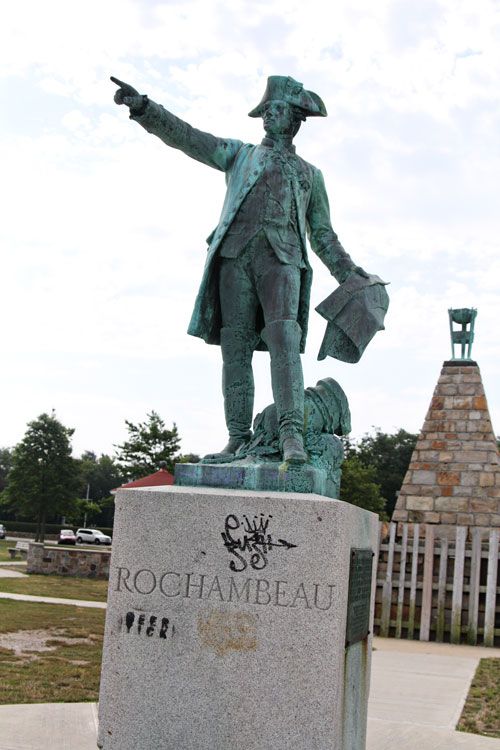 I looked Rochambeau up and was reminded of his story.

The French nobleman, Jean Baptiste Donatien de Vimeur, Comte de Rochambeau was born at Vendôme on 1 July 1726. He had already carved for himself a distinguished reputation as a soldier when the American Revolution brought him across the Atlantic to help the colonies in their fight for independence. General Rochambeau arrived at Newport in the summer of 1780, a dim period in the Revolution. His own talents, coupled with the 5,500 man force he brought with him, were to help decide the final campaign of the war for the United States. - from Naval Historical Center website
From this park, we kept driving until we arrived at Fort Adams.


Aside from the fort, we saw more boats!
A sailing school in progress. - I want to learn to sail!


A sailing tour. Is that a Schooner?


And a cruiseship! - Hey! I want to do that too!


Next blog post, I promise, no boats photos! We went to the other side of Newport and walked along the Cliff Walk. More on that soon!