Living in an apartment for the last two years, I was anxious to get my hands dirty come spring and put some plants in the ground! There's this spot off the side deck that is just space... dirt and space. We had put the trash cans there, but I declared it my garden spot at some point.
Excuse the nasty wall on the house. The owner never did come and power-wash it like he said he would. *insert eye roll* I can't see it now anyway because I've moved the trash cans up ON that deck and the yuck is hidden. I decided I'd just use the area here and also the existing flowerbeds (since not much else was in there) to plant my garden.
Along the fence, I have cucumbers that will hopefully run up the fence and produce. The upside down tomato cage has sweet peas to grow up it. I have two tomato plants in the cages. One of those has an extra sweet pea to grow on it. Two zucchini squash plants are there as well.... maybe there'll be room for those. The pot of zucchini I purchased had FIVE plants in it. I set them all out separately! Onions are there as well as some radishes.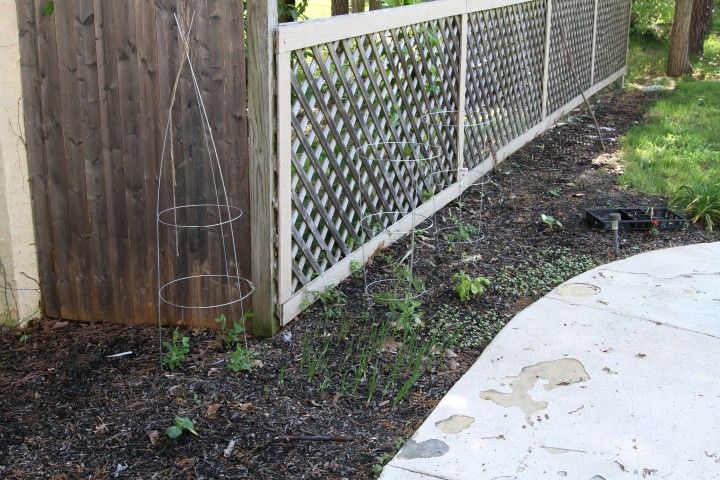 There are two yellow squash plants on the left. Along the fence on camera's left, I've planted corn. Never planted corn before, so we'll see. I thought if nothing else, I can use the stalks in October for decoration! Close up of onions and radishes and weeds I need to pull. You can also see the tomatoes and some basil that I planted.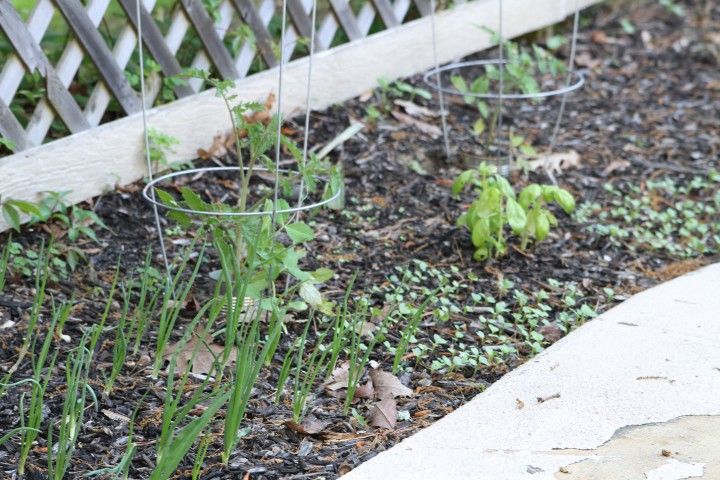 I'm probably going to have to support those tomatoes with something else. Those cages always seem so flimsy, yet I continue to buy them. Other side of sidewalk behind the house is a bed that eh... needs that yucca plant out of it, has been overrun with mint and was kind of just eh, blah. I put in some pepper plants, more onions, and a couple of zucchini. Here you can see a strawberry plant that was already here. And a daylily that I moved from up against the house.
More strawberries on the other side of the yucca. The birds love these. I've tried cds to scare them. Tulle to ward them off. Then yesterday, Son2 and I painted rocks to look like strawberries in hopes of warding them off.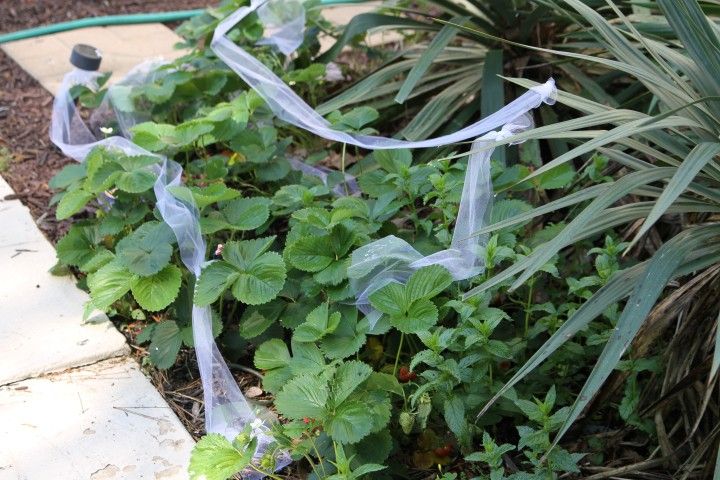 This is damage they can do. Found it the other day after the downpours didn't let us get outside to pick the strawberries.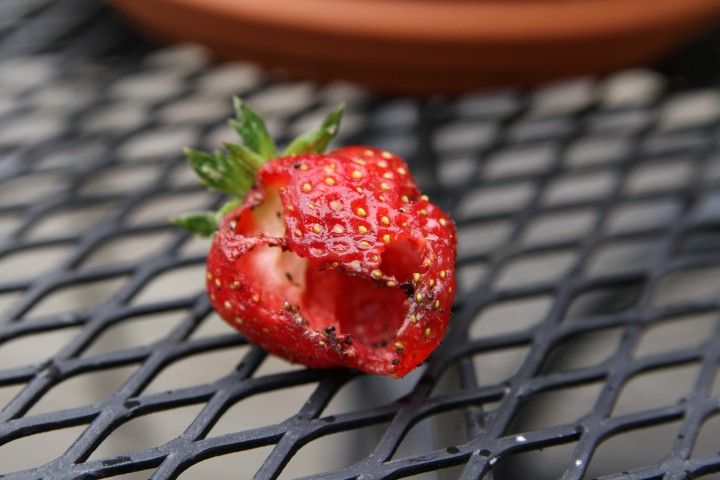 Summer will tell me if I did ok with the garden planting. I certainly hope I have a good harvest!