Sorry for a photo overload post, but I have missed getting out and playing in the photography world. I was having a little fun with my camera and these items yesterday. Looking at the photos, I came to a few realizations.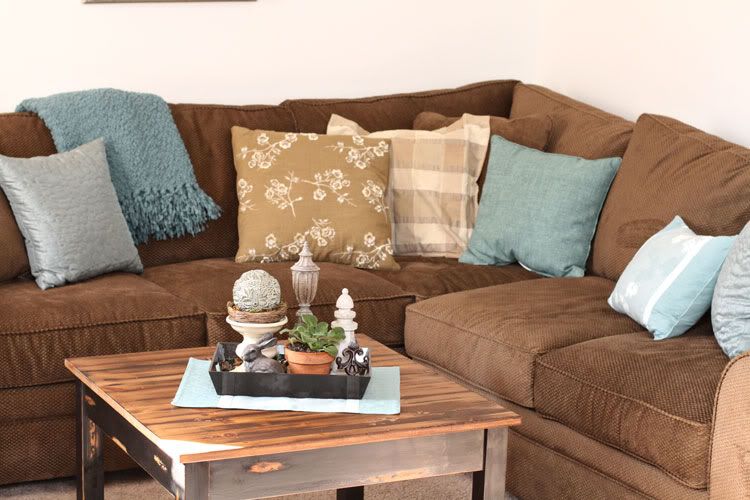 While I was "shopping around the house" to revamp my coffee table centerpiece recently, I realized I have a lot of little pretties that I love, but they don't always fit into my home. I have that habit of picking something up in a store just because I like it or because it's a good price. Sometime I have an idea what I'll do with it when I get home. But eight times out of ten, I'm buying it just because I like it and think I might can use it in a certain place once I get it home.
Occasionally, I might have a little buyer's remorse. I have had delayed buyer's remorse with a lot of things since unpacking our lives in the last six months. A lot of the things that were in storage in Kansas that we hadn't seen in two years were questionable. Oh, sure, they were neat things, but a lot of them had no rhyme nor reason. Product of all those neat yard sales in Kansas I suppose. And, additions to my own "for the yard sale" pile. I've tried to use many of those things. There are some that still stand out in my mind as ifs. I have come to realize that those ifs situations are times when you have to look at things in a different light. Two cases in point.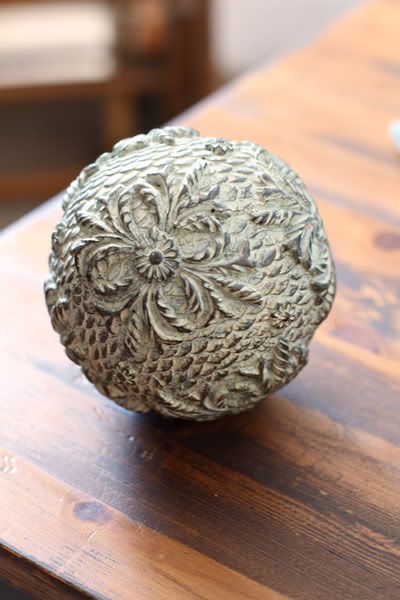 I have had this decorative ball for years. I used to have it in a bowl with some smaller ones, but I never liked the way it looked because it was so large. It's just been lying around waiting for me to decide I don't hate it. Same for this candle holder. I bought it at a thrift shop in Salina, KS. But, I never bought an appropriate sized candle for it. None of the ones I have are right for it. I've tried other things sitting on top of it, but none were pleasing to me. So, it's sat in a corner as well. A few days ago when I was playing with my centerpiece and pulling pieces together, I grabbed these two pieces. Throw in a bird's nest left over from a pack I'd bought for some craft a few years back and some floral moss and I have a far cry from feeling of hatred or remorse for purchasing the above pictured items.

Is it practical? Hmm.. Does it make sense? No. I tend to think too practical and too realistic. I need to be a little more whimsical. This in my opinion, lends itself toward whimsy. And, I like it!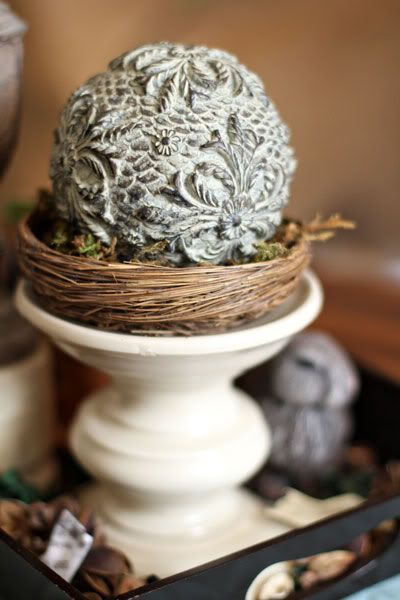 Same goes for this guy. 99cents in Goodwill a few weeks ago. Purchased on a whim because I liked him and Easter will be here soon.
The plant in the terracotta pot throws off the color scheme a bit, but I like the way the terracotta stands out in this vignette.
That metal finial has been displayed in the same place on a shelf of my dresser for years alongside the other two you see at the back of this display. I decided it was time to break that habit and use them elsewhere.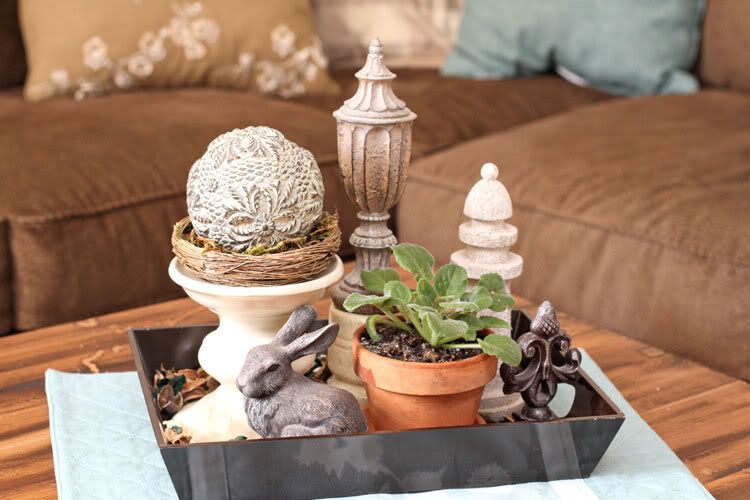 I like it. I think it all came together well though I have questioned the tray where it is all gathered. I'll work harder on that overcoming hatred though (for the tray), but I'm not promising I won't change it. I'd love to have this one from Pottery Barn
Mining Tray
, but we all know I am too frugal for that!
Last photo... Doesn't this kind of remind you of a photo from an I-Spy book? It does for me. There are no hidden treasures in here though, just reclaimed ones.