On Saturday, while so many were gathered together in a church in Newark, NJ to bid farewell to Whitney Houston, Roo and I were on the other side of town with other things on our minds. We were in Newark, NJ, but instead of saying goodbye to something we were on the hunt for something, wanting to say hello.
Lego Minifigures Series 6
appeared in stores recently only fueling his desire to collect more of these crazy little figures. We had both decided that the Statue of Liberty would be the ultimate find and maybe even one of the rare ones. ??? Maybe we were just fooling ourselves thinking we'd be hard pressed to find one.
If you don't have experience with the MiniFigs, you may not know that getting the one you want is not as easy as it would seem. You get the luck of the draw, kind of like buying a pack of baseball cards and hoping to get this year's MVP (or whatever you wish to get when you buy a pack of baseball cards - color me clueless there.) MiniFigs come in sealed little packages (blind packs) just taunting you to buy in bulk for better chances of getting what you want. Unless you get smart and a little fresh with the packages. While we were standing in Toys R Us fondling the packages trying to figure out which head piece this package could contain, I had a few pangs of guilt. Is this completely appropriate? A little while later when we moved to the next aisle and saw that someone had opened a package and left it lying on the shelf, I comforted myself in knowing that fondling an unopened package wasn't such a crime.
Back to that issue. Roo found the Minotaur after just a few touchy feely moments with two or three packages. A horse head isn't that hard to distinguish even inside foil wrap. I was off to the side trying to figure out what a weird solid piece was inside the package I'd been fondling for the past five minutes. Finally, I handed it over to my investigative partner who declared it "The Statue of Liberty's base skirt!" Woohoo! Yes, found it! Rare or not, we had found it! Liberty was ours! (as soon as we made it through the checkout!)
We went on to the electronics part of the store and that's where I started second guessing our Liberty find. "Hey, Roo, is there another figure in this series that would have a skirt? Was the dancer in this series or Series 5?" We took out our ipods and checked the
Minifigs Iphone Game
. Ugh, yes, the dancer was in this Series. Could what we were holding be her or Liberty? Roo feels through the blind pack a little more and declares the head piece to have questionable hair. Ok, back to the Lego aisle where he goes through the box again, but I continue to feel up the package I'm holding. I finally convince him I've felt the torch fire and the base of the torch. We take our chances and say, "Ok, this
has
to be Liberty!"
Check out. Moment of truth inside the car. Yes! We found Liberty!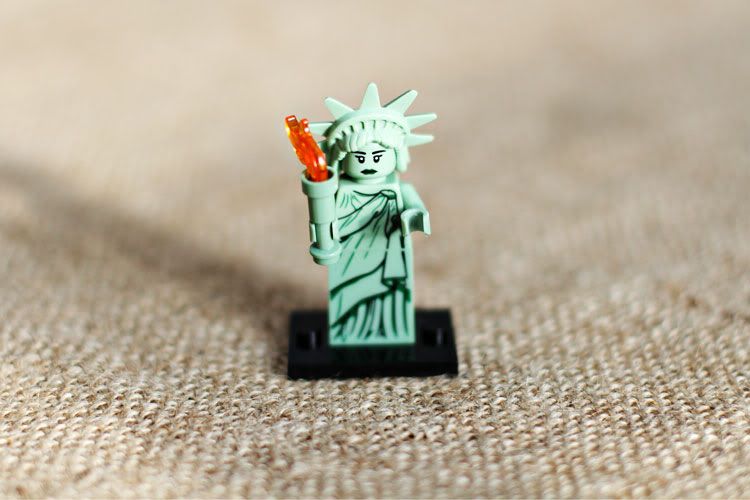 Would you like to know what else I found while writing this blog post? There's an app out there that will allow you to scan the barcodes of the blind packs to tell you what is inside. *sunbeams and angels singing* Roo will be so excited to hear that! Wish he'd had it in December when we picked up five packs for $10 and he ended up with three detectives out of that grab! I found it on
this blog.
Update: I was reading some of the reviews of that app on iTunes and they are not so good. Many said, "the bump codes are incorrect in many cases causing disappointed kids." So, we may keep fondling the packages. ;)