The new year is all about new beginnings and resolutions, right? Well, I didn't make any resolutions and haven't started anything new except the new year. Is that a Ba-hum-bug attitude? Maybe so.
For my first post of the new year, I decided to show you a little furniture makeover I completed during our hectic December.
I was in a thrift shop one day looking for
a cheap
an inexpensive table that would serve as a tv stand in the basement. At my second stop of the day, I was walking around the store when my eyes fell onto this tucked back in behind some other things.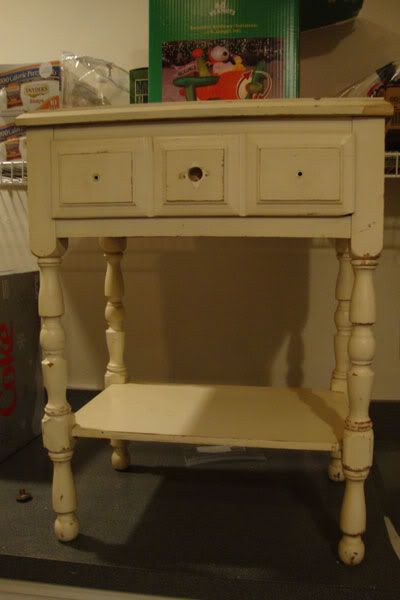 It was ugly. Yellowed white from years of use and misuse. It had definitely seen better days. It was dirty and icky and I almost left it there because I didn't have many wet wipes left in the car to clean my hands after touching it! LOL Yeah, a little dramatic, but did I mention it was dirty? Then I looked at the price. "95" Wait? What? Does that mean $9.50 or $0.95? I knew the answer to that by taking a second look at the ugly duckling. So, I picked it up and took it to the counter, handed the girl my $1.07 and walked out holding it carefully so as not to get the dust off of it onto my jeans.
A little oops of not sanding before painting led to a lot of sanding before repainting. All was well though because the final result is this little gem. I really hated to give it over to the boys for the tv in the basement when I might could do something else with it - something more fun. But, instead, it sits in the basement with a tv atop. (
for now...
)
Not too shabby for a dollar and the cost of a can of spray paint.