When we took down the Christmas decorations, Son2 was a little sad to see the "happiness go away". So, he and I conspired to decorate
my possum belly
for winter. I always leave
my little metal tree decorated with snowflakes and silver balls for winter
, so the hutch in addition to that helped.
I sat out to find ideas for decorating for winter that weren't some of the same things people did for Christmas. There aren't a lot of those! I pinned a lot of them on my
Pinterest Winter board
.
Then Roo and I set out to decide which ones we'd actually do. I accomplish more on the computer than I do in real life. I think Pinterest only adds to that. You feel like you can do so much when you're pinning ideas. But, in reality, a lot of my pins are ideas that may never come to be.
We chose the styrofoam ball snowmen. This is what we came up with. We recycled tin cans as bases for our snow people. He recycled a hat and scarf from a Christmas goody bag for his snowman. I got to use some of my neglected art supplies in the whole process. I love the way they turned out and look on the display. We off set the whole display with creamy white candles, pinecones and silver beaded strands along with the winter themed printable in the frame that you can see.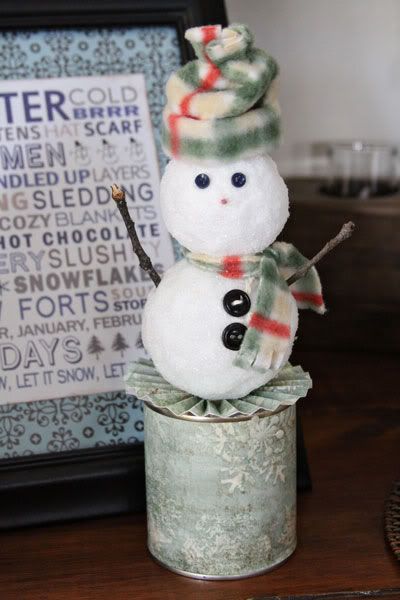 Definitely made up for the drab scene outdoors and the regular decor.
Next up - Valentine's Day!