I mentioned in my post yesterday that in the midst of being busy, we had built a farmhouse table using wood from my family's land.
That idea all started thanks to Blog-land and to the large open extra eating area in this house.

We've had eat in kitchens in two of our previous homes. We used a small four seater wood table that we were gifted by G-Dub's mother. We up-cycled it by stripping multiple layers of paint - green, pink, white - and staining it when we moved into our first home. It was perfect for that space, just two adults and a toddler. Over the years though, as was proven when we put the table here, we've outgrown this small table. Toddlers grow like that.

When my parents were here last month, Dad and I were discussing the table and my wishes for a larger one.
He agreed I needed one for that space. And he mentioned the walnut lumber sitting in the shed at his house. Only one problem with that idea. His shed with precious walnut lumber was over 1,050 miles away.

The walnut lumber was "precious" because it came off their property. My parents live on the land that has been in my mother's family for over a hundred years. When Dad refers to "the bottom", he's talking about Boguefala Bottom. It's bottom land with Boguefala Creek running alongside the land. Until a few years ago, it was always farmland with a couple of houses sprinkled on it, including my parent's house. It is home to them and was home to me until I got married and moved away. The walnut tree grew along the creek bank. Dad cut the tree several years ago and took the wood to the lumberyard to have it cut into lumber. He's mentioned wanting to make the boys a bookcase or a piece of furniture out of this precious wood, but that never came to be. When we discussed using it for my table, I was honored.
And it would work out because G-Dub would be driving through there on his way to us in the next week.

So, Dad went home from here and got busy prepping my walnut lumber for my farmhouse table. He cut it to size for a table for me, made legs, cut supports and pieces for the apron. Then he wrapped it all up in a tarp and had it ready for G-Dub to deliver to me.

After G-Dub got settled in here, we began work on the table. I sanded and stained the wood, then put the top together. G-Dub helped me put the base together, then we completed it all. I used a finishing wax to complete it. Then we moved it into the space and began using it!
We have really been enjoying having the space that this table provides.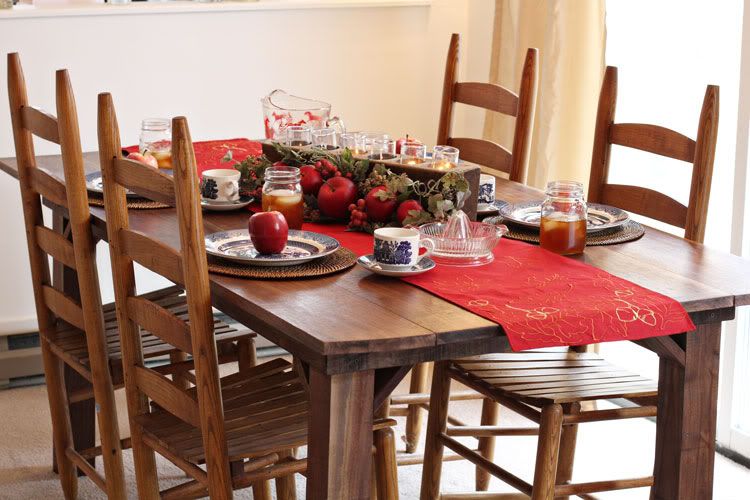 I have to admit that I really struggled with staging the table for this photo. I didn't want to just take a photo of my naked table, but I'm no good at this sort of thing! Or maybe amongst all my collections of stuff, I just don't have "the right stuff"! LOL