Two years ago, I blogged about this beast.


You can read about it HERE
I was threatening to paint it, but didn't know what I wanted to do with it. I was griping about the blue inside and the sloppy paint job on the outside. And the hinges. I didn't like the hinges. And the hearts and swirls? Yeah, they never screamed my name at any point in time. That blog post was Sept. 1, 2009. G-Dub was already in Korea at the time and the boys and I were just sitting and waiting on two houses to sell. Not long after that post, I got offers on both houses. My thoughts went from refinishing the piece to saying goodbye to it for two years while it sat in a warehouse in storage.
When we moved in here and our storage delivery was fifteen days late, I had plenty of time to decide where I would place the pieces of furniture I knew was coming eventually. I'd remember one piece at a time and think where am I going to put that? After a few days of stepping out of this shower and being greeted by my 41-year old self in that wall to wall mirror, I decided I HAD to have a piece of furniture or something there to block that view.
Pardon the cruddy photo - snapped it right after we moved in and during those fifteen days when we were waiting on furniture!
My mind immediately went to the beast. (I've taken to calling it the beast because I knew whatever I did to it was going to be work! LOL) I knew it would be great for storage of towels and toiletries. I also knew it's height would be a good one for blocking views. The delivery guys unloaded it from the truck and took it to this spot. Every time I got out of the shower, I thought about how much I hated those hearts and swirls. I was becoming obsessed with it! So, I decided to tackle it. Again, the two year old question of what color to paint it came into play. I finally decided that white would be too white. And black would be too dark. Even a creamy white would not do. I seriously thought of going off of that blue inside and going with a turquoise-ish color. It would have matched my black and white toile curtains. But, it wouldn't match the newly bought shade of green rugs I'd bought for the room. What color, what color? I did what I do best - procrastinate some more, go blog reading to get my mind off of it. I logged on to my blog reader and clicked on Miss Mustard Seed's blog. Her blog post that day was about looking past imperfections of badly painted pieces and not bothering about the work of making it a perfectly paintable surface before making it your own. And her feature piece that day was gray.
A Poor Paint Job
Gray? Poorly painted beginnings? Distressing? Did someone call my name or did I imagine hearing that because that post "spoke to me". Gray was my color choice. But how to you get gray without getting something that looks like primer? Definitely not with spray paint, my easy go to. Enter Home Depot's Behr paint in Rhino.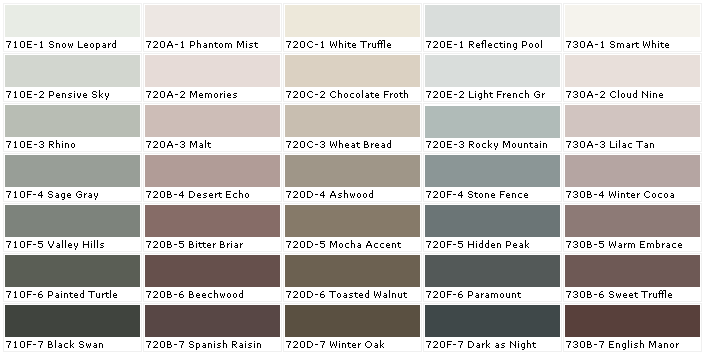 Oh yeah, that's not primer gray.
My plans were to be lazy. I was going to embrace the paint runs, crackled paint, iffy spots and just get to work sanding what I thought was just going to be the top surface to knock off the sheen and let my paint adhere.
Thought being the key word. Yeah, that didn't work. The brown gummed up and made a mess under my sandpaper. Not sure what that was besides paint. So, change of plans. Bring on the electric hand sander and the course grit sandpaper. That took off more of the brown paint than I wanted, but it also took off all the gummy, yucky, sticky gunk. I was ok with that. Amazingly, I came to love this blue that was underneath! I know, stay focused.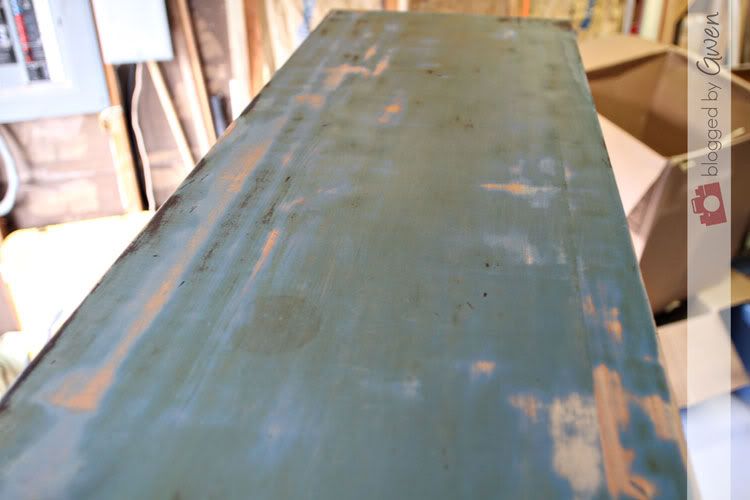 When we were finished with our sanding we were left with this.
I polished it all off with steel wool to smooth it, then I painted my first coat of gray. I put on two coats of gray. Then, I started sanding again. When I was telling my dad about this, his question was, "Why are you sanding the new gray paint?" Um, because I am feeling a little crazy, Dad! LOL I probably abused it more than I should have. I have better biceps muscles after all that sanding though! I had a nine year old helper in the mix too. He decided he wanted to help sand. I was a little scared, but went over, sand with the wood grain (yeah, that you can't see because it's painted? *rolleyes*) and don't put too much pressure on it. Um, yeah, that worked out great. Lil Man did the four doors for me.
From there, I rubbed walnut stain over the entire piece and wiped it off so that it wasn't too thick, heavy or dark. The stain seeped into the bare wood and brought out its rich color. It also seeped into the marks of the sand paper and created a neat effect (in my opinion) of distressing to the whole piece. And, it toned down the bright gray and made it more muted.
Knobs and hinges were another challenge. I thought I wanted glass knobs for the piece. But, those are hard to find! I was ready to hit buy on an ebay set I found, but I found some not glass, but made to look like glass ones at a local hardware store. I tried one of those and didn't like it. So, I opted for black knobs from Lowes. Easy enough. The hinges were a different story. I didn't like the original ones. I couldn't reuse them anyway because the people before me had painted them and their screws. I tried two different types of hinges, but neither worked. Because the doors are inset, I couldn't get away from the old style hinges. I bought a new set of those, put them on and called it done.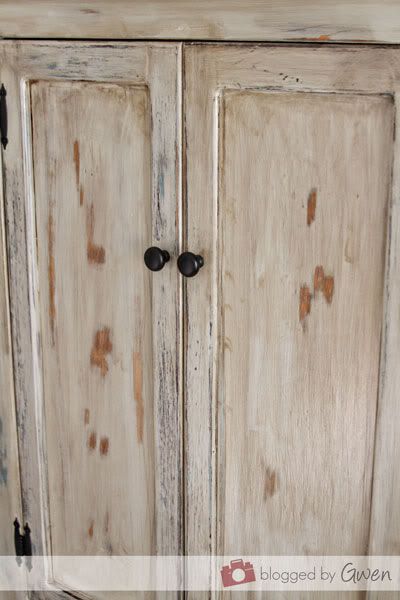 I haven't put the locking piece back on here yet because I'm trying to see if the doors will stay closed by themselves.
We put the piece back into place and I love it! I love how the beast was transformed into a beauty! And just how much stuff the inside can hold!
Let's compare Beast to Beauty again.