A while back, I ran across this idea pinned on Pinterest:
Make Your Own Subway Art for under $7
and decided I really wanted to try it! I loved the poem/saying/phrase. A little research into it though led me to discover that it is not a Mother Teresa quote after all. It is actually The Paradoxical Commandments were written by Kent M. Keith in 1968 as part of a booklet for student leaders.
After moving in, I put together a photoshop file with the poem on it and sent it to Staples. Then I went to Home Depot and gathered my supplies. All my supplies sat in the storage room for a little while after that. We received our storage shipment, then Irene came through, then school started. I was tired and not worried about the project.
But today, I decided to tackle it. I knew mine would not look like the inspiration because I'd used different fonts.
But I also knew that mine would be different because the Home Depot guy wouldn't cut the side of my MDF board any smaller - said he couldn't cut less than a 12inch cut.
Ok, fine. I'll just deal with it. It has a bit of a border, but I spray painted that black when I was spraying my sides, so you really don't notice it unless I point it out to you.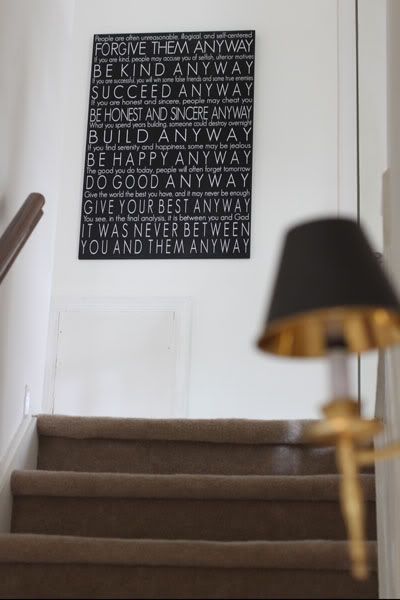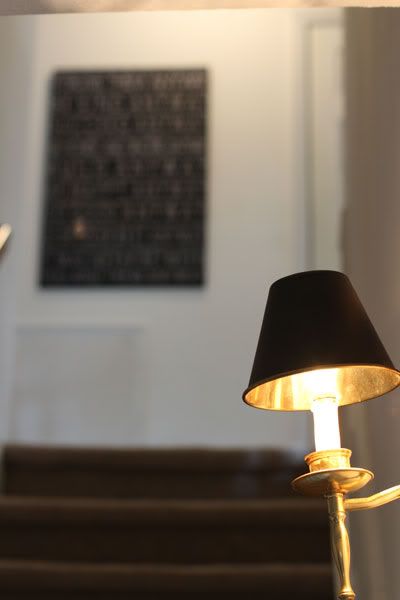 I hung it at the top of our stairs centered on the wall there between the boys' rooms. You can see if as soon as you walk into the house if your eyes wander up the stairs.
I toyed with the idea of decoupaging over the top of it for a sheen. But, I will wait on that. I'll see how it holds up as is for now.
P.S. It cost a little more than $7. I'd say more like $12. But, all in all, it's an easy project.