What do you do when you've moved into a new house and the furniture that was supposed to be delivered last week is still sitting in a warehouse in the middle of the United States, more than a thousand miles away from you? Well, you occupy your time any way you can.

The yard is mowed. The pool is clean. The closets are organized with what I had in my suitcases and what arrived via the Korea shipment last week. The kitchen is also organized after that shipment. There's nothing pressing for me to do at the moment, so I looked for a project.

The tv is sitting on the floor and I don't like that. I picked this little table up at Goodwill yesterday for $3.99. I'm waiting on my entertainment cabinet to get here, but in the meantime, I'm tired of my tv sitting on the floor.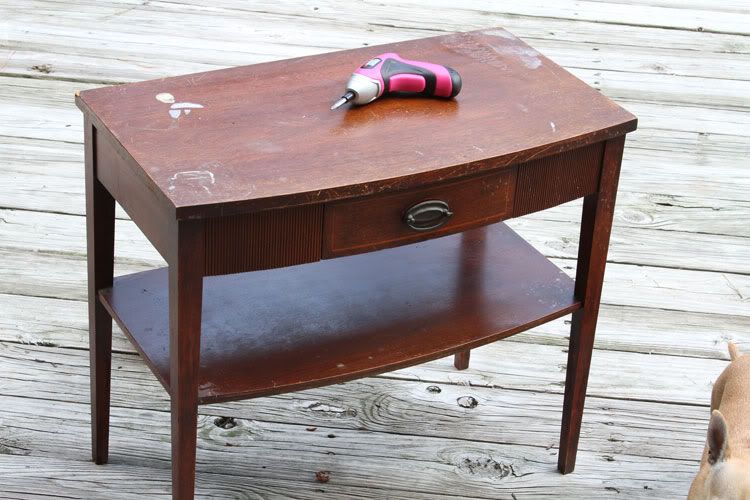 It was in decent shape, but rough around the edges. There were years of abuse in the way of scratches on top, but it was ok to use temporarily as a tv stand. I can't leave well enough alone though. I took it outside and cleaned all the dust and junk that I could off of it and snapped this photo. Then I took it into the garage and started sanding it. Thankfully, the sheen came off quite easily and the wood was really pretty underneath. Oh, it pained me to think of painting it, but I wanted to paint it. The owner left paint and stain here from various projects they'd done around the house. I put a coat of mahogany stain on the top. It wasn't as dark as I wanted so I put another coat of cherry on top of that this morning. It looked so pretty that I was tempted to stain the whole piece, but I didn't want to do that. And Teenager didn't help by adding his comment, "I like it wooden, I wouldn't like it painted." *rolleyes*

I was determined to paint it! Some would say that painting wood furniture is a sin. I used to be of that thought, but then I have come back more toward the middle of the road in the furniture thought. I think furniture can look beautiful both ways. ;)

So, I pulled some white paint from the basement and have been dry brushing it with its first coat. Not sure how it's going to look. We'll see. I'm going to leave the top stained and just paint the bottom. The drawer causes me conflict because of that light detailing around it. Can you see it? The little offset center piece that is lighter wood? If I paint the drawer front, I'll lose that. So, right now, I'm thinking of leaving that stained along with the top and seeing how it looks with everything else painted.

The only thing it's costing me is time and the original $4 for the piece.

And it's giving me something to do! :D

Update to come later. ;)