A few months ago, I went with our local photography group to visit a botanical garden in Osan City. The cherry blossoms were blooming so it was a beautiful time of year. It just wasn't a beautiful day which is typical in Korea. There are very few days where you get clear blue skies because of smog, fog or yellow dust from the outskirts of China's deserts.

I was pleased with so many of the photos I took that day. I need to share some of those with you. Maybe soon.

In the meantime, I'll just share the one which stood out as one of my favorites from that day.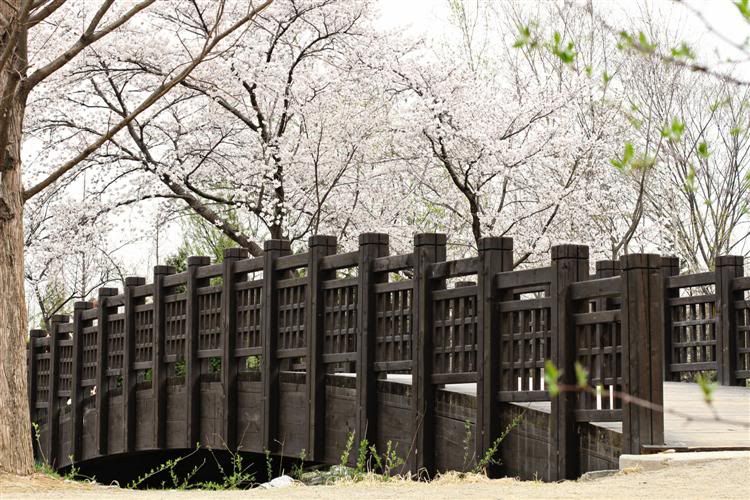 I had crouched down low on the ground to get this photo of the bridge with the cherry trees in the background. Only there was one thing I didn't like about it. The last of contrast between the dreary Korea sky and the blossoms of the trees. I thought about it for a little while, then the thought of having it painted came to mind. Custom oil paintings are really inexpensive here and I have a favorite artist to use. I've used Mr. Kim at Royal Gallery a couple of other times. The first was when he painted the image of my mom's old house place. Then, I oversaw him creating a painting for a friend of mine. And then a few months ago, I had him do a painting for G-Dub for our anniversary. So, why not have one done for me, right?

I took the photo in a few weeks ago and showed it to him. I told him he didn't have to leave it as it was if he didn't want, but I did want the bridge and cherry blossoms as the focus. The only major request I had was blue skies. He talked about changing the bridge to a traditional Korean bridge. But, I really liked this bridge, so he stuck with it.

And here is my completed painting. It's a 20x24 canvas with the frame adding some size.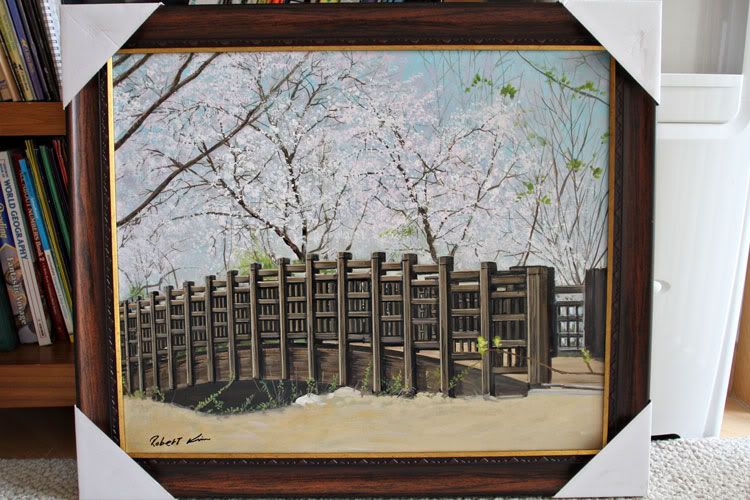 I love it! I'm so glad I went ahead with the thought of having it done!