On Wednesday, we had agreed to/planned a trip with James (Mowgli) and his friends to Caticlan, Panay Island. James lived on the island of Panay in Caticlan which is where we landed originally from our flight from Manila. and traveled back and forth via the sailing boats everyday for "work". Since he was always outside our hotel looking to make a few pesos off the tourists, I use the term work lightly. ;) Panhandling... easy money in tourist areas. We liked James though and more importantly, trusted him, so we didn't mind tipping him a few extra pesos for planning our adventures at certain times. James was a proud Filipino. He was proud of his island and wanted to share it with us. He arranged a trip to a waterfall/river park and a local cold springs spa. We weren't sure what to expect, but were ready for what the day held.

We met him in the morning and he took some pesos and went down to the local market to buy our food for the day. Then we hit the
shore to board a catamaran that would take us across the way to the island of Caticlan. No photos of this sailing boat trip -
the waters were rough and the cameras were stored in the hull where it was dry. We got SOAKED on the trip! It was all fun.
But, it was on trips like this, my DSLR stayed in the room and the Sony Point and Shoot went with us.

We landed on the beach and then loaded into a van that took us further into the middle of the island. It was at this point when if my mother could have seen me, she would have thought I was crazy. Strange country with many remote islands getting into a van with strangers and not knowing exactly where we were going or how to get away! LOL Can you say "adventure"? (The next day when I emailed her to check in and tell her what we'd been up to, I could "hear" it in her response - "You are brave going off with someone you just met. Better be careful." Uh huh, I can read her mind, I know what she was thinking. LOL But, what she didn't know was that there were ten of us on the trip with the three Fils. And like I said earlier, we trusted them. I will admit at some point, I started to question where the heck we were going. We were on the highway forever, then turned off some sketchy back road that we were also on forever. Then we slowed down and turned into the park area.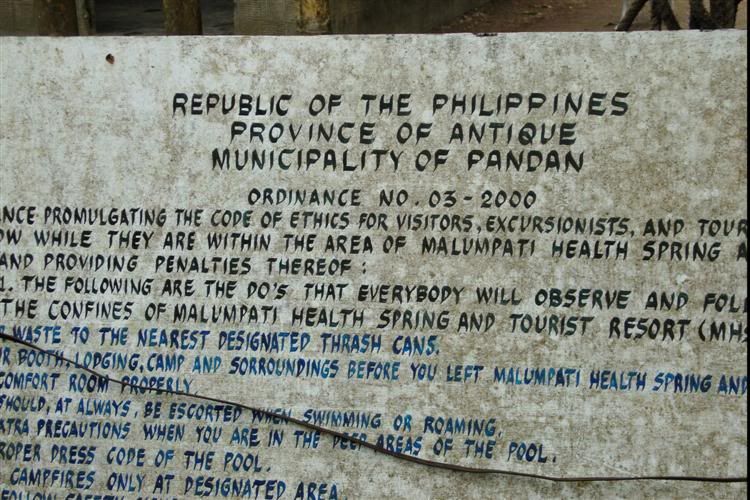 We unloaded from the van and looked around. As one might have guessed, we were the only Americans we saw. :D We were looking for the waterfall. James had said our first stop was the waterfall, then the second would be the river. We got out and thought, this has to be the river, because we don't see the waterfall. Not that we were disappointed because the river was beautiful! There was a dive platform set up with two different board heights.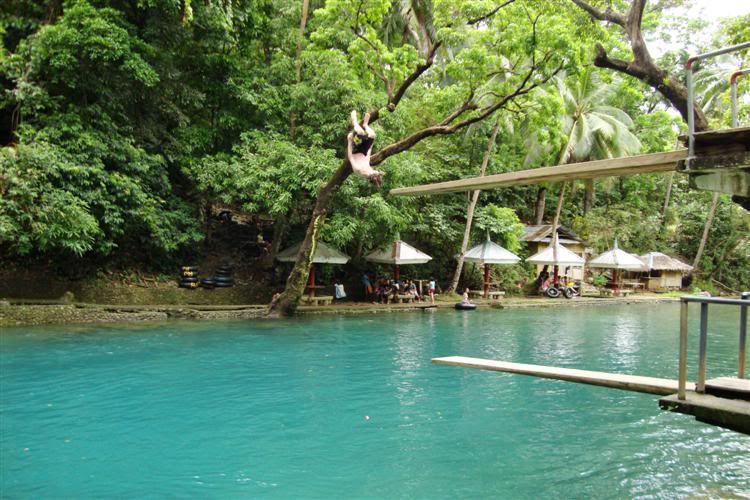 There were inner tubes that you could rent to float in for a couple of pesos.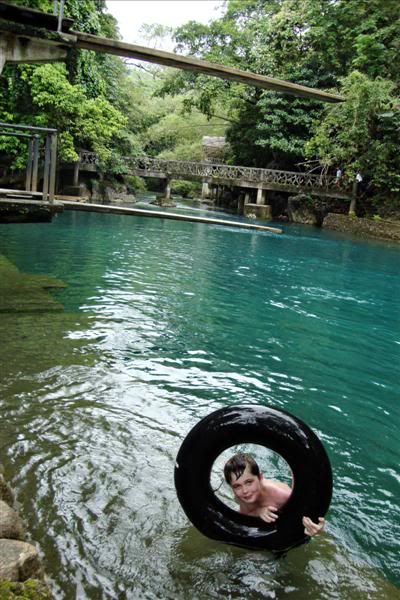 And there were plenty of places to stand around and take pictures which is what I did because, frankly, that water was COLD!
And I'm a WIMP!


So, I wandered around, watching the boys and taking in the scenery. None of us could believe how clear and blue the water was. We never did figure out what made it that way. It was fresh water also being the river through what we later labeled as the rain forest.


I crossed the beautiful concrete bridge that looked as if it had been there forever. The textures on the bridge were so cool.


Dev and Chris decided to do a little diving off the bridge. When my heart recovered from their first dive, I stood back and enjoyed watching their antics.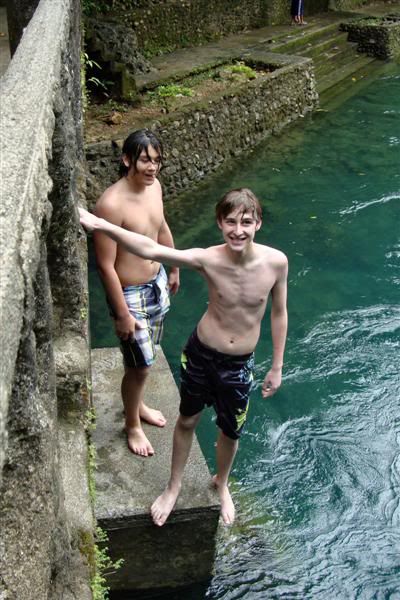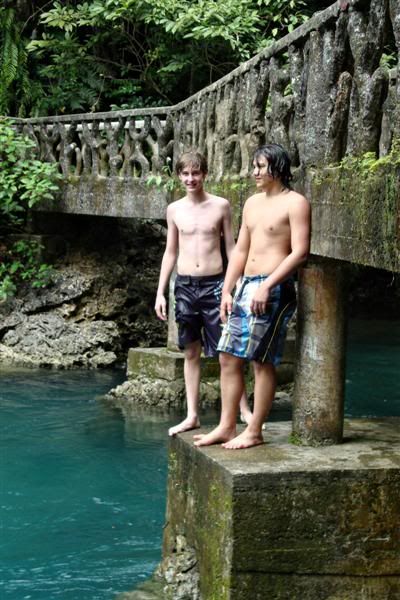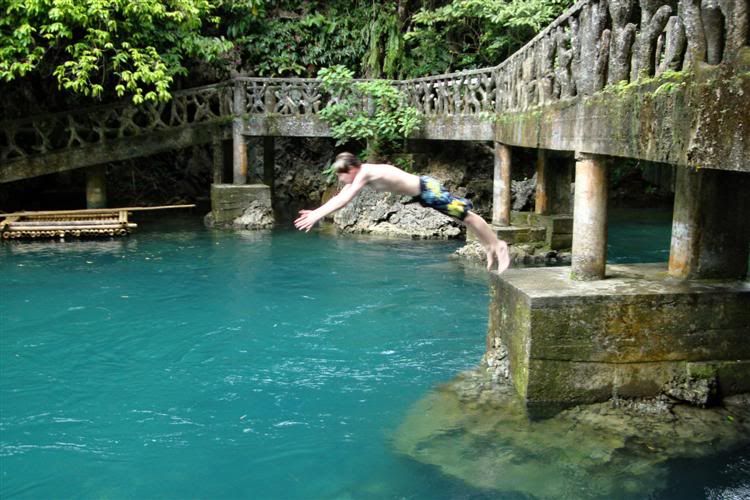 Many of the locals that were there seemed to be entertained by the boys and their diving antics. They were just sitting around on the other side under the umbrellas that you can see in that first photo, visiting with each other and enjoying the day.

View from the other side: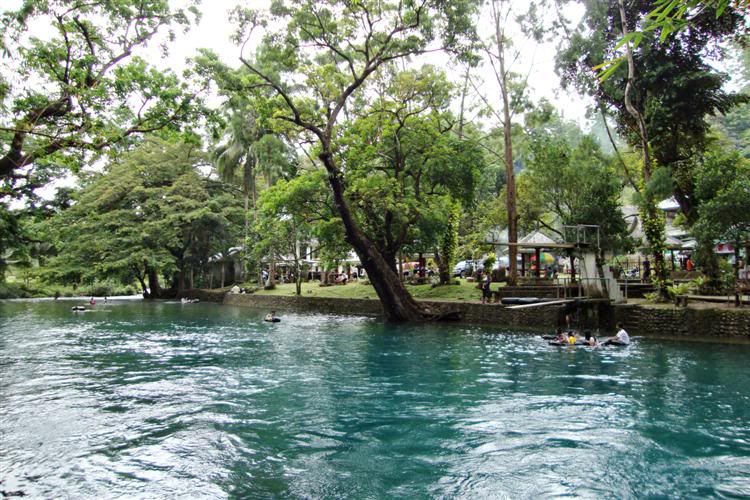 We played around and then walked a bit further on the west side and found the waterfall.
Hmmmph, not quite what we were expecting, but we laughed it off and enjoyed the place anyway.


After a while, we checked on James and his friends who were preparing our lunch. I decided then and there that this sort of stuff was the reason they require you to get Hepatitis shots updated before traveling abroad.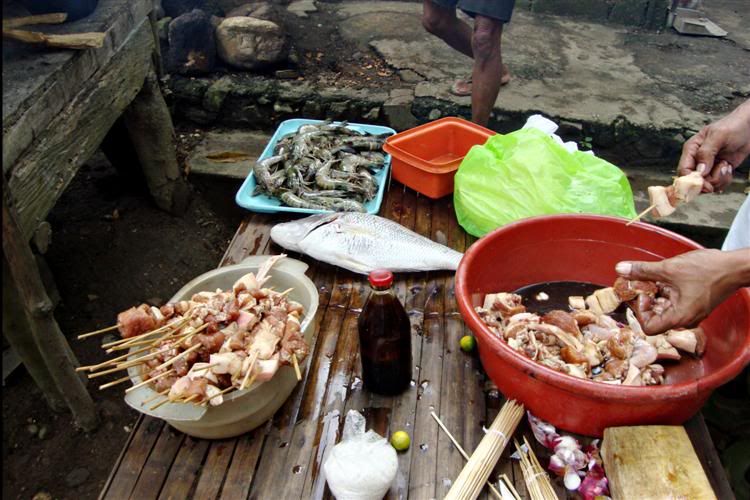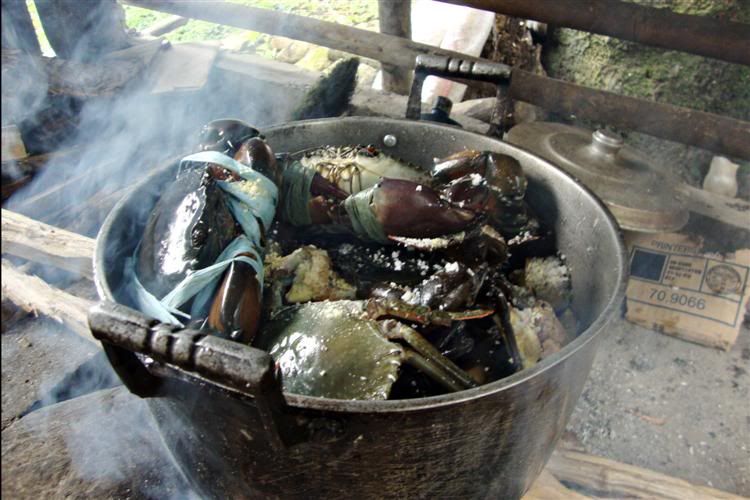 It didn't take long to cook. Then everyone got out of the water and gathered around the picnic tables to eat.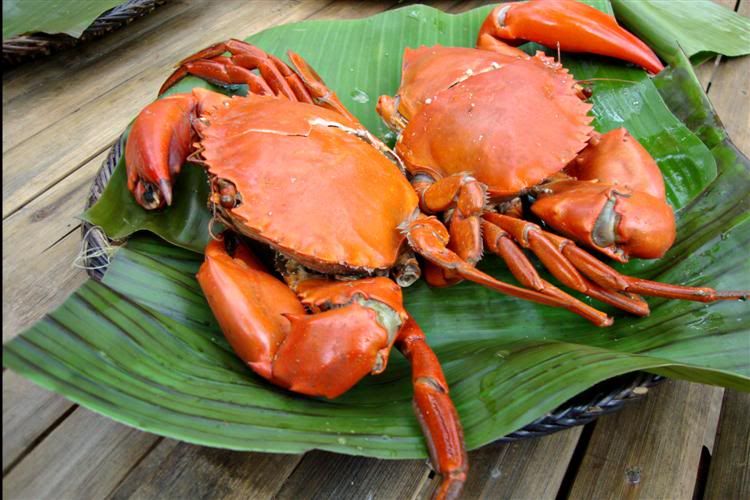 That fish was ugly, but it was so tasty! It was a white salmon if I remember correctly. Oh, so good. I had to remind myself that it was there for everyone and not just me. :D

After lunch, Tom and Huck commandeered a bamboo raft and the masses of younger boys followed suit.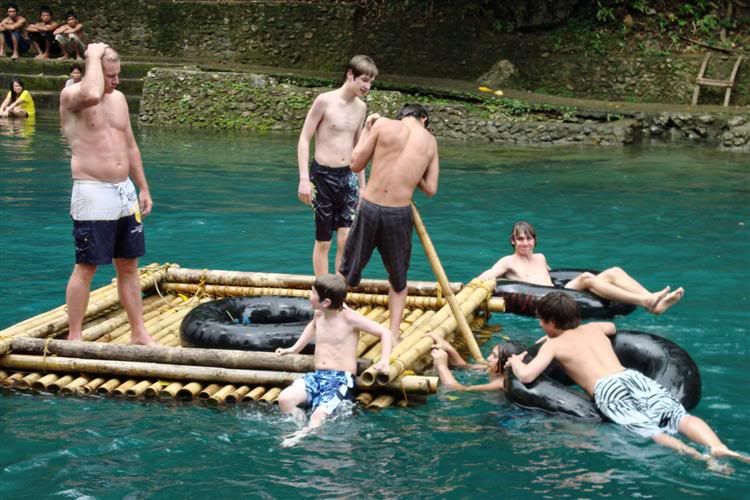 The "waterfall" park was neat. At some point, we looked around and actually spotted an American man who was watching us with an interested eye. G-Dub and Erik went over to talk to him. They discovered he was there from the DC area with his wife, visiting her family.

Shot of the souvenir shop where we bought bottled Pepsi for 10 pesos. At the time of our trip, 42 pesos equaled a US dollar.



We packed up and left this area, then traveled to the Cold Springs Spa. Wow... when they said cold springs, they meant it!
This place made the water at the other place seem like tepid bath water. In the words of Shaggy, ZOINKS!


The views were beautiful though. There again, we declared ourselves in the rain forest. At that point, it had actually started to sprinkle rain.


We didn't stay here very long because of the cold, the rain and the mosquitoes! But, it was neat to say we were there for just a short while.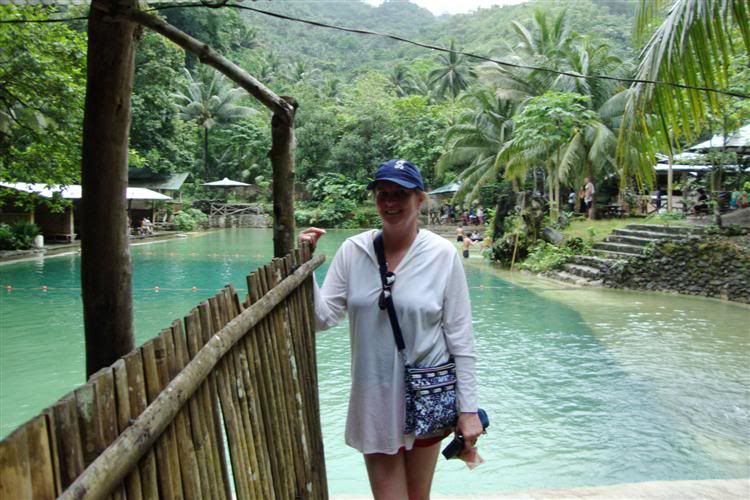 The proof is in the pictures, right? ;)