I haven't forgotten! Just been lazy! And then Blogger was down a few days ago when I actually had time to sit down and write a post!
We awoke and went down for our complimentary breakfast by the pool. It was then that we had our first taste of fresh mango for the trip. Yum.... love Philippine mangoes. No other is close to comparison.
We found our friends had arrived earlier from their all night flight. So, after breakfast, we joined them on the beach for some relaxation time until it was time for them to check into their room.
This was my view for a portion of the week - the palm trees above my beach chair.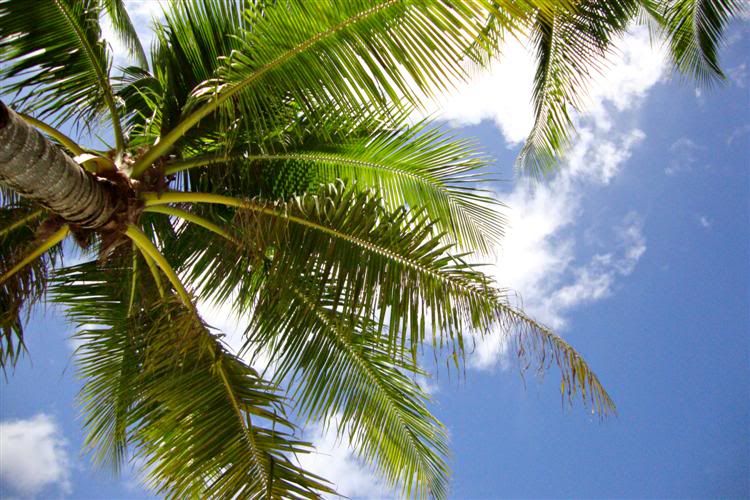 Wow, do I miss that now and those blue skies... Argh, the yellow dust levels are high in Korea this week, so blue skies seem like a dream.
Other views:
After our friends got checked into their room, we went on a little excursion of the island just to satisfy our curiosity about what else was on the island. We met a guy, James, who was a local from the neighboring island. James was a panhandler - his "job" was, well, I don't really know. I do know that he found some deals for us on a couple of trips and profited from our tips to him. Maybe we'll just stick with panhandle, but instead of product, it was service - unofficial tour guide. He arranged a van to come pick us up on the main street down the alley from the hotel. Fitting twelve Americans in a van built for Filipinos was quite comical really.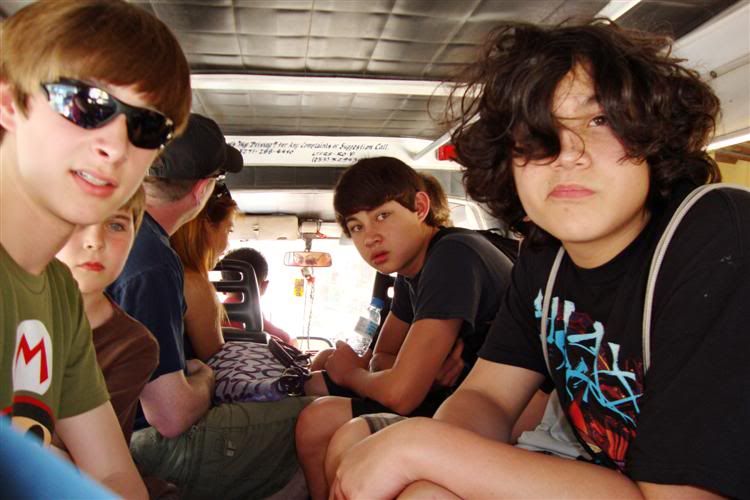 We headed north along the island road which was filled with traffic. Mostly trikes again. I loved these trikes!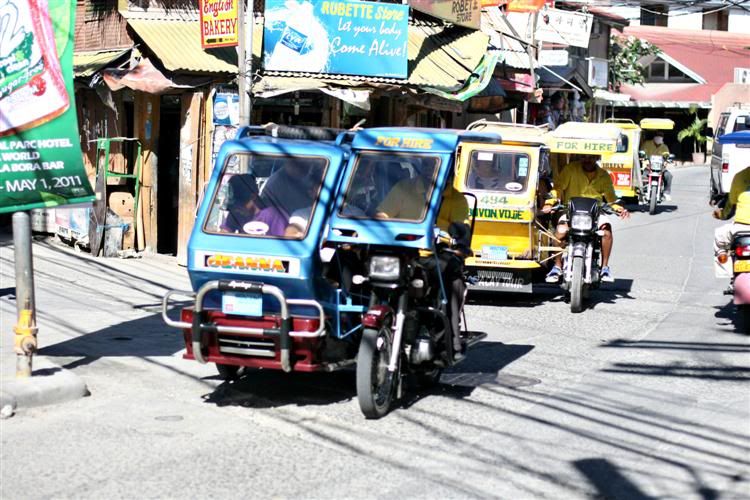 Along the way, we saw some of the local houses which were huts near the roadside.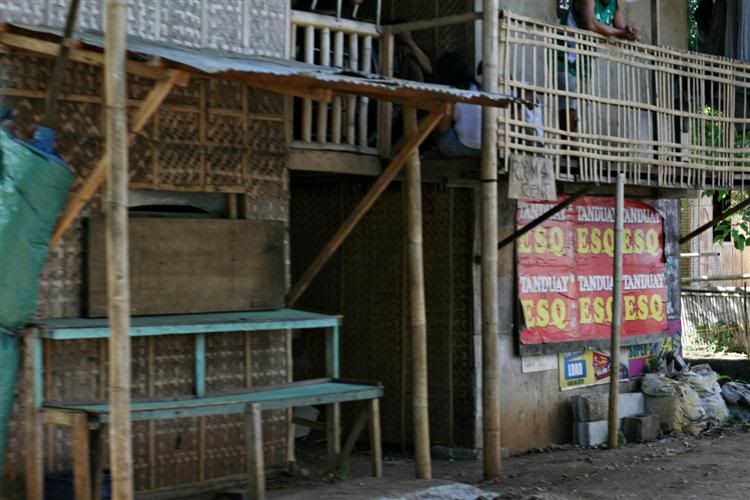 Some of the huts also served as businesses selling supplies.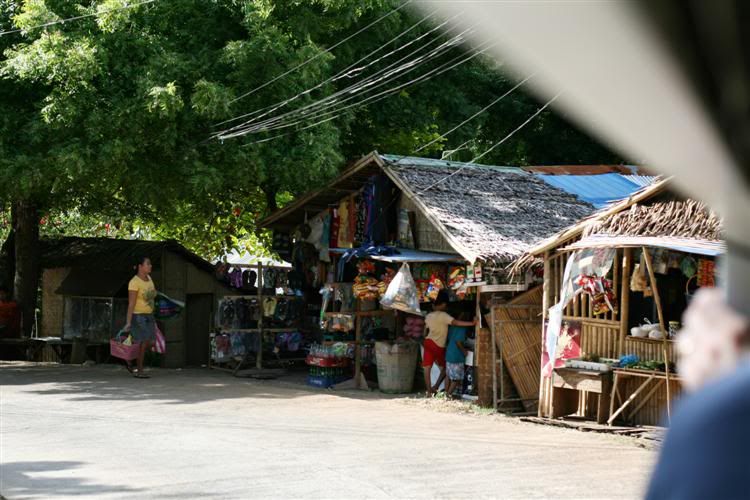 Some were just homes. And this one seemed to be a nice, larger home. It made me wonder who lived there. Or, even how many people lived there.
(As you'll see in another day's post, there were some houses that were mere one room huts. It is truly a third world country.)
We arrived on the north side of the island at Puka Beach.
It was beautiful here - hardly any people or foot traffic.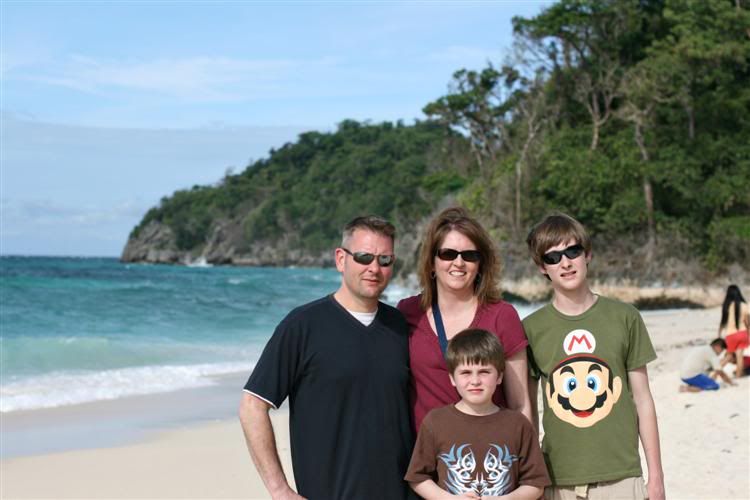 There were huts with vendors selling more pearls and beach souvenirs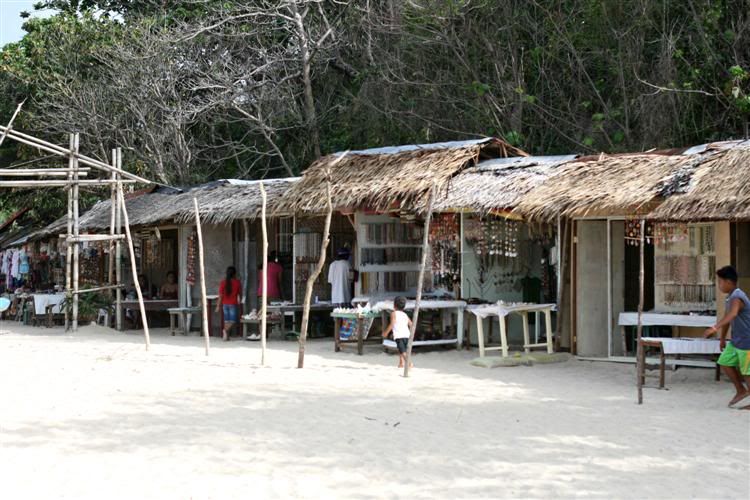 And, there were more tourists investigating the beach like we were, but by way of trikes. This particular scene reminded me of the saying, "How many licks does it take to get to the center of a Tootsie Pop?" Only, it was how many Asian tourists can you fit in a Filipino trike? LOL
That's all for now. More on Day Two next post. :)