Remember a few weeks ago when I shared Day One with you and talked about the "sailing boats"? To conclude the evening of our third day, we decided to take one of the many sailing boat tours. The boats were catamarans and there were hundreds of them along the coastline. The twelve of us boarded one of them and set sail for an hour before sunset.


A catamaran is almost nothing.... netting and bamboo rails extending out on each side of a very narrow hull of a boat. We arranged ourselves on each side of the middle in what was sort of a balanced sorting. All the boys got on one side along with Jim and Cherryl, while five of us perched on the other side. One of those five being Roo.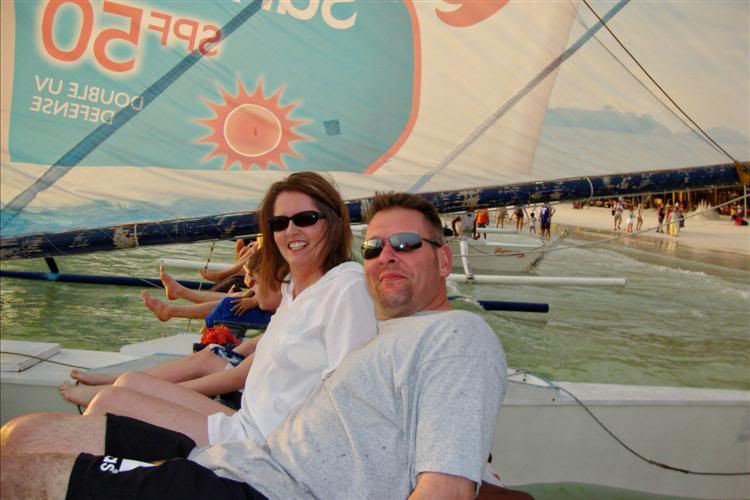 As I said, it was just before the sun set on the horizon, so it was a wonderful part of the day. Our captain handled the boat well, gliding over the water, pulled the lines and turning us just right. The thought of who needs a gym with weight training equipment in it when you can be a sailing boat captain in the Philippines went through my head more than once. Look at those arm muscles!


As I mentioned earlier, there were hundreds of these boats on the coastline. We were one of many out on a sunset cruise.


Finally, the sun gave in and set over the horizon.


And we turned back to shore. In the twilight of the rest of the cruise, our captain talked to us a bit over the crashing of the waves and pointed out some things along the coastline of Boracay. He pointed out Manny Pacquiao's beautiful vacation/island home. Wow... looked much nicer than some of the resorts we'd seen along the beachfront. I have no photos of that for it was at some point just past the sun setting that the waves got higher and we were starting to get soaked, so we handed the cameras over and let Captain store them in the hull.

For the remainder of the trip back to the beach, the boys on the other side decided they had to see just how wet they could get us all. They stretched their legs out into the water and caught overs causing them to wash over us. I was really glad that I was on the grown up side and Cherryl was stuck over on the teenage boy side getting soaked. LOL