We'd spent time on the beach. Time playing in the water. Time in the air with zip lining. Time behind the wheels of go carts.
For Day Four, we decided to spend some time under water. We'd seen advertisements for diving - scuba diving and helmet diving.
Some of our group had had scuba lessons in the past, some had not. The boys and I fit into the not group.
So, we opted for helmet diving along with Cherryl, Sohee and the other boys.


On the boat after our lesson, waiting to gear up.

The helmets were weird. They were heavy and had connections at the back where they were hooked to a hose which connected to an air tank/compressor which remained on the boat. We had to climb overboard and stand on the ladder. When our shoulders were almost under water, they put the helmets over our heads, resting on our shoulders. It was kind of like when you hold a cup upside down and insert it into a tub of water. The cup doesn't fill with water as there is an air pocket in it.

Everyone did great getting their helmet on. Everyone but me. LOL I could at least admit it. I freaked out a little bit. It all started when they put my helmet on and I started to go under. I got salt water in my mouth and started to freak. It was at that moment in time that I remembered I'm claustrophobic - not diagnosed or anything like that - I just don't like tight spaces so avoid them. I came back up and readjusted while convincing the guides and anyone else left on the boat that I would be ok. Of course, I would be ok. DS2 was already below the surface, so if a nine year old child can do it, I could too, right? ;) I reverted to Lamaze breathing and went on my way. Hee. Hee. Hoo. Hee. Hee. Hoo. Hee. Hee. Hoo. I think I scared the guides though because they wouldn't leave me alone after I got under. They kept coming over to me in addition to taking the photos and checking to see if I was ok. I was fine. I just had to remember to breath and also which hand signal meant OK and which one meant return to the surface. Ok sign = OK. Thumbs up = return to surface. Peace sign = just a crazy Asian photo op thing. LOL

Once we were all under and on the bottom, the guides lined us up for photos.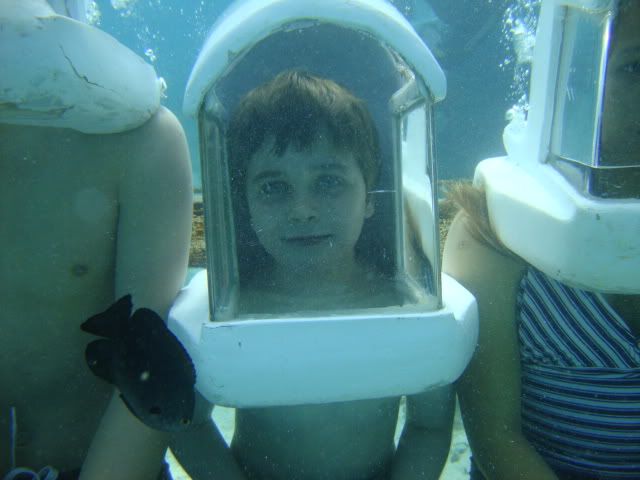 Then they gave us fish food to feed the fish. Another photo op. And then led us over to an underwater phone booth for yep, more photos.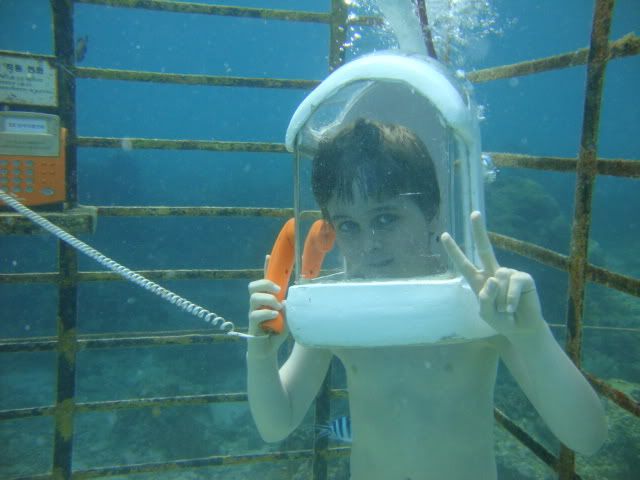 Dude! I know my helmet has more water in it than anyone else's, but seriously, I'm OK!

While the girls and the younger guys were under our helmets, the older guys were gearing up for scuba diving.


Their trip underwater was about the same as ours on this adventure.
Go down, swim around a bit, take pictures, feed the fish, swim some more, then surface.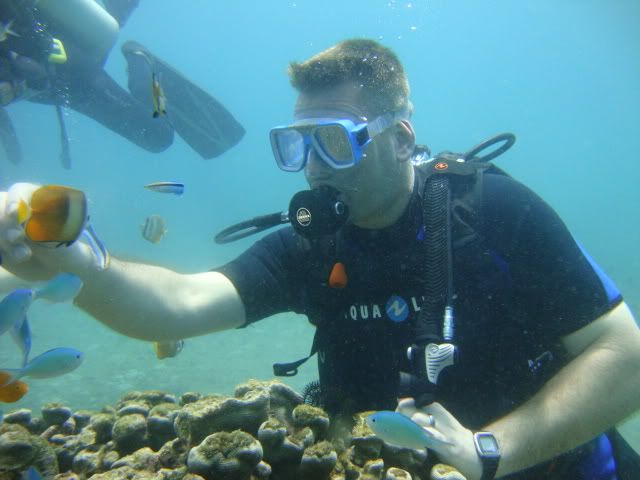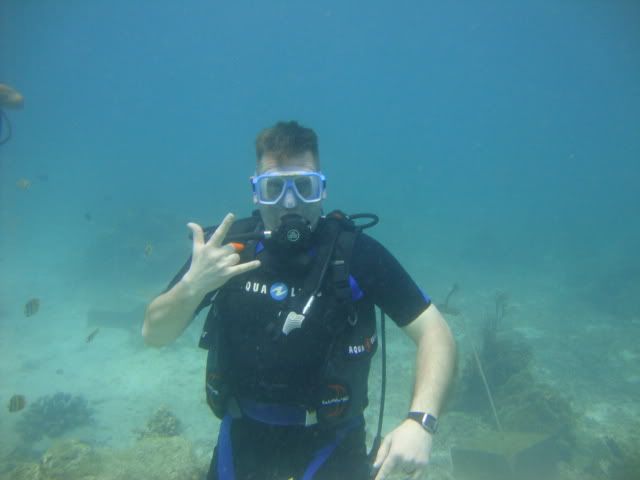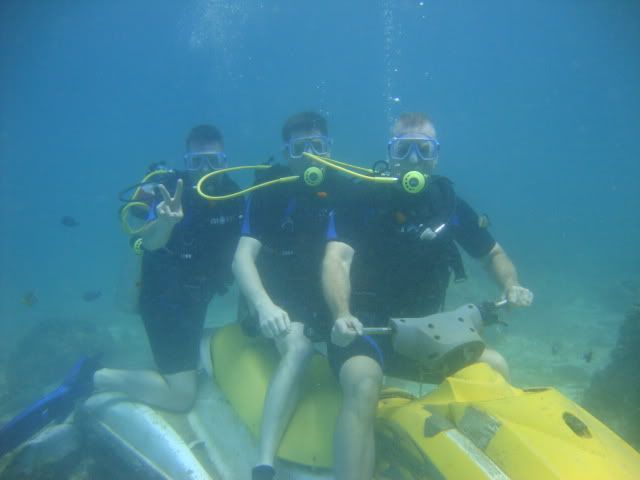 If there is ever a next time, I think I might want tried and true diving lessons. But, a next time isn't guaranteed. ;)