We woke early Friday morning to start our Spring Break vacation. Our plane was scheduled to leave Incheon just after 7:00am, so that meant an early rise time. I think 2:30 should be marked off the options for waking and starting a day. But alas, we did it and we survived! We were able to watch the sun rise above the planes at the airport.
DS2 was really excited about our trip! He was ready to board the plane and didn't want to wait.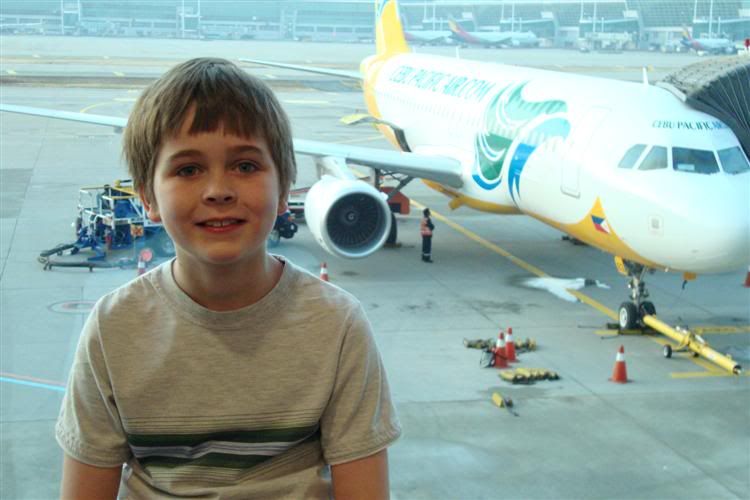 It wasn't much longer and we were off, on our way over the Pacific heading for someplace warmer! At some point, I looked out my window at the ocean below and started thinking about Amelia Earhart. No idea why as we weren't really in the same part of the Pacific as where her plane went down. There was just something about being able to see nothing but water below us that led my thoughts to her.
Not far from there, I had my first land sighting. Land Ho, the Philippines!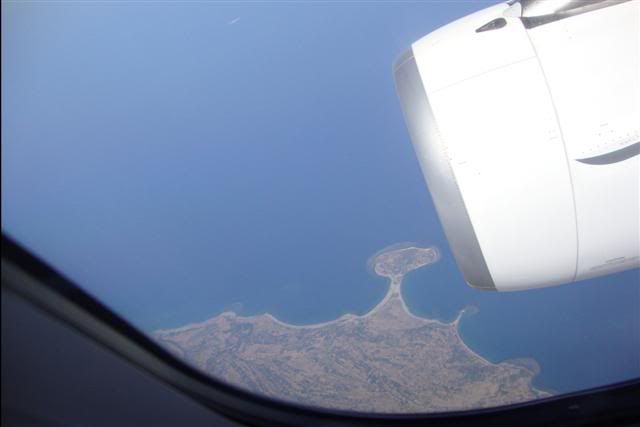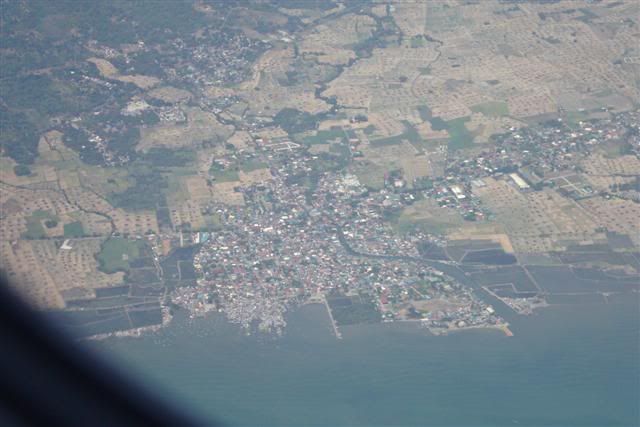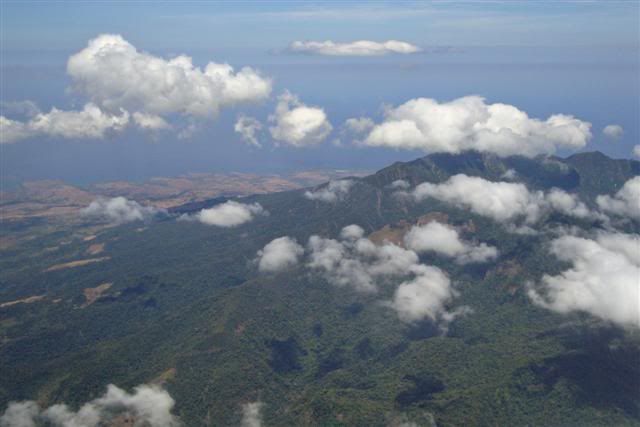 And then a little further in flight, the first sight of Manila where we'd be landing shortly. I loved all the fishing huts and traffic along the water.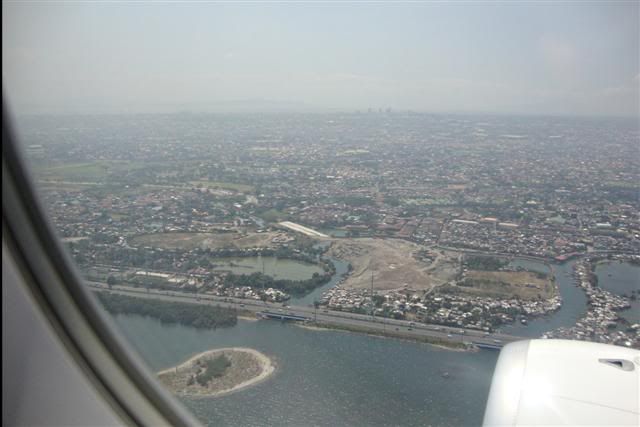 We landed in Manila, retrieved our bags, and then checked into our domestic flight heading to Caticlan. This flight was where we were worried about our baggage allowances. We were allowed 20lbs each, 80 per family. And, they asked each of us to stand individually on a scale before boarding. That was a first. How small was this plane? LOL We then made our way to our gate, Gate 134. When we arrived at the bottom of that escalator, I can honestly say I was taken aback by the sheer amount of people in that terminal. It could have been chaos, but thankfully, it wasn't. It was just CROWDED!
Not much longer and enough people cleared out in front of us that it was our turn to board our plane. The terminal was still packed behind us though! G-Dub said he'd wondered how Cebu Pacific was still in service as our flight from Incheon to Manila was half full. I think they make their money on domestic flights. ;)
We boarded our plane via a bus taking us from the terminal out to the bus. Once inside, I wasn't so sure about our seats. I didn't like the prop being just outside our window regardless of whether or not it made a cool photo. lol Krypto, our Webkinz Husky/World Traveler, had to get his picture made on the plane.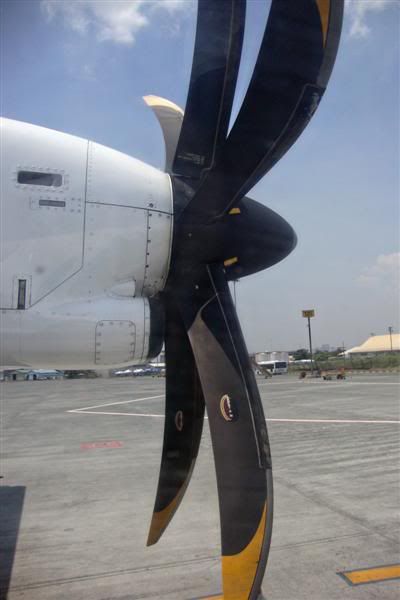 TeenDS and I posed as well. We were excited to be almost there! Just a short one hour flight!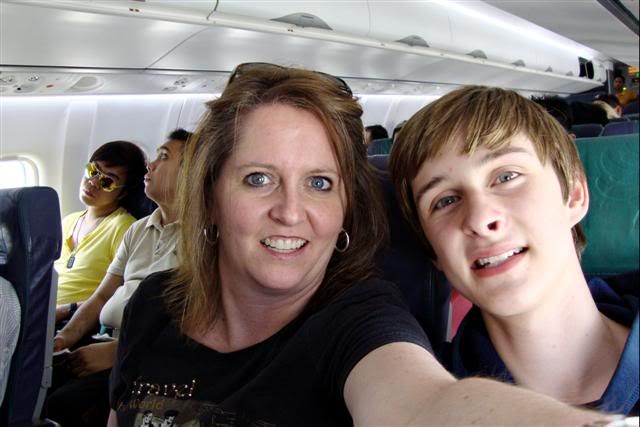 When we landed in Caticlan, we were a little shocked by how quickly and how forcefully the pilot applied the brakes. We stopped FAST! And then the plane turned and we saw the end of the runway and the side of a hill. Ok, that explains it - very short runway! But, we'd arrived safely!
The airport departure gates were all outdoors.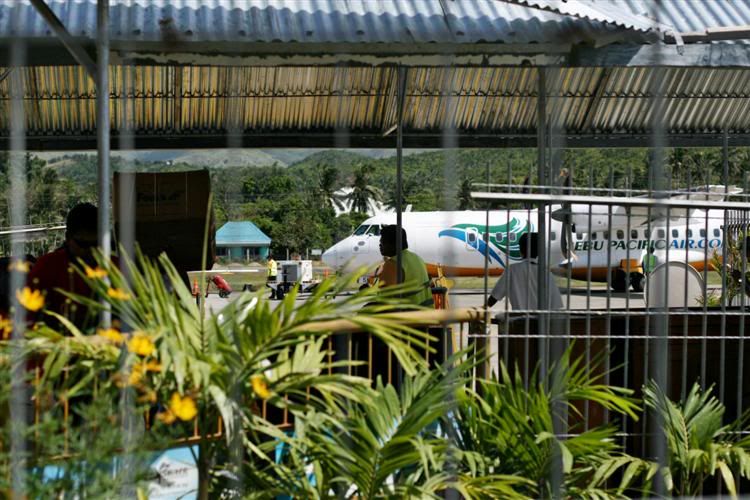 I was a bit confused, but only because I was being greeted by people asking me about our bags while I was trying to make sure we didn't have to check in anywhere and while I was also trying to look for our name on a sign being held by the transportation outside the gate. I was secretly hoping for a BIG sign like in the movies. Didn't get that though. In fact, I almost missed our name on the sign with others. I just happened to see the name of people who would be joining us later and knew that my name should be on that list too. Fame another day, maybe. For this trip, we'd remain infamous. ;)
We were shuffled along to a van and then transported to the Caticlan Jetty Port.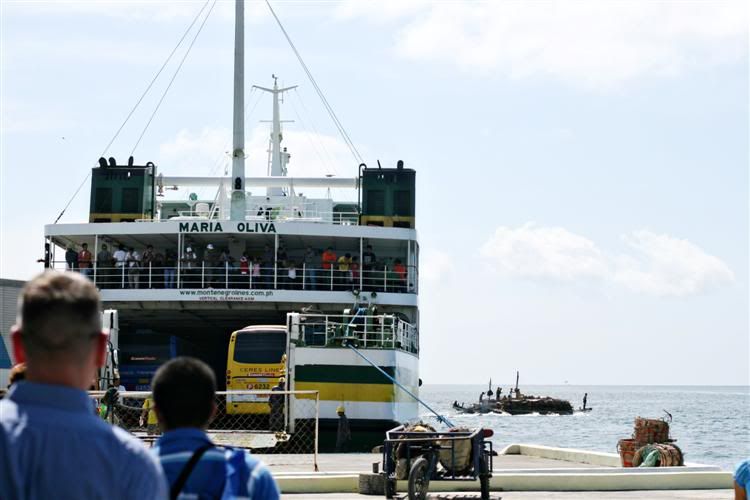 There were all sorts of boats at the Jetty Port. I was anxious to see what we'd get to ride in to the other island.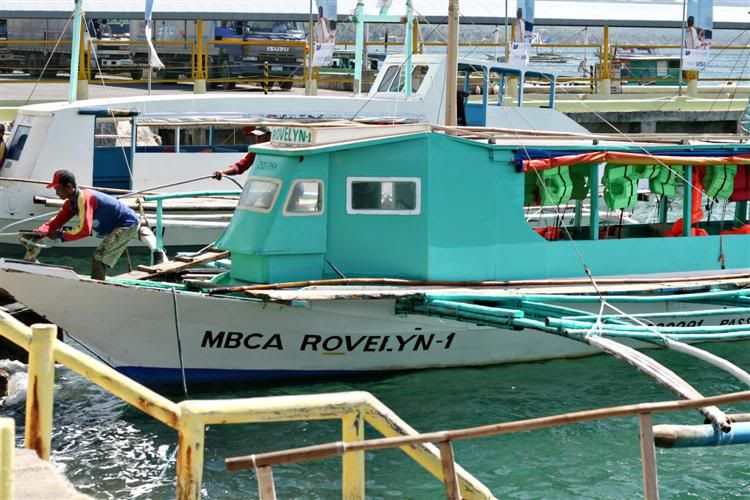 We were escorted onto a larger boat with a nice spacious interior and air conditioning! The ride from Caticlan to Boracay was a short one, but being down below, we didn't see much of it. We did get to think about the islands though or I did as this banner reminded me.
Then we were there!
To the left side of the dock:
And, off to the right:
Along the drive to the hotel, we saw many trikes. I looked forward to the ride we'd take in one while on our trip. Adventure waiting everywhere, right?