Shabu-shabu (しゃぶしゃぶ

,

, also spelled syabu-syabu) is a Japanese variant of hot pot. The dish is related to sukiyaki in style, in that both use thinly sliced meat and vegetables and are usually served with dipping sauces, but it is considered to be more

savory

and less

sweet than sukiyaki. It is considered a winter dish but is eaten year-round. from Wikipedia
A friend of ours introduced me to a Shabu Shabu restaurant last fall. We haven't gone as a family yet, but I've been several times with friends. Last week, when we were on our venture to Happy Quilt, we stopped to eat lunch on our way home.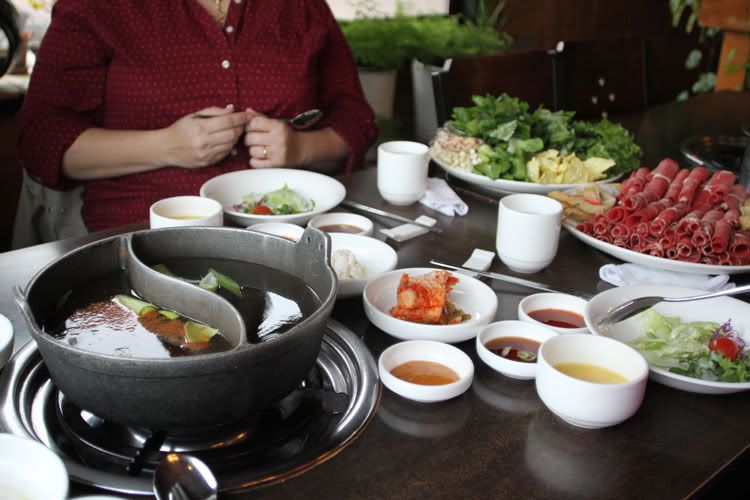 The food is delicious and, as a lot of traditional Korean foods, you never feel like you've eaten much even though you've eaten a ton of food! But, it's a lot of veggies and thin sliced meat, so I claim it healthy for you! :)

See the meat and veggie trays in the top right portion of the above photo?
They are brought to the table where you cook them in the boiling pot of broth.


The pot is divided into two sections. One normal. One spicy.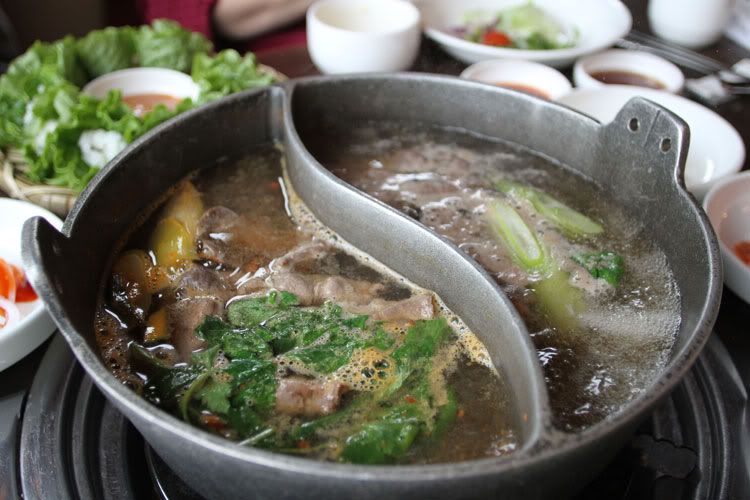 I don't have a preference for the normal or the spicy. I'll eat from both sides. I'm equal opportunity like that. ;) I've learned that my tolerance for spicy food has definitely broadened since being in Korea. Bring it on! (or at least a little bit of it! I'll try almost anything once!)

Once you cook your meats and veggies, you dip them into the peanut sauce, place the concoction onto the little rice dollops and eat!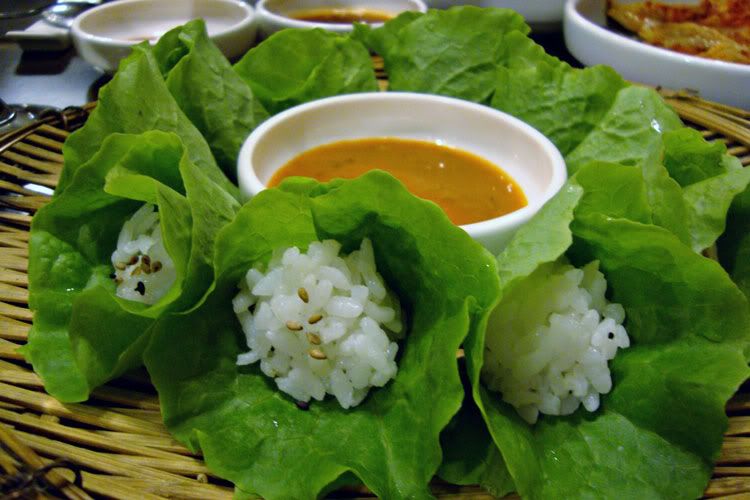 Did you notice all the side dishes in the photos? I love the variations of side dishes you receive in Korean restaurants. There is always a kimchi dish of some sort along with several other goodies. Some good, some not so good.

Speaking of trying anything once, I tried this last time I was there, but opted out last week. I let Jen try it instead since it was her first time there and since I wasn't that impressed by the seafood-ness of it last time.