A while back, a friend on a scrapbook board directed me to the
MCP Project 52
and suggested that we at the board do this. I have always had aspirations of doing a daily photo, but wow, 365 is overwhelming! Sometimes, 52 in a year is daunting. I haven't joined the MCP group, but I have tried to participate a little here and there on the board.
The theme for this week was
Words
. When I first read that, I thought about children's handwriting or a chalkboard or something, but nothing that called me to take a photo. And so, I put my Words photo off for another time.
A little while later, when I heard the familiar sound of friends having played their turn on Words with Friends chiming from my iTouch, I had an idea. :) As I sat down today to take my photo, I was reminded of the Scrabble tiles that I ran across recently in my craft closet. So, I pulled those out and dropped them onto the table. Man are those things old! They are from my original Scrabble game I had as a child. Some of them have Scotch tape residue on them from the year I stacked and taped them all together, wrapped them in Christmas paper and pretended they were presents for my Barbies to exchange.
(Haven't had

THAT

memory in a while!)
I realized I was missing all the S tiles. Must have used all of those when I tossed the board and decided to use some of the old tiles in my paper-art projects. Needless to say, those tiles have served SEVERAL purposes through the years.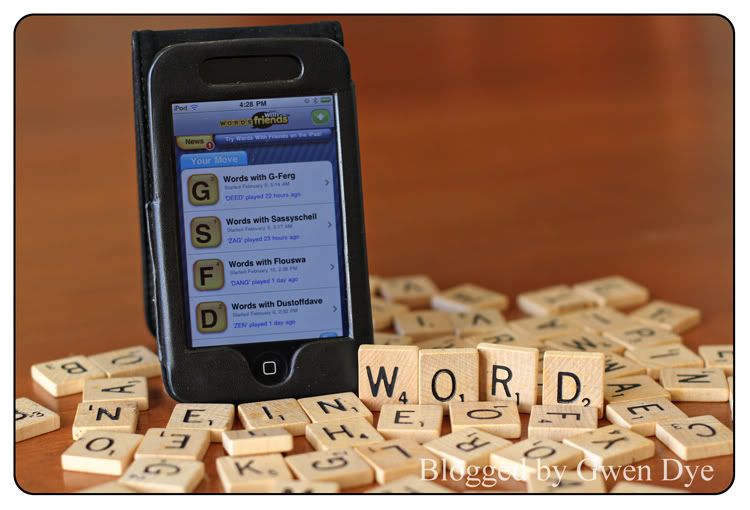 And, I'll admit that my Words with Friends game is serving several purposes today in its own technological rite. I can play a word game, keep up with friends through a simple chat during the game and win or lose - all at the touch of a fingertip.