That's what my mom calls the vacant lot lined by old oaks and pecan trees that was once her home.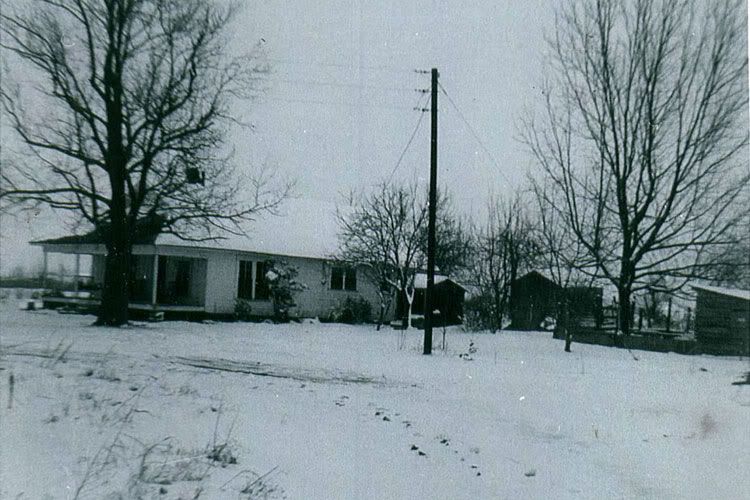 My mom, like many of her generation, was born at home. She then grew up in that same house where she was brought into this world. Years later, she met my father and prepared to marry him. My grandfather gave them one acre of the family land (some fifty acres of bottom land/farmland) on which they could start their lives together. One week before her twentieth birthday, she and my father were married in the living room of their new house (built by my father). The acre of land and the new home are only about a quarter of a mile from the old house place.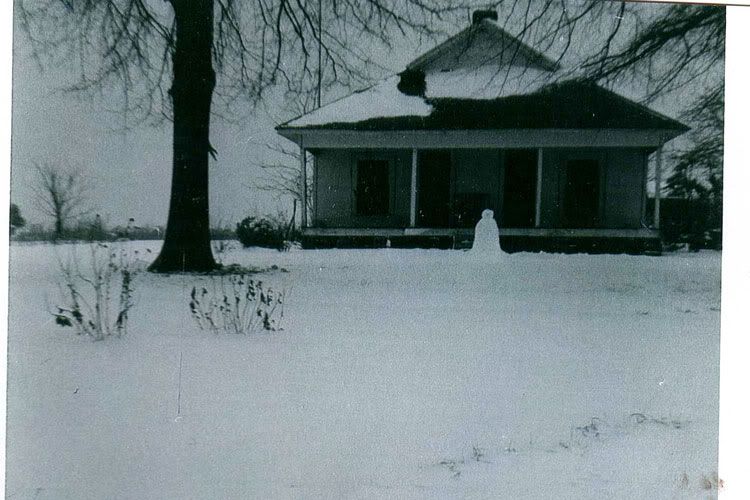 We girls came into the picture several years later. My grandfather passed away when I was four years old. My grandmother went to join him in heaven when I was six. Despite my young age at the time of their deaths, I can vaguely remember some things about them. I remember walking up the dirt road to get to their house, passed my uncle's barn then around the curve to their yard. We'd see them sitting on the rocker on the front porch. When we'd get into the yard, Papaw Taylor would call out, "Well, there are my little boys!" to which we'd chime our reply, "We're NOT boys! We're girls!" I remember the way the house smelled... a mixture of my Mammaw Taylor's country cooking, fresh brewed tea and even her dusting powder sitting on the dresser in her bedroom. I remember playing in her flower gardens as a small child and the scent of gardenias blooming.
After my grandmother passed away, my mom and her three brothers rented the house to another family. That lasted a few years before they decided to sell the house and have it removed from the property.
Years later, my mom would talk about the old house place and the house where she came of age. She said at some point that she'd love to learn to paint because if she ever did, she'd create a painting representing the old home place. Time passed and she never took that painting class, so the desire to have a painting of the old house was pushed back into the recesses of her mind.
Fast forward to me in Korea and all the artists and painters here with their medium being oil. I decided to surprise her with a painting of the old house place. But, my problem was that I didn't have any photos of the house or property. I remembered that there were two or three in the boxes of old photos at Mom's house, but couldn't ask her for them if it was to be a surprise. So, my sister joined in with the sneakiness of the surprise. When she went home for Spring Break, she dug through the old photos and came up with the ones above. Ugh.... not good. Not good at all. But, what could we do?
I set out to find a painter with talent and imagination AND a good understanding of English. ;) The first place I went, he only did portraits, not landscape. Second place, I explained how I wanted the painting to be set in the summer with green on the trees; green grass; the house set askew and angled differently than in the photos; some flowers blooming representing gardens and shrubs; the out buildings, the lack of power lines... My list was pretty long. That second guy had the most confused look on his face. I knew it was best to leave asap, so I thanked him and went on my way. Then I walked into Mr. Kim's shop. Mr. Kim was anxious and eager and knew exactly what I wanted when I explained it. So, I left feeling hopeful.
A week later, I went back to view his initial sketch. Ok, well, maybe. I gave him a few suggestions, corrected him in a couple of spots and went on my way, giving him another week to move forward as he'd promised. The second week when I went back, I gasped when I walked in and saw the painting.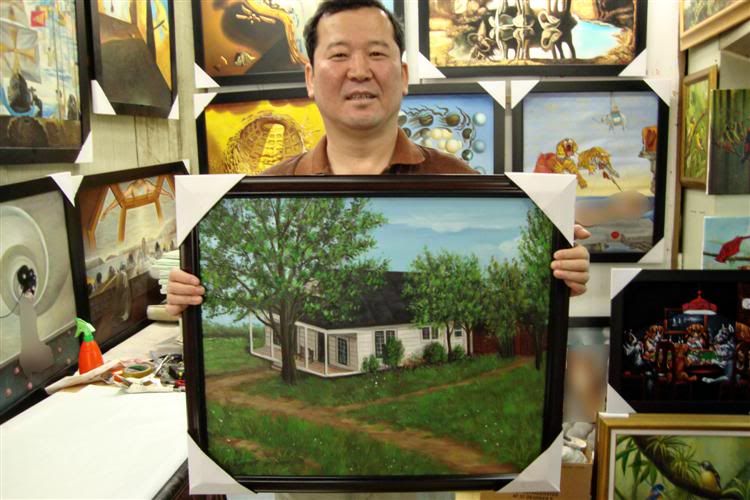 It was very, very close to what I had explained and hoped for and very, very close to "the old house place".
We were due to go home within the next two weeks. I mailed the painting ahead of us so it would arrive while we were there and I'd know how she felt about it. It arrived the day we flew in and my dad beat her to opening the box (thus putting a damper on my surprise for MOM and my seeing her open it, but that's ok. I got over my initial mad feelings and jet lag!)
We placed the painting on the mantel in her living room where it seemed appropriate.