One of the mistakes we made when we moved across to another continent was not sending a lot of our stuff. We'd heard different stories and suggestions from people who had experienced or were experiencing the same thing. Plus, we were still trying to keep our house in Kansas show worthy for realtors and potential buyers. The first month we were here, it didn't bother me that much. I kept thinking, it's nice living as a minimalist. But then, there are times when I miss my stuff. The stuff that made our house a home. Here, we just have an apartment with some of our stuff, not much of our character in it. It's short term. I'll be ok with it. It's just stuff, right?
Still, I was led to the thrift shop on post a few times in search of something on the cheap that might make the apartment more homey. There wasn't much. The second time I was in there, a wooden shelf with a mirror caught my eye. It was U.G.L.Y, ugly, but I saw potential and had a plan. Plus, it was wood. I love real wood things. It was dusty and had stickers on it and looked like it had seen better days.
The girl who checked me out informed me this was hers. I informed her I was planning to paint it. She didn't look impressed.
I would have liked to have had some chalkboard paint, but there's no such thing in the PX here. They do have spray paint though, so my plan wasn't too faltered. I picked up a can of satin black and some corkboard squares.
Hello, Vicky. Are you causing more trouble today? Mind if I take your picture? Smile. :)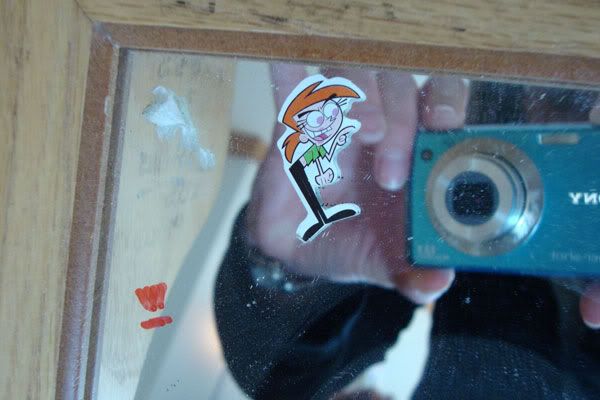 Ok, don't.
I sanded the sheen off the wood, then taped paper over the mirror. Then I painted it. From there, I cut some of the cork boards to place in the middle, used glue dots to hold those in place, then covered my seam with a piece of ribbon from my craft stash. I hung it in the kitchen to keep notes and such handy. I need to find something for the top shelf, but "shopping the house" doesn't provide much when I didn't bring much with me. :( Oh well...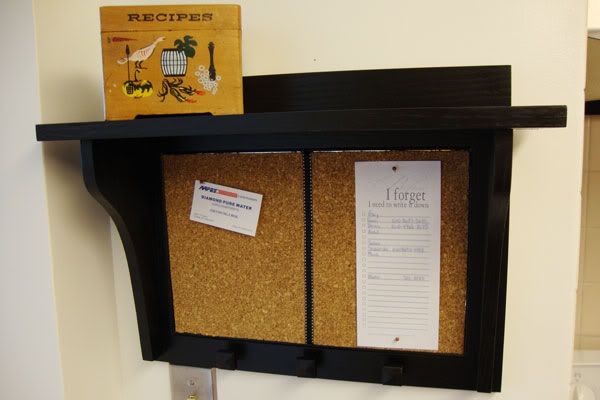 What do you think? I think it almost looks like an Amish man wearing his hat. But I don't let that bother me. I like it. And for three bucks plus the cost of spray paint and cork board, well, it was rather thrifty. :)