I'm going to hop back on to the Quick Takes bandwagon this week. It's my excuse to get me to blog! Click on the image above if you're interested in reading other blogs who participate in the Seven Quick Takes. :)
~*~ ONE ~*~
I'll start with a photo I snapped while in the car the other day. I snapped it with
Christy's POTW
in mind. As usual, I'm behind. Signs was actually the theme for the week of February 1st. Who's keeping track though? ;)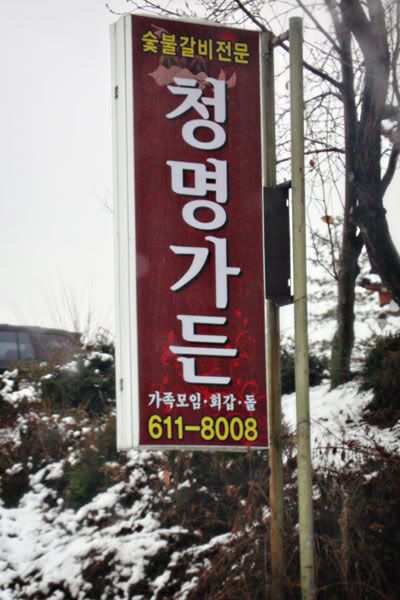 Obviously, we see a lot of these here in Korea. I find them interesting and intriguing. I wonder exactly what they say or advertise. I think based on the building off the road from this one, that it is advertising some sort of restaurant.
Luckily, there are plenty of other signs, some in complete English and some that are mixed with Hangul and English letters. These mixed language signs are most helpful and appreciated when traveling.
Sorry for the poor quality of these photos. It was raining/snowing that day, so the windshield was a mess and the light was bad.
~*~ TWO ~*~
Speaking of blogging, I have added several new blogs to my "follow list" lately. I can't help it. I say no more for a while, then I read a few most recent updates and follow and link and fall in love with something someone has done on that newly found blog. Of course, I want to see what they do in the future. So, back to the dashboard and the add button I go. Most of these blogs seem to be decorating blogs. This week, I've discovered
V and Co.
who has an amusing mother tale on her most recent blog post.
Life in the Fun Lane
was also added recently. She refinishes furniture. Ah... she recently
painted a drop leaf table
just like the one we used to use in our eat in kitchen. We didn't use it in our KS house though as we didn't have an eat in kitchen. :) She is using it as a bedside table, leaves dropped. In her archives, I found a dresser and nightstand that is also like ours that is in storage in the states. I had toyed with the idea a while back, wondering what ours would look like painted. Tada... it would look like the one in this
post
. (Not the really beat up before pictures. Thankfully, even with several military moves under our belt, our bedroom furniture doesn't look anywhere near as bad as her beginning piece.)
~*~ THREE ~*~
The topic of weather seems to be on everyone's mind recently. It's been a cold winter, hasn't it? The woolly caterpillars predicted that back last fall. I remember taking a walk with the boys in Abilene in October and we ran across one of those guys crossing the street. His black stripe was HUGE! I toughht at the time,"The old folks would say that means we'll have a bad winter." And such is the case. Of parents in Mississippi have been accustomed to mild winters of recent years. They have complained plenty this year. I just keep reminding them that the calendar still says winter until March 21. :) I don't think that helps though. lol
~*~ FOUR ~*~
Valentine's Day is Sunday in case you have been under a shell and not paying attention to the calendar. We aren't doing anything special unless you count possibly buying a new mattress. Our regular one is in storage. We are using govt. things here in the apartment. I miss my furniture. I miss my own mattress most. I refer to the one here as the jello bed. It is so soft and basically worn out I believe. It feels like a water bed when you sit on it or lie or on it or feel your husband turn over in the middle of the night. I want a new FIRM mattress. Problem is, our choices are limited here. :(
~*~ FIVE ~*~
This weekend is also a Korean holiday. The
Lunar New Year
- year of the tiger. We've been encouraged to stay off the roads, especially the expressways this weekend in respect for the Koreans who will be celebrating the holiday.
~*~ SIX ~*~
I started a "diet" this week. It's not really a "diet" so to speak, but I've been paying closer attention to the foods I eat. And I've only had two Dr. Peppers this week as opposed to one or two a day! LOL We've been going to the gym on a regular basis as well. We tend to favor the racquetball court when the boys are with us. The first few times, it was quite comical - all four of us on the court trying to hit the ball and not be attacked by it or someone's racket! We haven't gone without injury though. I truly think Lil Man broke my finger by slamming his racket into my hand. He hit my ring finger. My ring dug into my finger and left a lovely bruise. That hurt. Majorly hurt. I was near tears. I walked out and went to hide in the ladies' locker room. When I came back, he got a good lesson on what "I've got it" really means when Mom says "I've got it." LOL That was a few weeks ago. My finger returned to its normal color though the tenderness took a few weeks to go away. No pain, no gain in the world of exercise, right? LOL Ok, maybe not that extreme!
~*~ SEVEN ~*~
Roll Call: Would you do me a favor and if you're reading, leave me a comment and answer to a "roll call"? I'm just curious. I know there are people reading, but I'm curious if those who are reading are the ones I "know" are reading or if I have some drive-bys that I might not "know" on any ordinary basis. Thanks in advance!