I'm going to borrow Jill's 7 Quick Takes this Friday just for today. Sorry to be a copycat. Consider it flattery. ;) I am only doing this because it seems a little more fluffy and fun than just listing random stuff for no orderly reason. lol
So, without further adu
1. Blogs.... I have decided I love blogs. I'm addicted to blogs. I spend too much time reading blogs. But, they are fun to read and it's fun to learn from someone else's life and writing. I tried Google Reader to read blogs, but didn't like that. I have really found that the Follow Blog feature of Blogger is a good one. It helps me keep up with the latest updates of my fav blogs. I find myself clicking and reading entirely too much though. One blog links to another and I follow, then link and follow elsewhere and before I know it, an hour or more has passed by me while I've been immersed in Blogland. :) Good or bad?
2. Have you ever been to this site?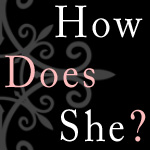 It's one of those links I followed from a blog a few days ago. I think my response when the page opened was a loud, "WOAH!" It's someplace else to get lost online.
3. I need an appetizer to take somewhere tomorrow night. I'm no good with appetizer recipes because it's just not something I've been privy to do. I've not had much of a need for such thing. So, I'm lost. Good thing for the internet and recipe sites, right?
4. I'm worried about my mother. She has "an episode" that really worried my sister and me recently. We worry that she might have been having a mini-stroke. Is there such a thing as a mini-stroke? My sister and I wish she'd take her health more seriously. I worry more being on the other side of the world. :( Her doctor said it was a lot of sinus issues, but I worry that it could be more.
5. The weather here has been really cold. I don't remember it being this cold here the last time we were here. We've had a ton of snow as well. That's something else I don't remember. I remember it snowing while we were here, but only once or twice. I can't miss Kansas when Korea is just as cold and there's just as much snow!
6. I made my first ever Etsy purchase this past week.
I purchased this necklace as part of her Haiti Disaster Relief effort
The Rusty Chain
Speaking of Haiti, the best man in our wedding's wife is from Haiti and still has family there. They live outside of Memphis. Fortunately, Pat's mother was visiting them when the earthquake occurred. But, they haven't been able to get in contact with other family members there. My heart goes out to that nation. Prayers are with them.
7. Ah... maybe I should have just done Friday Fives. Seven is a lot to think about! LOL