When I saw
Christy's
inspiring post about Photos of the Week, I thought, I can do that. It's much less pressure than a photo of the day and there was a list. Easy peasy. But, it's four weeks into the new year and I haven't taken any photos for the POTW. Oops. Maybe I'll get better about that. In the meantime, I'm starting slow/late and killing two birds with one stone. :)
I've been working this week and part of last week (because I was taking my time with my project) on transforming
my cute little metal tree
, aka
snowy tree
into a Valentine tree.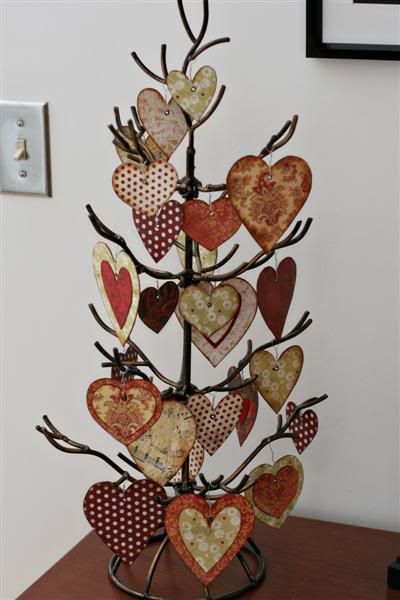 And, may I just tell you I love it? Love it. Of course, you all know I love that little metal tree anyway. lol
I just used scrapbook paper that was otherwise sitting in the closet neglected, some chipboard from cereal boxes and eyelets (set with my Crop-a-dile) to complete my hearts.
It's all together with my printed subway art and name frame on the front wall of that apartment. I hate the white walls of the apartment, but this little display makes me smile when I see it. I regret not having more of our decor stuff here. But, we'll just make due. :)